Jake Paul Gets Beat Up After Taking Floyd Mayweather's Hat
Published Sat May 08 2021 By Danile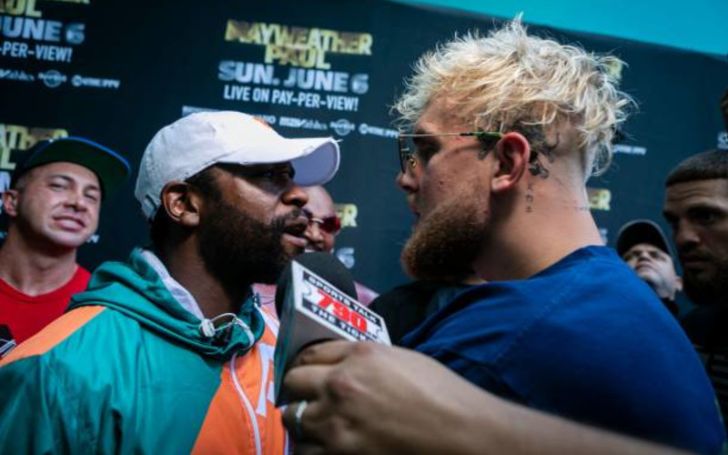 The YouTuber was beaten by the former boxing champion after pulling out his mischievous behavior.
On Thursday, May 06, Floyd Mayweather and Logan Paul had a face-off for their bout on June 06 at Hard Rock Stadium in Florida. Both men dissed one another, which is what the whole point of the face-off is all about.
At one point, Mayweather called Paul brothers "fake fighters" and stated he could fight both on the same night. After the confrontation was over, the legendary boxer had an interview with journalists about his upcoming match.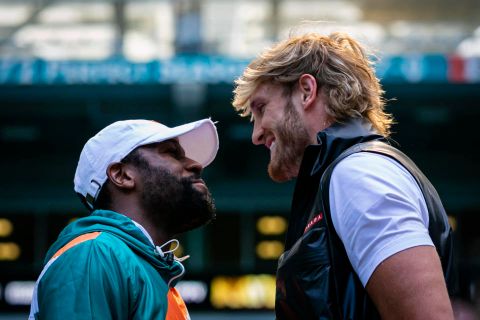 Floyd Mayweather and Logan Paul face-off.
Photo Source: Yahoo Sport Australia
Up to that point, everything seemed to be going on well. However, in the middle of the interview, Logan's younger brother Jake Paul interrupted Floyd and asked him if he could really fight both brothers on the same night.
The Mayweather answered:
"Absolutely, let's make it happen. Get a paperwork for his bum."
Paul, in response, said, "I'll call you. Got your hat." as he took off with Money Mayweather's white hat, which he was wearing throughout the event. Floyd was not letting the 24-year-old's childish behavior go that easily, and immediately after Paul started running with his hat, Mayweather and his men ran after him.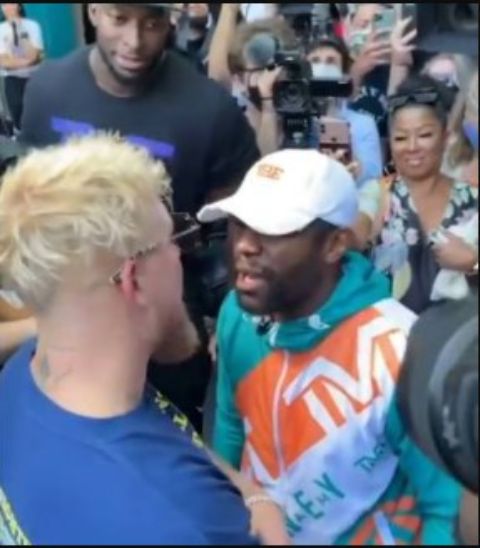 Floyd Mayweather and Jake Paul came at blows with each other.
Paul was quickly caught, and a brawl broke out where the undefeated boxer's army of bodyguards jumped on Jake.
Clips uploaded on YouTube show event securities trying to separate the two, but the 44-year-old boxer wriggled out from their grasp and went for the YouTube star. The exchange of blows lasted for a good couple of minutes before Paul was taken into a side room by his team.
Check out the clip of Logan Paul running off with Floyd Mayweather's cap!
The incident left Jake with a black eye, and he immediately took to social media concerning the matter.
The YouTuber turned boxer tweeted:
"Honestly have had three easy fights as a pro so been itching for some real action. 1 of Floyd's 30 bodyguards got a clean shot on me in the eye. Respect!!"
Paul also tweeted several other tweets about the incident and even changed his Twitter name to Gotcha Hat to mock the boxing legend.
You May Also Like: Billionaire Couple Bill And Melinda Gates Getting a Divorce!
Later, Mayweather broke his silence and said, "it's one thing to sell a fight, and people can say what they want, but one thing no one is going to do is disrespect me."
Read more similar celebrity articles, be sure to check out Glamour Fame!!
-->