Who Is Jamie Lee Curtis's Husband? Inside Her Longstanding Marriage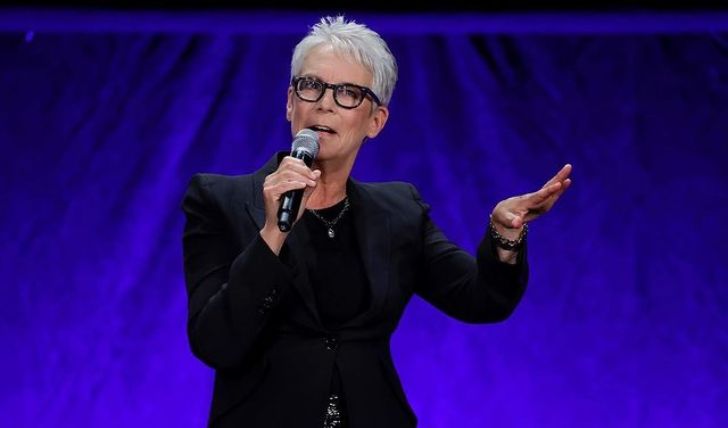 Jamie Lee Curtis and Christopher Guest's successful marriage: The complete story here!
An actress, producer, author, and activist, Jamie Lee Curtis, is many things, including a wife and a mother. Although Curtis's happily married status may come across as unconvincing for many, given the actress's long relationship with slasher films and her fitting portrayal of Laurie Strode, a character so gravely traumatized, hence oblivious to the concept of love_in the Halloween franchise.
Curtis, 63, was born in Santa Monica, California, to influential Hollywood stars, actors Tony Curtis and Janet Leigh. Jamie made her debut in the 1978 horror film Halloween and soon obtained the title of the scream queen. Jamie's net worth details here.
Curtis recalls growing up in abundance, all thanks to her parents' A-list status, but her life wasn't all bed of roses. Curtis also recollects an early life where she fell abandoned by her father, who remained absent from her life after his divorce from Leigh in 1962. Curtis shares how her parents' strained relationship affected her understanding of love and marriage.
Who is Jamie Lee Curtis's husband?
Curtis has been married for as long as she has been a star of a distinct caliber. The veteran actress's husband, Christopher Guest, is also a well-known figure. Guest, 74, is a screenwriter, composer, musician, director, actor, and comedian. Guest's writing work includes credits in Saturday Night Live with Howard Cosell, Saturday Night Live, and Family Trees. His acting credits are This Is Spinal Tap, Mascots, The Invention of Lying, and Waiting for Guffman.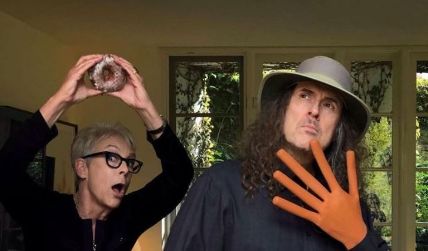 Curtis and Guest have been married for more than 35 years. Photo Source: Instagram
What's Curtis's recipe for a healthy marriage, you ask? The actress replies, "I'm not a wild romantic. I'm a realist. I respect him. And I don't leave," _ so keeping it real! Looking at Curtis's past interviews, the BAFTA winner might have manifested her marriage with Guest. As she shares, Curtis was flipping through a magazine when she first laid her eyes on a sharply dressed Christopher.
Recommended: Is Ryan Cabrera Married? Who is Ryan Cabrera Engaged to?
"I looked at the man on the right, wearing a plaid shirt and a waggish smirk. I'd never seen him before, but I pointed at him. 'I'm going to marry that man; I said to my friend," Jamie revealed. Curtis, who knew that Guest was "the one," was ballsy enough to pass on her number to the This Is Spinal Tap actor via a medium. But Guest never called, well, not immediately; the Halloween fame went about her life and started dating a man when Guest rang her number.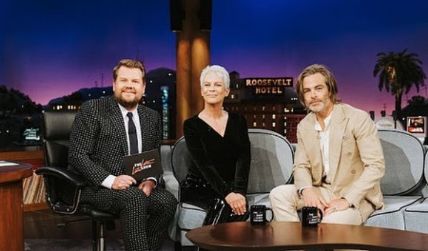 Jamie shares how she and Chris fell in love in a matter of days. Photo Source: Instagram
"On July 2, Chris and I had our first date at Chianti Ristorante on Melrose. And by August 8, we'd fallen in love," Curtis shared. The smitten couple tied the knots in 1984 at their mutual friend, Rob Reiner's abode. The pair don't have any biological children but share two adopted daughters. Curtis rarely shares loving posts about her husband, but during their 36th anniversary in December, the actress made an exception and poured her heart out for the love of her life.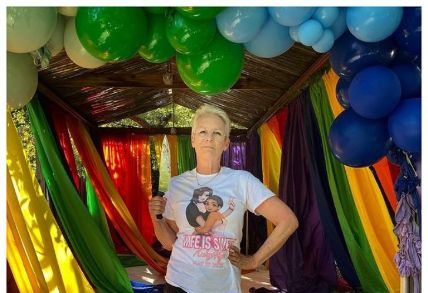 Curtis and Guest share two adopted daughters.
Photo Source: Instagram
"One of the longest relationships I've had seeking comfort and contact and connection is with Chris. Today marks the 36th anniversary of our wedding," Jamie wrote, adding, "Then and now. Connected through our children and family and friends it became the links in our human emotional chain that have seen each of us through triumph and tragedy."
Get to know Jamie Lee Curtis's children!
The Golden Globe winner shares two daughters, Ruby, 25, and Annie, 34, with her longtime husband, Guest. The couple adopted their daughter in the late 80s and 90s and have raised them with the same, if not more, amount of love as a biological parent. Jamie says she and Guest opted for adoption due to infertility. "Adoption was the only way for us to have a family," the actress shared.
Jamie's trans daughter Ruby had a cosplay wedding.
Source: Access
For the slasher film starlet and her husband, parenthood has been an awakening experience. The pair's oldest, Annie, is a graduate of Kenyon College and is a professional dancer and dance instructor. Annie is said to be working at the MNR dance factory in Los Angeles. She has been married to her partner Jason Wolf since 2019. About Curtis's youngest daughter, Ruby, she used to be Jamie and Guest's son.
The Halloween alum revealed Ruby came out as trans in 2020. Curtis describes Ruby's coming-out moment as emotional and awakening. "It was intimidating — but I wasn't worried. They had been so accepting of me my entire life," Ruby shared during a mother-daughter interview with People last year. Ruby is a computer gaming editor. Jamie's life has seemingly come full circle as the actress sends off her daughter Ruby in a beautiful cosplay wedding with her longtime partner Kynthia.
Check Out: Who is Amanda Jaeger? Who is her Husband? Detail About her Affairs and Dating History.
"WIFE IS SWEET! Ruby and Kynthia," Curtis wrote while commemorating her daughter's wedding. Jamie shares both of her daughters' weddings were held in her backyard. "It's so much more meaningful. Just forgetting all of show-off business — being a parent, having both of your children married in your backyard," the actress revealed.
Stay connected to glamour fame for more.
-->