Actress Jane Fonda Is Worried About Greta Thunberg Following Her Own Arrest on Friday
Published Sun Nov 03 2019 By Sea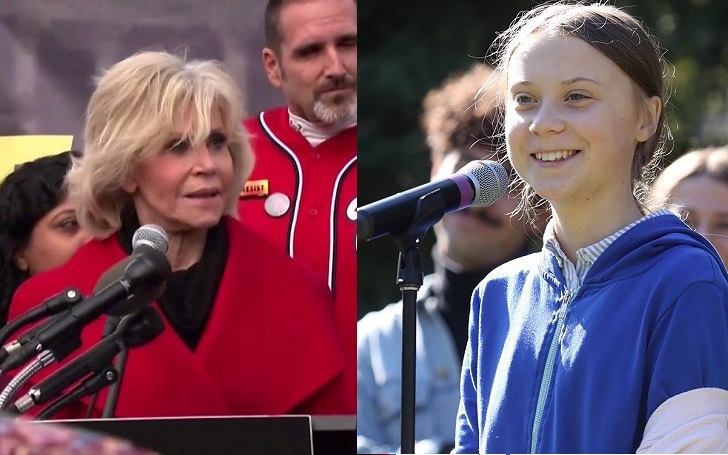 81-year-old actress Jane Fonda was arrested for the fourth consecutive Friday, and she fears for fellow activist Greta Thunberg.
Actress and activist Jane Fonda started her 'Fire Drill Friday' movement some four months ago, inspired by the works of renowned Swedish climate activist Greta Thunberg, in order to raise awareness about climate change. It reportedly started from Washington, and her first arrest was on October 11.
Every Friday, she and other advocacy organizations gather at the US capitol, just like Greta did in her early protesting days (she still does). After the first arrest, Jane has been cuffed every next Friday, albeit not with the actual cuffs. But the latest arrest, on November 1, was the only time she had to spend the night in a cell for any protest. She still vows to protest every coming Friday and face the arrests again.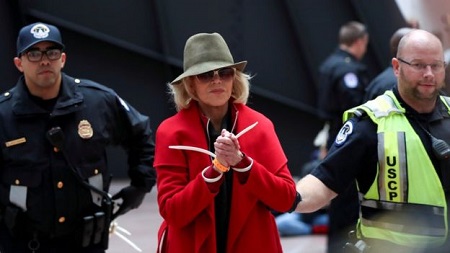 After being arrested with plastic cuffs, she said it hurt more than the metal ones.
Source: Getty Images
In her latest interview with BBC, she expressed her desire to meet the young 16-year-old environmentalist, but she was also worried about how her work could be a toll on her.
I worry about her, yes, I do. I have not met her, I hope one day to meet her. She understands that if she's attacked, it's because she's making a difference and that it scares people.
The 81-year-old further went on to acknowledge the teenager's claim of her Asperger's being her superpower. She also explained how today's young activists are way smarter than people used to be back in her days.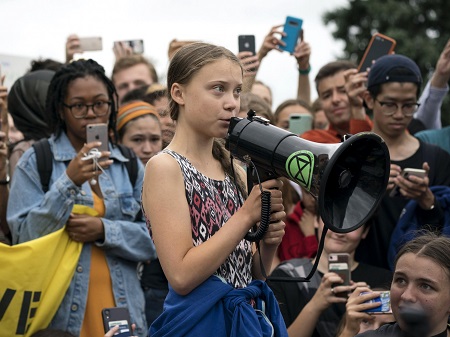 Greta's speeches and protests have inspired millions across the world.
Source: Sarah Silbiger, Getty Images
Of course, the 'Grace and Frankie' star has been involved in political activism for decades, like the campaigns for the civil rights movement and against the Vietnam War. Furthermore, she understands she is benefitted from the privileges of being a celebrity when being arrested, but she has a wide array of support groups.
On the same Friday, Greta appeared on 'The Ellen DeGeneres Show' and was asked if she would accept a meeting with the US President, Donald Trump, to discuss climate change. Of course, she promptly replied to Ellen DeGeneres, "I don't understand why I would do that." As if trolling the President back wasn't enough, the crowd went wild and applauded her.
Watch: When Asked If Greta Would Meet the President
Jane becomes one of many who support the cause of a better future by preventing further climate change. Actress Anne Hathaway encouraged her to stay strong while Leonardo DiCaprio, an environmentalist himself, defended her against Donald Trump's mocking tweet, which she herself did later.
Stay tuned and connected to GlamourFame for more Entertainment content of your favorite celebrities.
-->