Who Is Greta Thunberg? Her Meteoric Rise to Fame!
Published Thu Sep 26 2019 By Sea
That clip of Greta Thunberg giving a weird look at the President of the United States has many people riling up. Her showdown with Donald Trump is still continuing as they use Twitter to indirectly address each other and seemingly have kind of a Twitter battle.
Greta is known for her grit towards actions against climate change and the will to stand up to anyone she needs to in order to get her voice heard for the better future. Many can consider climate change a hoax, but witnessing the Amazon rain-forest burn for weeks is alarming, to say the least. The report from the Australian think-tank certainly agrees with her revolution.
So Who is Greta Thunberg, Famous for Being The Bold Young Activist?
Greta is a young environment/climate activist from Sweden. Speeches are the strengths of this young 16-year-old girl from the Swedish capital. Within less than a year of serious action, Greta made way into the UN headquarters to give another powerful speech to the world leaders present in the room, calling for action on climate change. For convincing the naysayers, she crossed the Atlantic by sailing on a carbon-neutral yacht to enter the US.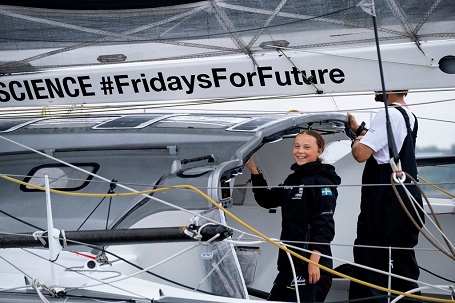 The yacht used underwater turbines to produce electricity on board and solar panels attached.
Source: Craig Ruttle, Associated Press
The environmentalist's first significant speech was at the 24th UN climate summit (COP24) in Katowice, Poland on December 3, 2018. She called out the UN secretary-general, António Guterres, and criticized the world leaders for "behaving like children" (yes, she actually said that). She gave another speech on December 12, 2018, whose video became viral on the internet.
Watch: Greta Thunberg's Full Speech Addressing António Guterres at COP24, December 3, 2018
Watch: The Viral Video - Greta Thunberg's Full Speech at COP24 on December 12, 2018
That very speech made waves all over the world, and she moved on to alert the leaders of several other countries and even gathered followers like herself all over the world.
From the Country with the World's Best Waste Management System, Her Father Took Her to Poland
At COP24, Greta was with her actor father, Svante Thunberg, after she was named one of Time magazine's Most Influential Teens of 2018. Her mother is Malena Ernman, is a performer who competed in the Eurovision song contest in 2009.
Both her parents are accomplished professionals in their respective careers. Svante is an author, producer, actor and arts manager, while Malena is an opera singer, actress and author. The two also have another daughter, Beata Thunberg, 13, who loves singing.
It's not surprising why Greta wants to raise awareness on climate change. Sweden is known for its excellent waste management system, which, according to many, is a goldmine for the country. They use it to power the country and go as far as to purchase waste from other countries by paying for it. Even if they do it so well, Greta was not satisfied as her first step towards her work was against the Swedish government.
Beata Was Also Diagnosed with Autism and ADHD Like Her Sister
As it is common among teenagers, Greta also went through the depression, so much so that she stopped & eating a few years ago. She had Asperger's syndrome which, according to her, made her see the world differently, as black-and-white, and made her realize what was wrong with the world. She was almost hospitalized after feeling like there's no reason for her to live. But she gathered the courage to move on by realizing she could do so much with her life.
Three years younger than her, Beata also was diagnosed with a similar form of autism, ADHD, OCD and defiant syndrome when she was 12, like her 3-year-older sister at the same time. She was in a phase where she demanded everything go everything just the way she wanted them to, like demanding her mother to not move from the door of her classroom until the day is over.
The sisters have two dogs and love animals.
Source: Beata Thunberg, Instagram
Despite these hurdles, Greta believes it gave her more strength and is her "superpower". It allowed her to be more straightforward and speak more directly about climate change. As for the rewards for her actions, Norwegian lawmaker Freddy André Øvstegård nominated her for the Nobel Peace Prize, the winner of which is to be announced on October 11. Remember, she is the descendant of the Nobel Prize-winning scientist, Svante Arrhenius, who first calculated the greenhouse effect caused by carbon dioxide emissions in 1896.
All Members of the Thunberg Family Are Authors
The entire story of the family life with every struggles and success they went through is accounted on a book (written in Swedish) they all co-authored in 2018, 'Scenes from the Heart'. It is written as an autobiography.
The details of Greta's life before she started her campaigns, Beata's struggle with OCD and ADHD, Malena's singing career & tours and the joy of being parents are all documented in the book.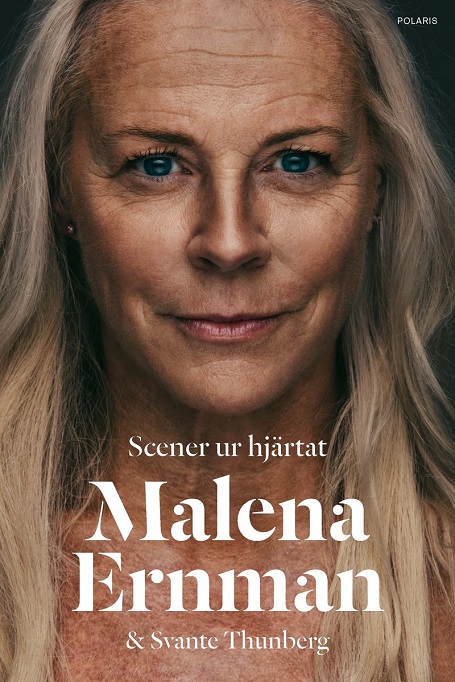 An autobiography was compiled by the Thunberg family.
Source: Thunberg Family, Polaris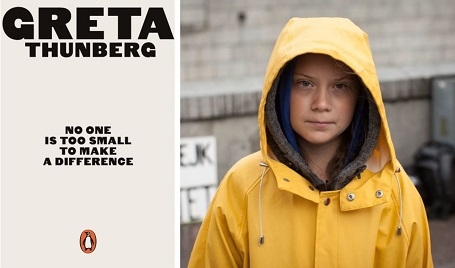 A teenager on a mission to change the world.
Source: Anders Hellberg
There's another book from Greta that transcribes all the speeches she gave since she started her movement. It is titled 'No One Is Too Small to Make a Difference' released in May 2019.
The Whole Family Went Vegan on Greta's Request
It was not easy for Greta to make her parents start following her visions. Instead of showing graphs and charts, she made them feel guilty by saying they were "stealing her future".
The parents were not immediately on board with the idea of going vegan, as they believed there would be something to counter that in the future. Realizing it was not as they thought, she used statistics to aware them, but they were unmoved by that. Then, she used the guilt trip.
Watch: How Greta Made Her Parents Go Vegan
Now, Svante is a vegetarian, and Malena tries real hard to keep animal products off her food. Greta had already given up meat at 12 before she went into depression.
The Protests by Students Against School Shootings in the US Inspired Greta for Her Own School Strike
Around February 2018, several school shootings in the US made the young students refuse to go back to schools. Most notably, the protest by the Parkland students in Florida jumped at her. She tried convincing other students at her school to go on a strike for climate change with her. But no one supported her (even her parents initially opposed her actions), except the Fossil Free Dalsland people. When no students wanted to go for it, so she decided to go just by herself outside the Swedish Parliament on August 20, 2018, with a sign that said 'School strike for climate' in Swedish. She was in ninth grade back then.
Greta stopped going to school for over two weeks until Sweden's general election on September 9. She handed out leaflets to passersby that read, "I am doing this because you adults are sh*tting on my future." It did make immediate impacts though as some people joined her the second day. And later, one of her teachers, Benjamin Wagner, sat down with her. The Green party was rising in the polls with her support and Stella d'Ailly, an art director also joined in. She did her homework during the protest though.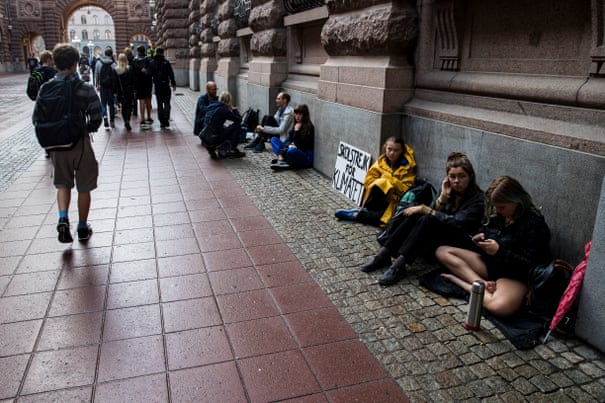 Source: Michael Campanella, The Guardian
Social media was a big platform for Greta to spread words of her action, despite others rejecting her in the real world. She did the same, and other similar people amplified her cause.
As opposed to her plan to stop the protest after the election, she continued to strike on Fridays only as she went for four days a week to school. Thus began her school climate strike movement, 'Fridays for Future'.
Then Began the Public Speeches
October 20 was her first large-group public speaking in front of 10,000 people at a climate change prevention march in Helsinki, Finland, organized by Greenpeace, WWF, and Helsinki University's student union. On November, she spoke at the TedxStockholm (first speech).
Watch: Greta Thunberg's First Speech at the TedxStockholm
During her protests, other parts of the world were already seeing the same thing. More than 20,000 students joined her cause in about 270 cities and towns all over the world by December. Thousands of students in Hobart, Tasmania, Australia protested, while cities in Belgium, Canada, the US, the UK, Finland, Denmark, Sweden, France and the Netherlands saw similar scenes.
Then came COP24 and Greta's the viral speech video that over 9.8 million people watched on the Facebook page for Brut UK. She challenged the World Economic Forum in Davos on January 22, 2019. Then at the conference the next day, she warned the delegates by telling them they should panic.
Watch: "I Ask You to Prove Me Wrong"
Watch: Greta Thunberg's Full Speech at the 2019 World Economic Forum (WEF) in Davos - "Our House is on Fire"
Traveling to Brussels, Belgium in February, she addressed the students taking up her cause and urged politicians to listen to the scientists.
Watch: Greta Thunberg's Full Speech in Brussels - "Don't Wait for Us to Grow Up"
On March 15, over a million students were a part of 2,000 protests in 125 countries, for the first Global Climate Strike for Future, ranging from Albania and Kyrgyzstan to Peru, Thailand and Zambia.
Greta moved on to the UK in April as she attended the EU Parliament in Strasbourg and gave another speech addressing the MPs. She went around speaking in various events and the Extinction Rebellion protest in London. When she arrived in London, the traffic was halted as children waved meme-emblazoned placards and chanted outside Downing Street, "Theresa May, hear us say, climate change is here to stay!"
Watch: Greta Thunberg's Full Speech at the EU Parliament - "This Is an Emergency"
Greta made another appearance at the National Assembly in Paris on July 23 to speak out the statistics of climate change.
Watch: Greta Thunberg's Full Speech at the National Assembly in Paris - The Year 2030 Will Exceed the Tippling Points
The Speech in the US Caught the Eye of the US President
September was a busy month for Greta as she arrived in the US around the middle of the month. She first testified to the US Congress on September 18 to give a wake-up call over climate crisis, accusing them of not trying hard enough. The United States House of Representatives Select Committee on the Climate Crisis was present during the testimony.
Watch: Greta Thunberg's Wake-Up Call to the US Congress
On September 20, 2019, Greta attended the demonstration in New York City. It was the biggest climate protest yet because millions of people worldwide demonstrated at the same time (even with different time-zones) for each of their specific concerns towards global climate change. Over 185 countries had these demonstrations that raised the issue of rising sea levels in the Solomon Islands, toxic waste in South Africa and air&plastic waster in India. For the first time since Greta's protest began, adults joined in such large numbers across the world.
Watch: The World United at the Same Time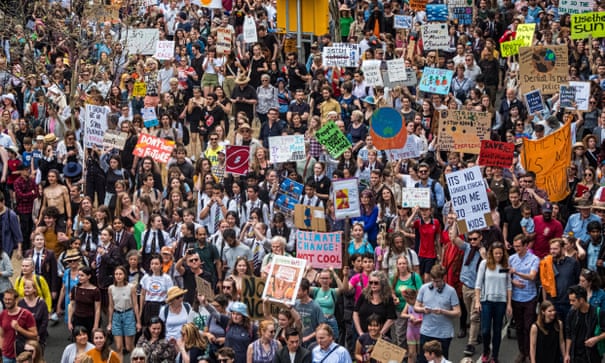 Protests in Melbourne against coal expansion.
Source: Asanka Ratnayake, Getty Images
The speech Greta gave at the 2019 UN Climate Action Summit in NYC to the world leaders was a harsh one, but she felt it was necessary. She accused them of stealing her dreams and the chance to have a different kind of childhood. She also addressed the Paris 2015 treaty that the global superpowers signed and how five of the countries have not abode to the agreements. She would be filing a lawsuit against them.
Watch: Greta Thunberg's Full Speech at the UN Climate Action Summit - "We're Watching You"
It seems Donald Trump was a little offended by the look she gave during her entrance as he took to Twitter to kind of mock her. "She seems like a very happy young girl looking forward to a bright and wonderful future. So nice to see!"
Some Criticism Are Still There, as It Always Will be
How important Greta Thunberg and her activities to prevent worse climate change scenario is, people have to look into it and realize it sooner. But for all the praises she got for her movement, there are critics along the way.
While some people won't believe global warming is real yet, there is no reason to dismiss what she says. Aside from the so-called world leaders not going forward with actions against climate change, Laura Ingraham compared her and other young activists to the characters of a Stephen King story, 'Children of the Corn'. One Fox News guest, Michael Knowles of 'The Daily Wire', is not going to be invited by the network in the future for his remarks against Greta on 'The Story'.
Greta will share her actions on social media, if you want to follow-up on her climate change initiative. Despite the critics saying she is wasting her time, she will continue without tiredness.
Stay tuned and connected to GlamourFame for more Entertainment news.
-->