Jasmine Tookes Stepped Out for a Date Night with her Husband Juan David Borrero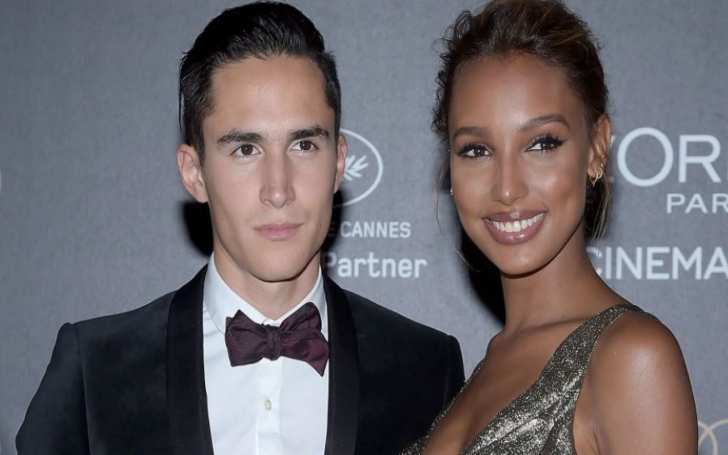 American model Jasmine Tookes on a romantic evening with her spouse.
In the realm of glamour, Jasmine Tookes is a well-known name. She is an American model who has amassed a sizable fan base as a result of her talent and beauty. She is a former Victoria's Secret Angel and a commercial model renowned for her advertisements for The GAP, DKNY, and Ugg.
Jasmine was born in Huntington Beach, California, on February 01, 1991. She was raised with her younger sister, Chloe Tookes, a child model who is nineteen years her junior. She did gymnastics for ten years and played softball and volleyball. Her mother works as a celebrity stylist.
Jasmine Tookes Stepped Out for a Date Night with her Husband, Juan David Borrero
Jasmine, the stunning model, is a happily married woman. With her successful job and romantic affairs, she was frequently in the spotlight. She recently made headlines after she was photographed having supper with her husband, Juan David Borrero. They were photographed having a good time at Craig's, a West Hollywood hotspot for celebrities.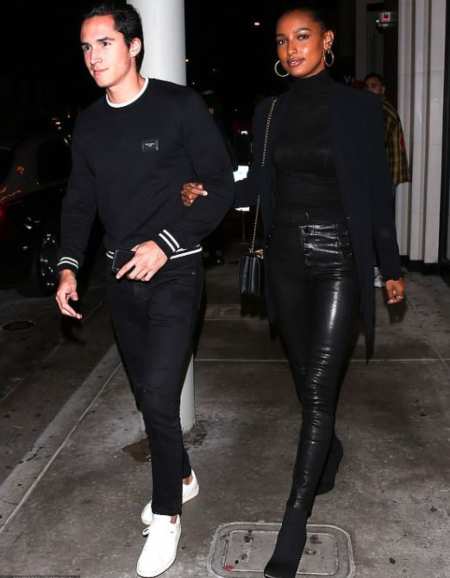 Image: Jasmine Tookes with her husband, Juan David Borrero, enjoying a dinner date.
Source: Daily Mail
With her glamorous outfit of a brown top and black boots, the former Victoria's Secret model dazzled the crowd. She wore a full face of makeup that complimented her natural beauty and was finished off with a warm brick red lipstick that glowed in the dark. She completed her appearance with a long-sleeved turtleneck top and a little black purse to show off her thin shape.
You May Also Like: Alexandra Burke Stepped Out With Her Boyfriend Darren Rudolph!
Her husband, on the other hand, looked dashing by imitating his wife's appearance. He looked good with his khaki slacks and a pair of neutral sneakers. A sweatshirt with asymmetrical white graphic design completed the appearance for the clean-shaven husband. In addition, the duo arrived in their red sports car and drew the crowd in every way possible.
How is Marital Life Going On With Husband Juan David Borrero?
Jasmine is now a happy wife at the age of 31. She met her spouse, David, in 2016, and the two started dating. Juan is a social media celebrity who is well-known for his lifestyle and travel-related posts. He is also the director of Snap Inc.'s worldwide markets and the son of Ecuador's Vice President, Alfredo Borrero Vega.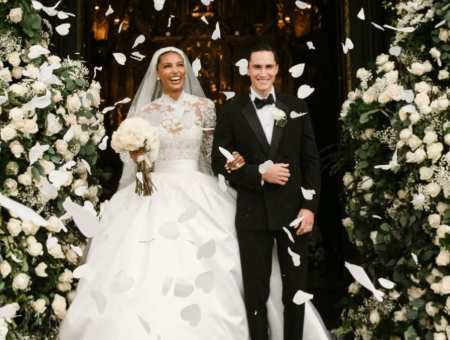 Image: Jasmine Tookes with her husband, Juan David Borrero, during their wedding.
Source: The Knot
After four years of dating, the couple announced their engagement on their individual social media sites in September 2020. Borrero knelt on his knees and declared his love for life in a romantic manner. Fans congratulated the couple on their new beginning in life after they shared their sweet nights on social media.
Don't Miss: Kate Garraway Shows Love With Her Husband Derek Draper in Different Way!
On September 4, 2021, the couple exchanged wedding vows after a year of engagement. Their wedding was held in Quito, Ecuador, in the Iglesia y Convento de San Francisco.
For More Related Contents Visit Glamour Fame
-->