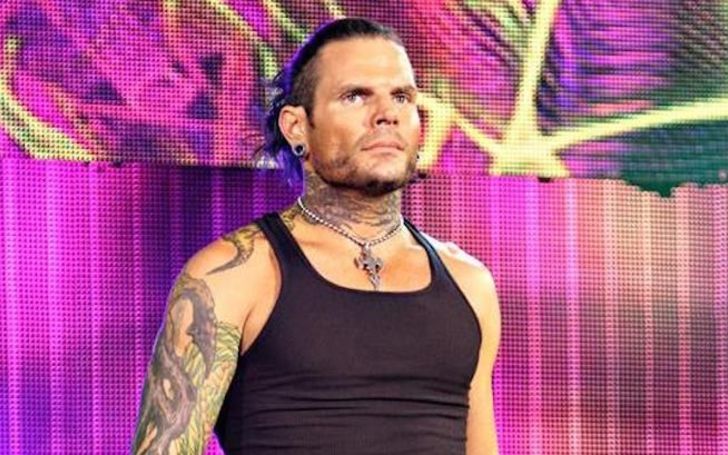 Jeff hardy's back in the SmackDown ring sporting an elaborate art piece on his back and a new finishing move!
Jeff Hardy is one name in the wrestling world that's been around for a long time. Appearing as the other half of 'The Hardy Boyz' alongside his brother Matt Hardy, the duo were quick to establish themselves as stars in the wrestling universe. Jeff first stepped in the ring in 1994 as a jobber, a wrestler who consistently loses to make his opponents look stronger, lying about his age against Sean Michael Waltman.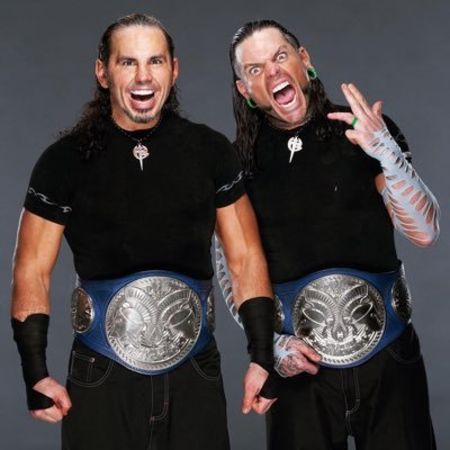 The Hardy Boyz; Jeff Hardy and Matt Hardy.
Photo Source: Twitter
Eventually, the World Wrestling Federation (WWF) caught whims of the twosome and got signed with the entertainment company in 1998, where they trained under Dory Funk Jr. This marked the formation of the acrobatic tag team, which they do renowned for. Despite brief stints with other projects, Jeff returned to the WWE multiple times. The Hardy Boyz defeated The Usos (Jey Uso and Jimmy Uso) to win the SmackDown Tag Team Championship, their ninth tag team championship together in WWE last year.
Watch: The Usos vs. The Hardy Boyz - SmackDown Tag Team Championship Match
However, the reign was short-lived and only lasted for 21 days because of Hardy's knee injury. The return from the injury was one of the most epic ones when Hardy defeated King Corbin with a new finishing move sporting a new back tattoo with zero audiences to watch him win.
Jeff Hardy's New Back Tattoo
After a long hiatus from the show following his injury, WWE Performance Center saw Jeff Hardy return to defeat King Baron Corbin in singles action. Not only did Jeff debut a new finisher - the Twist of Fury, he also showed off a new back tattoo.
You Might Also Like: Jockey Victoria Pendleton Shows Off Her Tattoos at The Sun Military Awards
While Hardy did gave a glimpse of the art towards the end of the match, but most didn't really get a good look at it until an interview he did later in the night with Kayla Braxton.
Watch: Jeff Hardy celebrates his return victory & his new back tattoo
The tattoo featured a horned demonic three-eyed grey face with a very twisted red smile. He described the symbol as the 2020 version of himself saying, "It's good to be back and by the way, this is the 2020 version of Jeff Hardy. I started it in July and wasn't able to finish it because it was torture to get it done, but this is good enough. I've always wanted a back piece and here it is."
The Dragon Tattoos on His Left Leg
Jeff began covering his body with designs when he was 18 years old. Despite his father being against tattoo, he still went out to Fayetteville, NC, and got his first tattoo on his left leg. Inked at the Bill Claydon's Tattoo World, the black and white dragon tattoo remains uncovered to this day.
Jeff Hardy's uncovered black and white dragon tattoo.
Photo Source: Best Celebrity Tattoos
Hardy revealed the backstory of the tattoo in an interview with Corey Graves for 'Superstar Ink' on WWE's Youtube channel. Jeff agrees to Corey when he describes his own unfinished tattoo as incomplete and something to keep adding on to.
The Roots Tattoo on the Right Arm
The 42 years old professional wrestler is also a landscaper at heart, and the roots tattoo is a symbol of that very part of him. He's continuously designing arts on his lawn by mowing down his yard. Probably one of the most meaningful arts on his body, the ink that runs down his entire right arm.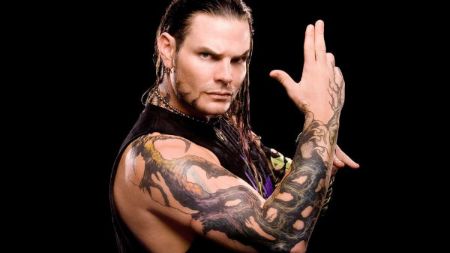 Jeff Hardy's roots tattoo on his right arm.
Photo Source: What Culture
Jeff talks about how this particular ink represents his love for the roots network in plant life, which is quite similar to nerves in humans. It describes his connections with the world just as roots that remain fixed deep underground.
The Twin Demonic Tattoos on His Neck
When Jeff Hardy painted the left side of his neck with a demonic face, he didn't realize at the time he would be getting another one. Wondering how it would look if he had a second one on the right side, he got an identical second tattoo on the right too. Both symbols met in the middle at the front and looked like they're chocking Hardy.
Watch: How Jeff Hardy's tattoos tell the story of his personal demons: Superstar Ink
Jeff related this artwork as a metaphor for his dark days, his addiction, and how he overcame that hurdle. The twin demonic faces symbolize Hardy's journey through his hardest times.
The Snake Wrapped Around His Roots
A lot of people that saw Hardy's roots tattoo flowing down his entire right arm and a portion of his back, questioned him if it was a snake. A sudden urge to get a snake inked took over the pro wrestler during his seven-years-long hiatus and so he got his second most significant piece after the new entire back addition.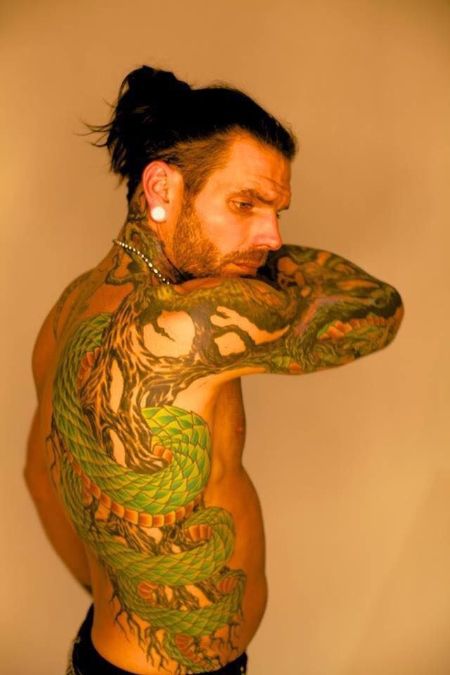 Jeff Hardy's snake wrapped around the roots tattoo.
Photo Source: Pinterest
Jeff, who admitted his fear of snake in the interview, said that this was the visual representation of his phobia. The bright green rattlesnake wrapped around his roots is his way of trying to overcome that phobia.
The Octopus Strangling a Bunny
The calf of one of his legs is the resting place of the sick octopus strangling a bunny tattoo. Jeff got this artwork designed by Jesse Smith when he appeared on the Ink Master show. The orange octopus holding a white bunny looks something like a piece one doesn't need but would everybody wants to get.
Jeff Hardy's octopus strangling a bunny tattoo.
Photo Source: YouTube
Hardy stated that he and the artist Smith only got up twice in the entire six long hours that took to paint the octopus and the bunny.
Recommended: Asap Rocky Tattoos - Learn the Entire Meanings
A big-time tattoo lover, Hardy even bought equipment to ink in his own body back in 2007. While that might've not worked out, Jeff's got his fair share of designs on his body that clearly shows his affection towards inking his skin.
For more articles on celebrity tattoos, head on over to Glamour Fame, and don't forget to sign up for the newsletter.
-->