Jennifer J. Cummings - Details of Her Family!
Published Thu Dec 05 2019 By Sea
Of all the three children the late US Rep. Elijah Cummings of Baltimore is survived by, Jennifer J. Cummings has been the most recognized one. Of course, she is the only one he had with a legit relationship with his wife. Others were born out of wedlock.
Jennifer is the Senior Director of Communications at Business Roundtable and is backing Harry Spikes for Maryland's 7th Congressional District. She, with her sister, believes Spikes is the embodiment of what Elijah defined himself with, "an ordinary man called to an extraordinary mission". But it's not without any hurdles as, on the opposite end, their stepmom is running for her late husband's seat.
Even the Name of Jennifer's Brother Is Unknown
Jennifer Cummings was the first child of Elijah to be born with now-widowed ex-wife Joyce Matthews. Reports of Elijah being a father to a son and another daughter came back in 1999. The son was 16 years old back then, and he paid about $30,000 in 1998 to cover his school expenses.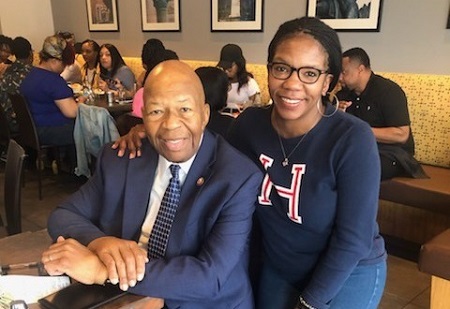 Jennifer has a half brother, but who knows who he can be.
Source: Jennifer Cummings
Elijah and Joyce divorced in 1982, leading people to believe he might have been the cause. Despite the reports, there has been no revealing of the son. Even his name is not released yet. He stays pretty far from social media, as well.
Jennifer's Sister Adia Was First Spotted Driving for Loft in Elijah's Congressional Honda Civic
The other child of Elijah was Adia Cummings, who was reported to be four years old in 1999. She was attending Howard University around mid-2000 when Elijah lent her his black Honda Civic to get around the capital. As was the hype, she also drove it for Lyft to make extra cash for her study.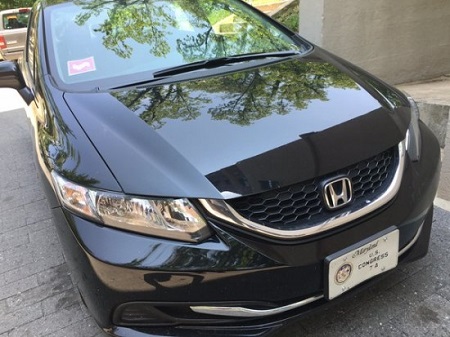 That congressional number plate made people nuts.
Source: PoPVille
Cummings' official congressional license plates were still intact on the car as people started noticing it with a Lyft sticker in the windshield and putting pieces together. But at first, they thought it was actually a member of Congress driving to earn money.
With a little deeper investigation, the 'Reliable Sources' gossip column figured out that it was Elijah's other daughter. He later apologized for not removing the plate before lending it to her. After that, it was changed, and she continued to drive for Lyft.
Speaking of Howard University, Elijah himself was an alma mater of the university, and so was Jennifer. She completed her BA in journalism and public relations in 2003 while Adia got a degree in English from Howard in 2016. Elijah congratulated the latter via Facebook.
Stepmom Maya Rockeymoore Cummings Announced Her Candidacy a few Weeks After Her Husband's Death
Maya Rockeymoore married the Democratic Congressman in 2008 and became a stepmother to Jennifer. After he passed away on October 17, 2019, due to his prolonged health problems, his democratic seat in the US House of Representatives remained vacant.
To fill his place, Maya will be running for the seat with 31 other candidates. A downside to that would be her stepdaughters' support for another candidate though. Harry Spikes is Elijah's long-time staffer. That's who the daughters will be backing for the campaign.
There is no bad blood between the people under discussion though. Their idea simply differs in a way. Here's more if you want to know about Rockeymoore.
Stay tuned and connected to GlamourFame for more Entertainment updates.
-->