Jesse Watters Warns Bernie Sanders Will Only Cause Chaos If He Wins Nomination
Published Thu Feb 06 2020 By Matthew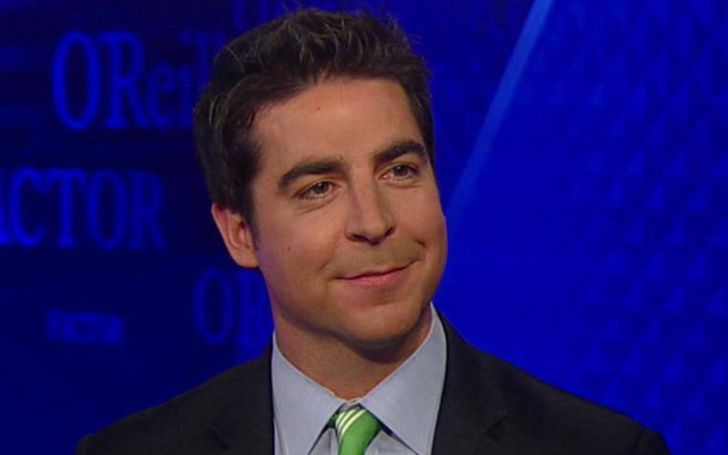 Jesse Watters supports Democratic strategist James Carville's statement and alerts that Bernie Sanders will cause chaos if he wins nominations!
Jesse Watters, the American political commenter on Fox News Channel, revealed that the establishment Democratic must be worried about Senator Bernie Sanders becoming the top horse for the Democratic presidential nomination. He added Sander's candidacy would bring about chaos to the party and supported James Carville's statement about the choice of the party's candidate.
Carville, the Democratic strategist, who talked about party candidate choices said,
It matters who the candidate is. It matters what a party chooses to talk about, I'm 75 years old, why am I here doing this? Because I am scared to death. Let's get relevant here ... all the Sanders people are taking pictures wishing Jeremy Corbyn the best. ... I don't want to go down that path.
The statement from James came when Iowa caucuses, with 62% of Iowa precincts reporting showed Pete Buttigieg leading the poll with Bernie Sanders coming close right behind him.
Jesse stated that he agreed on his co-host Juan Williams's question over if Bernie Sanders's brand of populism may be causing harm to a Democratic way. With 86% of the reporting, the results remained similar to Sanders falling behind, lacking just over a percentage.
Watch: Bernie Sanders: Today Marks the Beginning of the End for Donald Trump
Presenting his judgment over the results, Watters reported that the former Vice President Joe Biden would end up with zero delegated coming out of Iowa and go 0 for 3 moving into South Carolina from New Hampshire and Nevada. Jesse put up Bernie Sanders's name for the win in New Hampshire, concluding that Biden will end up far behind his contender Sanders.
Recommended: Jesse Watters Slams Call to Eliminate Billionaires
Jesse, however, went on a completely different path later and ranted about how almost all Americans over 50 years of age hate Sanders. Bernie's ideologies are, after all, often only preferred by very liberal and very young Americans.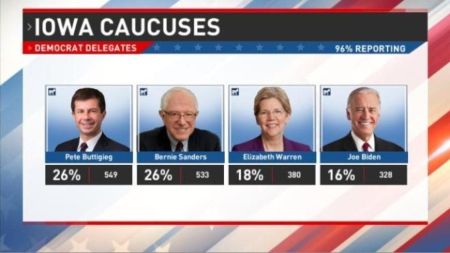 96% of Iowa precincts reporting showed Pete Buttigieg leading the poll with Bernie Sanders coming close right behind him.
Source: News Break
Furthermore, he called Bernie a non-photogenic communist sympathizer who never did a damn thing during his time in Senate. Topping it all off, Jesse exclaimed that Bernie was only going to cause chaos and hoped for 78 -year-old Senator from Vermont win the nomination only to see the Democratic party fail at the 2020 election.
Related: Jesse Watters Is Set to Be Married to His Mistress Following His Divorce from Noelle - What's the Story?
It's quite clear that Jesse Watters talks a long game when it comes to seeing the downfall of the Democratic party once more if Bernie Sanders win the nomination for the 2020 presidential election.
Tune into Glamour Fame for more celebrity updates, and don't forget to sing up for the newsletter.
-->