Jessica Alba, 38, Stars In The Cover Of The August Issue Of Cosmopolitan
Published Mon Jul 08 2019 By Chester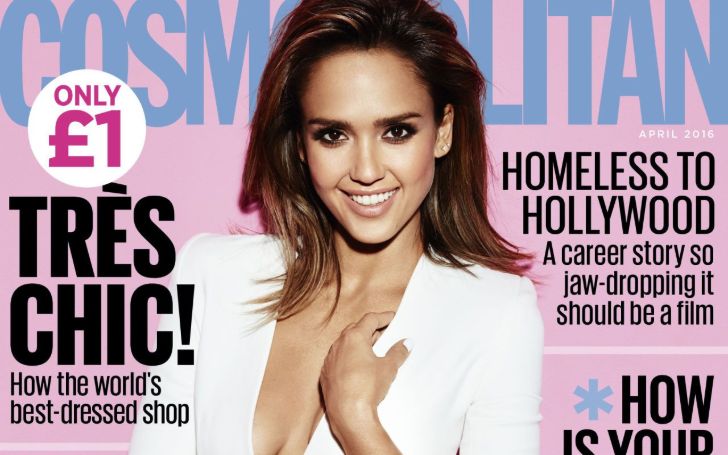 American actress and businesswomen Jessica Alba features in the August cover of Cosmopolitan.
From 'Camp Nowhere' to 'Fantastic Four' to the stunning actress' 25-years-glorious journey in showbuzz industry to being an entrepreneur, Jessica Alba features in the cover of Cosmopolitan magazine.
Yes, Jessica will be gracing the August issue of the Cosmopolitan magazine as she recently was photographed for the monthly cover.
Within the section of intriguing talks and some of her memorable experiences, Alba highlighted the longtime burning issue on the Hollywood industry about harassment and inequality.
Jessica Alba Opens About The Harassment She Faced Earlier In Her Career
The Dark Angel actress Jessica Alba shares the inequality of the sexes the star had to work for two.
The california actress Jessica shares,
"I was very much humiliated. In many circumstances with me and other women in the industry spoke openly dishonest and ugly. I worked very hard: men-colleagues compared to me not doing anything. However, fortunately, I have been through this."
The 1.69 meters tall, Alba confronted gender inequality early in her career. She states that she had to work double in comparison to the male leads.
Jessica Alba Stuns In Dior Dress As She Kisses Cash Warren While Celebrating Her 38th Birthday In Morocco >>>
Nevertheless, the actor expresses that she was always competitive with the male actors. I was like "Why can't I be the star of an action series? Why can't I open movies? Why can't I put asses on seats?"
"The more people get used to women starring in stuff, the easier it will get for us to be more equal … I didn't want to be the women who Bruce Willis was into in Die Hard, I wanted to be Bruce Willis!"
Role as a Businesswomen
On embracing her role as an entrepreneur, Jessica shares, 'I'm always thinking like an entrepreneur and I'm intuitive, so when someone's just going through the motions and not thinking about the consumer's experience, I challenge them.'
The loving mother of three, who shares children Honor, 11, Haven, seven, and Hayes, 18 months, with husband Cash Warren, gushed: 'I love the brand architecture of being a boss.'
'Setting the vision and pushing outside the box, so people aren't just clocking in and doing the bare minimum of what their job expectation is,' Jess adds.
Despite many inequalities and barriers Alba faced in her career she allegedly went through every single on of it. As of now, she is one of the famous yet successful Hollywood faces who holds a staggering fortune of $340 million. So one thing the whole thing articulates is - never let other opinions overrule you, you are who you are, be strong and motivated.
Who Is Jessica Alba' Husband? Grab All The Details Of Her Married Life And Past Affairs! >>>
Find more details on the August cover of Cosmopolitan. Stay tuned and updated to find more intriguing articles on your favorite celebrities.
-->