Jim Nantz net worth - Complete Breakdown of His Salary and Income
Published Tue Apr 07 2020 By Matthew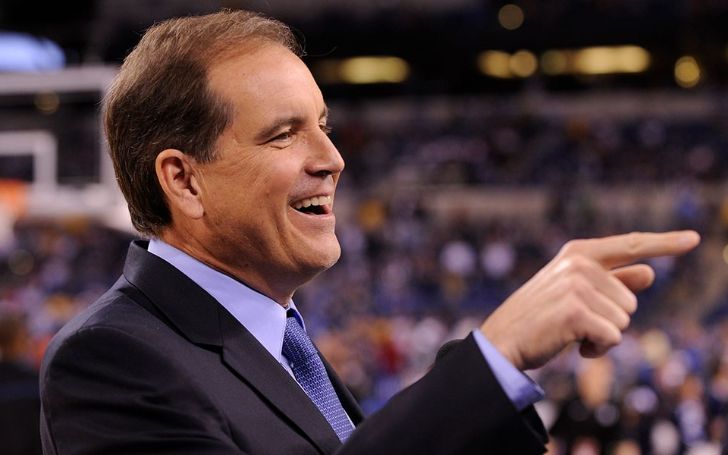 Here is the complete breakdown of the American sportscaster Jim Nantz's net worth, his salaries and incomes!
A quite famous name in the American sportscaster community, Jim Nantz is one of the most professional ones in the field. Be it NCAA Basketball or PGA Golf Tour, Nantz is seen around covering them all. Once a member of the men's golf team at the University of Houston, the Charlotte native has been calling the Masters tournament for CBS Sports since 1989.
The famous sportscaster for CBS Sports, Jim Nantz.
Photo Source: Stamford Advocate
Born May 17, 1959, as James William Nantz III in Charlotte, North Carolina, Nantz started as an anchor and sportscaster for KHOU Houston in the early 80s before moving on to KSL-TV in Salt Lake City. Partnered with 'Hot Rod Hundley,' the professional basketballer, Jim called BYU football games and Utah Jazz games.
CBS Sports welcomed the star in 1985, and there's been no looking back for him ever since. Initially working as a studio host for the network's college football and basketball coverage, he moved up in his career quickly and was soon anchoring the CBS coverage of the Masters' Tournament since 1989. Jim continues to remain the play-by-play announcer on CBS' top NFL game ever since 2004.
Jim Nantz's Net Worth
As of the year 2020, Jim Nantz's net worth is estimated to be in the ballpark figure of $15 million. With over 25 long years as one of America's favorite sportscaster, his staggering net worth barely surprises anyone.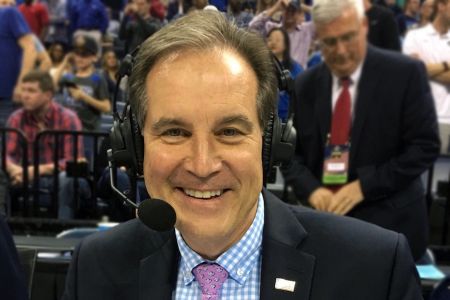 Jim Nantz's net worth is estimated at $20 million.
Photo Source: Maria Shriver
Nantz even made the 2019 list of Business Insider's 10 of the highest-paid people on sports television. As reported in the last year's list, Nantz's is reportedly compensated $5 million annually by his employers for the services rendered.
Jim Nantz's Salary and Income
Primarily associated with the top dog sports channel in the entertainment industry, Jim receives most of his proceeds from CBS as he continues to cover play-offs for the channel. The five-time winner of the NSSA's National Sportscaster of the Year is paid somewhere between $4 million to $5 million per year as salaries by CBS alone.
While Nantz makes quite a fortune from CBS, that isn't the only contributor to his astonishing net worth. As a part of the deferred compensation of the deal that Jim Nantz secured with Titleist, a golf company, he is awarded an additional $4 million yearly. It's safe to predict that his level of wealth is only going to skyrocket in the coming future.
The Story of Jim Nantz's Dream House
One of the youngest recipients of the Basketball Hall of Fame's Curt Gowdy award for broadcasting, Jim made a considerable impact through his profession. And to suit his lifestyle, he bought the place of his residence overlooking Pebble Beach back in 2011.
The fascination for that place always existed in Jim's heart, all thanks to childhood nostalgia. But after looking for the perfect place for a long time, he finally found the perfect one where he and his now-wife got married. Nantz purchased on the spot, fearing he would lose it to someone else and paid the full asking price for the property.
When Nantz was just ten years old, his father Jim II took him and the family to a three-hour drive to Pebble Beach and that Jim's first memory of the place. After almost 25 years of dreaming of possessing an address overlooking what he calls the Mecca of American golf and passing over a fair share of houses in the market, Jim finally received a call from the realtor on Oct. 20, 2011.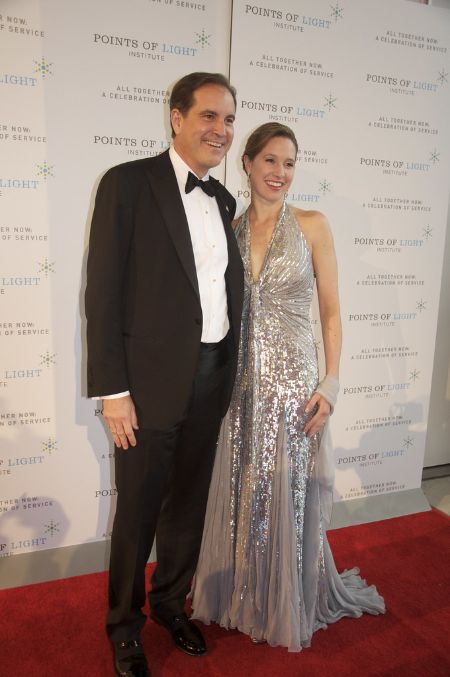 Jim Nantz and his wife, Courtney Richards.
Photo Source: Flickr
Accompanied by his soon-to-be wife Courtney, he jumped on a plane the very next morning. After an eight-month renovation and expansion project to have their new home ready to move in on their wedding night, June 9, 2012, Jim's dream came true as he carried his wife across the threshold to their new home.
Recommended: Courtney Richards - Some Facts to Know About Jim Nantz's Wife
For more details on celebrity net worth, head on over to Glamour Fame, and don't forget to sign up for the newsletter.
-->