Courtney Richards - Some Facts to Know About Jim Nantz's Wife
Published Mon Apr 06 2020 By Eric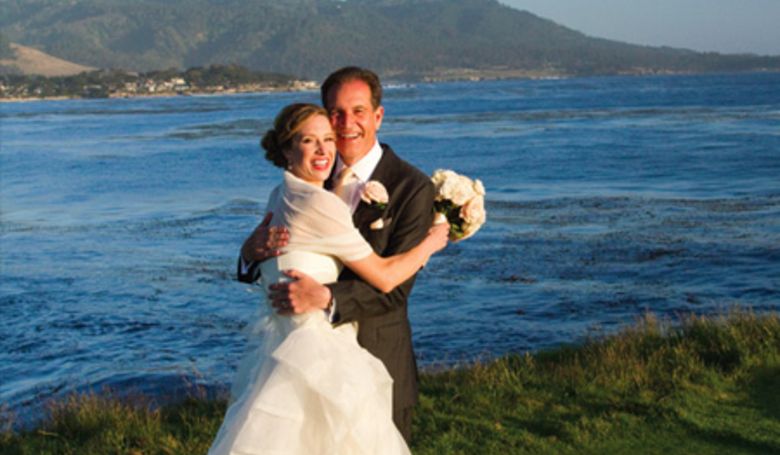 The name Jim William Nantz isn't new for the people who are sports lovers. Since the 1980s, he worked on the telecast of the National Football League, NCAA Division I men's basketball, and the PGA Tour for CBS Sports and made a successful career as an American sportscaster. Though Nantz's professional life became a huge success, his personal life went through some ups and downs. His first marriage was a failure, but he did make his second marriage success with Courtney Richards.
After legally separating from Jim's first relationship, he created a beautiful family with Courtney. As most of our readers wanted to know about the gorgeous wife of the famous broadcaster, Nantz, today, we brought you some exciting facts about Richards. So, let us begin.
Courtney Richards is The Second Wife of the Jim Nantz
As we mentioned earlier, Courtney Richards is not the first love of the CBS star sportscaster Jim Nantz. Before he met Richards, Jim was married to Ann-Lorraine Carlsen Nantz. He was in a marital relationship with his ex-wife from 1983, which ended in 2009 after going through a legal war.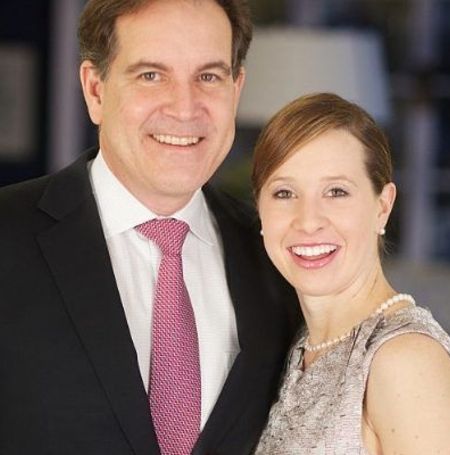 Courtney Richards is the second wife of the CBS star Jim Nantz.
Photo Source: Pinterest
According to the New York Daily News, Nantz paid nearly $1 million in alimony and child support. Lorrie received $72,000 per month from Jim for life, until she decides to remarry. Further, Richards's husband also provides Ann two homes in Connecticut, a $70,000 country club membership, and was the source for his daughter Caroline Nantz college education fees. The child support is supposed to end after his daughter from a previous marriage will turn 18 years old, whereas the alimony payments will only come to an end after the death of Nantz or Lorrie remarries.
Richards and Nantz were in Relationship Before He was Legally Separated from His First Wife
Now you guys know that Courtney Richards husband Jim Nantz got legally separated from his ex-wife Ann-Lorraine Carlsen Nantz before the love birds took marital vows. But did you have any idea that Richards and Nantz dated each other before Jim's first marriage divorce was finalized?
You Might Also Like: 5 Scariest Movies on Netflix to Watch During a Coronavirus Lockdown
Yes, you got it, right people, Courtney and Jim were in a relationship while Nantz was in amid of a divorce. It is usual for a person to stress out in those devastating situations. However, during the stressful period, he met a lady, 29 years, Courtney Richards, who gave him the strength to battle, and in-between, they also began to see one another before Nantz's marriage officially ended his previous relationship.
The American boardcaster was in relationship with Courtney Richards before he was legally separated from his ex-wife.
Photo Source: Heavy
As per the report of Heavy, the judge of that case, Howard Owens explained Nantz and Lorrie's Interest diverged over the years, "In fairness, for most of the years he prioritized his family obligation and put his wife and daughter Caroline first. As frequently happens in marriages of lengthy duration, the parties do not have the same interest and ardor for their spouses' endeavors."
Courtney and Jim First Meeting Was Professional Were She Was a VP At IMG in Sports Marketing
Courtney Richards and Jim Nantz's first meeting was professional. The lovebirds met while they were working for IMG, which is a talent management company based on New York City. She was the vice president at the company, and Nantz was represented by the company, and that's how the couple came in contact, according to USA Today. They met when Jim was promoting his book in one of the promotional events.
Also See: Jirah Mayweather - Interesting Facts About Floyd Mayweather and Josie Harris
After then the pair stay in touch with each other. At the time, Jim was going through a emotional drama, as we know he was having trouble securing his first marriage with his ex-lover, Ann-Lorraine. During the tough time, he got supported by Courtney, and the lovers Richards and Nantz started to date.
Richards and Nantz Waited for Almost Two years For Their Wedding After The Pair Got Engaged
During and after the divorce, the broken heart of the sportscaster Jim Nantz was healed by Courtney Richards. They took some time to understand each other, and when the chemistry between them took a peak, they shared engagement rings and proceeded into a higher level with a hope of a bright life together. The beautiful couple Nantz and Richards admitted they got engaged in September 2010, as per Page Six. After the tragic end of Jim's first martial, he collected the guts to set a married life again with his then-girlfriend, 31- Courtney.
Super Bowl Memories of Courtney Richards husband Jim Nantz's
Though it took a year for Nantz to get over his previous relationship and declare his engagement with Richards to the world, however, it took him around two years to fully recover and begin a new life. As the couple shared marital vows after 21 months later, in June 2012. The lovebirds tied the knot at Pebble Beach in California. The marriage ceremony of Richards and Nantz were attended by several sports figures like New England Patriots quarterback Tom Brady and Patriots owner Robert Kraft, as per USA Today.
The Couple Richards and Nantz Shared Two Beautiful Children Together
Caroline Nantz is the daughter of Jim and is the step-daughter of Courtney Richards.
Photo Source: Fabwags
Like we said earlier, Courtney Richards is the second wife of the top announcer of CBS, Jim Nantz. The CBS star shares a cute daughter, Caroline, with his former lover Ann-Lorraine Carlsen Nantz. Therefore, Richards has a step-daughter from her husband's first marriage.
Recommended: Who is Lapattra Lashai Jacobs, the Alleged Victim of Yaya Mayweather Knife Attack?
Except for a step-daughter, Richards has two beautiful babies of her own with her lover Jim. The duo Jim and Courtney welcomed their first baby girl Finley Cathleen Nantz on March 14, 2014.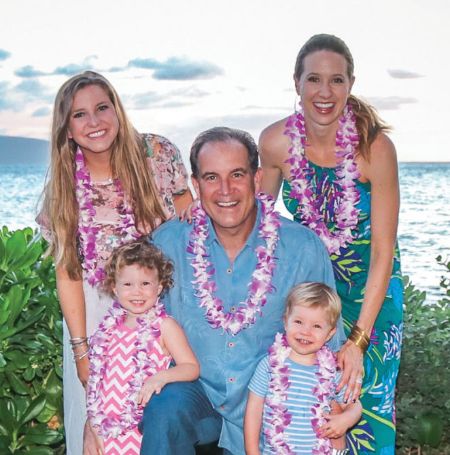 Jim and Courtney together shares two children in their family.
Photo Source: Global Golf Post
Subsequently, after two years, the couple was blessed by a baby boy, which added more color in the life of Richards and Nantz. They named their young boy Jameson Nantz. He took his first breath in the world on February 1, 2016.
You Might Also Like: Claudia Sulewski Boyfriend - Who is the YouTuber Dating?
In one of the interviews of Nantz with the New York Post, he told that the birth of his son saved him from agonizing Super Bowls decision. As per doctor prediction, the couple was about to welcome their newborn baby at the date when Jim had to show up for Super Bowl 50 between the Denver Broncos and Carolina Panthers. He didn't want to miss his son on the day he would born but his soulmate Richards wanted him to call for the game, even though he would miss the birth of his first son.
The young son of the Richards and Nantz was born on February 1, 2016.
Photo Source: Augusta
According to Jim, "It would have killed me if I would not have been there for the birth of my son, but my wife made it very clear: 'Don't even talk to me, you're doing the game," Nantz said on Wednesday while driving up to San Francisco to continue his preparation for the Broncos-Panthers matchup.
"I was going to follow her instructions. But this is absolutely perfect timing, my boy definitely has a sense of occasion, and a great appreciation and respect for timing and his father's needs for things to be organized and well-timed."
Also See: The Flash' Actor Logan Williams Passes Away Aged 16
Life is full of miracles; as a result their second son, Jameson made his arrival in this world nine days before his due date which gave his father, Jim to be available in both important events of his personal and professional life.
For more news and details related to celebrities feel free to visit Glamour Fame.
-->