Who is Lapattra Lashai Jacobs, the Alleged Victim of Yaya Mayweather Knife Attack?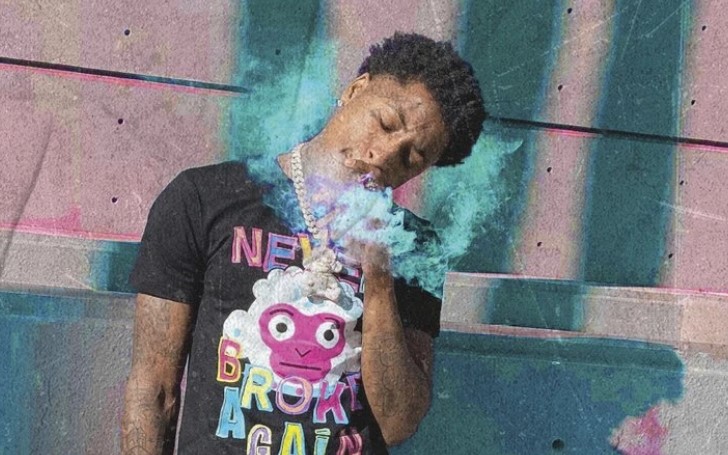 NBA YoungBoy (born Kentrell DeSean Gaulden) is an American rapper better known for his work as a rapper, singer, and songwriter. He made his prominence with eight independent mixtapes, which the rapper released between 2015 and 2017.
Chances are you have heard very little about him, or think he is not popular, which makes sense as he is not seen on the mainstream market, but it might shock you, the 20-year-old has already garnered a cult following.
While YoungBoy career looks interesting and his future seems promising, it's inevitable the rapper is chased by a lot of girls. The story we are going to unfold now is nothing less of a movie.
Apparently, the 20-year-old rapper was a dating Floyd Mayweather's daughter, Iyanna 'YaYa' Mayweather. The couple after staying in a relationship for a while decided to broke up. The rapper moved on and got engaged with another woman, Lapattra Lashai Jacobs.
So, Who is Lapattra Lashai Jacobs?
Lapattra Lashai Jacobs is the Fiancee of NBA YoungBoy. According to the reports, it seems the couple is in a very loving relationship.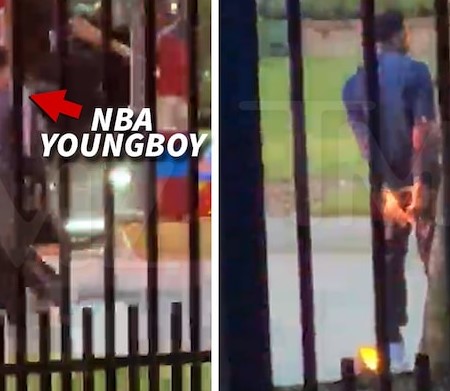 NBA Young Boy was handcuffed after the incident, all for the safety measures.
Photo Source: TMZ
Lapattra, moreover, share a child with NBA YoungBoy. So, everything looks fine between the two; however, one night, everything changed for the happy couple. While the reports lack further information of Lashai Jacobs, it was known that she was attacked by Iyanna Mayweather.
Also See: Claudia Sulewski Boyfriend - Who is the YouTuber Dating?
There are no further details of Jacobs, where she comes from, or where did she live before moving in with YoungBoy.
What Really Happened Between Lapattra Lashai Jacobs and Iyanna Mayweather
It was Saturday midnight, somewhere close to 1 O'Clock in the night. NBA YoungBoy and his girlfriend were at their house, just like any other regular nights, the couple was all ready to settle for bed.
But, just when they were about to go in their room, the couple heard a knock on their door, both confused, looked at their face, thinking if they should answer the door at that time of the night.
But thinking some might be in trouble, Lapattra Lashai Jacobs opened the door only to find Iyanna Mayweather at her door. Still confused, Jacobs asked who she is. Looking all furious, Yaya replied, "I am YoungBoy's Fiancee."
Also Read: Kathy Ireland Net Worth - How Rich the American Entrepreneur is?
When Lashai heard those words, a world swept away from her feet, and Iyanna continued saying, "I am NBA's fiancee, you should leave the house."
Watch: Iyanna Mayweather Stab Victim Lapattra Lashai Jacobs (NBAYoungBoy BabyMother)
After hearing all those things, Lapattra simply asked Iyanna to leave, but she barged into the house, and the whole arguments started between the two females. They could have settled their arguments elsewhere, but the two decided to take it in the kitchen, where everything got wrong.
When argument heated up, while both of them were in the kitchen, Iyanna picked two knives, and when Jacobs step towards Mayweather, Yaya charged at YoungBoy's baby Mama, two times.
Jacobs said, she failed to realize she was attacked when Iyanna charged the first time, but when Mayweather stabbed her second time, Jacobs fell unconscious to the ground. Later, she was taken to the hospital, and there's no more information on her status yet.
Iyanna, who was arrested after the incident, said Lashai incited her initially by pulling her hair outside the house then running into the kitchen, where the confrontation happened at 1:30 AM Saturday.
You May Also Like: Avenue 5 Star Kyle Bornheimer - Some Facts to Know About the Actor
For more information on your favorite celebrities' lifestyle, stay tuned to Glamour Fame, and don't forget to sign up for the newsletter.
-->