Who is Jimmy Garoppolo's Girlfriend? Why Does He Keep His Dating Life Away From the Spotlight?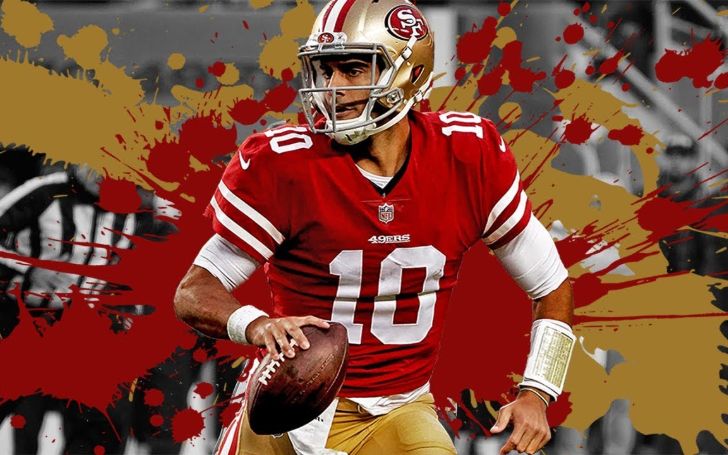 Here's all that you need to know about Jimmy Garoppolo's girlfriend and why he keeps his dating life away from the spotlight!
Jimmy Garoppolo, the famous American quarterback for San Francisco 49ers in National Football League (NFL), is best known for breaking Tony Romo's school records in American Football. Jimmy started his career as a quarterback playing for the Eastern Illinois Panthers and earned All-Ohio Valley Conference Newcomer Team honor. Just after he played for his team for some of the years, he gained his first title, becoming second in All-OVC title in 2012.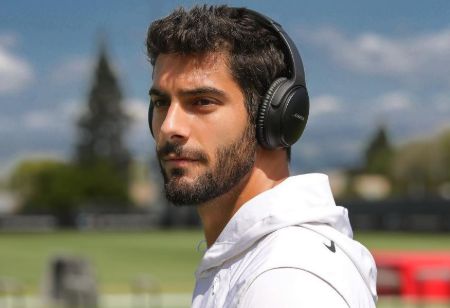 Jimmy Garoppolo started his career as a quarterback playing for the Eastern Illinois Panthers.
Source: Bio Wikis
The player having a national spotlight on and Jimmy being a charming guy, it is clear that people would want to know about the former Eastern Illinois quarterback's dating life.
Unlike other players, Garoppolo has kept his private life private for the most part. Let's look into how many ladies Jimmy dated over the years, and why does he keep his dating life away from the spotlight.
Jimmy Garoppolo Dated Boston Model Alexandra King
The rumors of 49ers quarterback Jimmy Garoppolo was dating a Boston based model Alexandra King surfaced way back in 2018. The pair were spotted out and about the town for some shopping and lunch. Not just that, the young and hot duo were photographed making out while on their date. They sure as hell made one cute couple. Alexandra also posted an Instagram picture with the quarterback on Valentine's Day.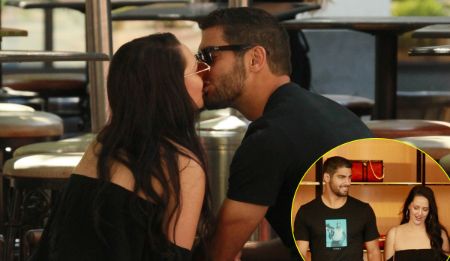 Jimmy Garoppolo and Alexandra King were spotted kissing.
Source: Press Reverb
The closeness between Jimmy and Alexandra, however, didn't last for long as the model confirmed their break up the next month. As the sad news of Jimmy missing out on the rest of the season because of his torn ACL was only sinking in for the San Francisco fans, King dropped the ball on their relationship status.
Also See: Tom Brady helped NFL star Jimmy Garoppolo find a Girlfriend
Alexandra was the only one not shedding a tear over the incident and called it 'karma.' Well, maybe ending things with her to go on a date with a well-known adult film star Kiara Mia didn't play well with Alexandra. King also deleted all the photos of Garoppolo from her Instagram account following the date.
Jimmy Garoppolo's Date With The Porn Star Kiara Mia
Right after things ended with the model from Boston, Alexandra King, Jimmy was spotted on a dinner dare with porn star Kiara Mia in Beverly Hills restaurant during a night out on the town. The 41-year-old raunchy actress said to TMZ,
Jimmy and I had a fantastic dinner, and he treated me with so much respect, and class. Honestly, we're friends.
It seems that this romance was short-lived and only limited to a single date.
Watch: Jimmy Garoppolo Takes Porn Star Kiara Mia On Date | TMZ Sports
Jimmy, unaware of the media frenzy stirred up by his date with Kiara stated,
Life is different now. My life, off the field — I've never really been big on being very public with things even on social media. I'm not on there a ton. But my life's looked at differently. I'm under a microscope. It's like it is a good learning experience. Just have to take it in stride. It is what it is.
The player's been very secretive about his personal business. Even with all the paparazzi following him, Garoppolo's never openly talked about his relationships.
Recommended: Who is Jimmy Garoppolo's Wife? Details of His Married Life
The man who once hit on Erin Andrews in the middle of an interview always has juicy rumors following him; it's only a matter of time until he is spotted with another secret lady.
For more celebrities' dating rumors, head over to Glamour Fame.
-->