Joel Embiid in a Live-In Relationship With His Girlfriend? Learn All in Details!
Published Thu Jan 21 2021 By Danile
Learn all the details you wanna know about NBA star Joel Embiid's private life and his partner.
Joel Embiid is a Cameroonian professional basketball player who at the moment plays for the Philadelphia 76ers of the National Basketball Association. He plays in the position of a center and is regarded as one of the best players in his position in the league. With his humongous frame of 7 feet, he is a force to be reckoned with. Before making his debut in the NBA in 2014, he showed signs of his impressive basketball skills on the court while playing for the University of Kansas.
With all the fame and money and age on his side, what more does a man need, right? Well, having a successful professional life is only one side of a coin for every celebrity. What's important for them is having an equally successful private life. So with that in mind, what do fans know about the Cameroonian born athlete's private life like his love life? Is the player seeing someone? Is he married? Or is he single? Well, right now he is in a live-in relationship with his partner.
Joel Embiid in a Romantic Relaitonship
Joel Embiid is having a ride of a basketball career so far and the same can be said on his private life. The athlete is currently in a dating relationship with a Brazilian swimsuit model, Anne de Paula, and is represented by World-renowned American modeling agency Wilhelmina.
Joel Embiid is in a live-in relationship with his Brazilian girlfriend, Anne de Paula.
Photo Source: Joel Embiid's Instagram (@Joelembiid)
Reportedly, the love birds first met during the cover shoot with GQ magazine in mid-2018. After chatting on social media and a few dates later, the pair came out as lovers in the public in late 2018.
Also Read: Actress Olivia Rodrigo's Boyfriend in 2021. Also, Know Her Previous Lovers!
The speculation of the two dating began when the model was also seen standing next to her boyfriend in the preseason games held in China in October. The same month, Philadephia 76ers co-owner Michael G. Rubin teased fans on his Instagram with a photo of Joel and Anne kissing.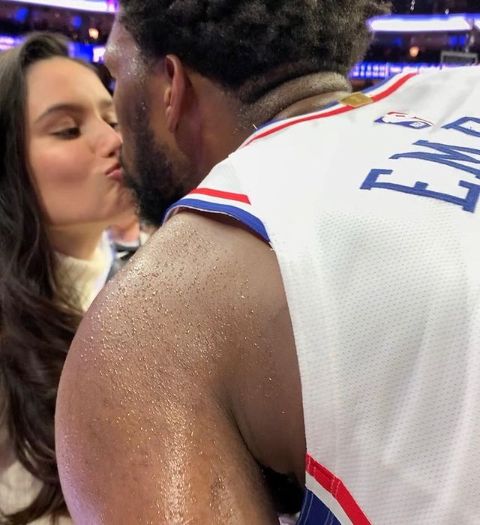 Joel Embiid photographed kissing his Brazilian girlfriend, Anne de Paula in 2018. Photo
Source: Michael Rubin's Instagram (@michaelrubin)
In addition to that, the 48-year-old American businessman captioned the picture saying:
"What a lovely couple!!!! Congrats on your engagement!!! THIS IS WHAT WINNING ON EVERY LEVEL LOOKS LIKE!!!"
The post quickly trended on people's feed and many got hold of it and it became impossible for both to keep it a secret any longer.
Did a Background Check Before Beginning Dating
Joel Embiid might be having an amazing romantic life but before his and his partner's love began, he had to do some research. In an interview, Joel revealed that just to be sure, he did a background check before making Paula his girlfriend. The multi-millionaire stated:
"You gotta do your background check. You don't want to be that guy marrying a girl that someone else in the NBA has been with."
Well, it does not hurt to be too sure about anything especially when it is a matter of love!
Before his romance with Anne, the 76ers star was rumored to be dating model Jocelyn Chew. The duo was photographed after being spotted on the beach of the Bahamas in May 2018. But it seems the chemistry between the two could not get further than that.
Welcomed a Child in 2020
Two years into their love life,Joel Embiid, and his lovely girlfriend Anna de Paula became parents for the first time when they welcomed their child on September 25, 2020.
Joel Embiid and his partner Anne de Paula welcomed their son, Arthur Elijah De Paula Embiid in September 2020.
Photo Source: Joel Embiid's Instagram (@joelembiid)
The giant player announced the good news through his official social media accounts with a picture of him holding their son Arthur Elijah De Paula Embiid.
Embiid also wrote:
"We are so blessed and fortunate to welcome our little boy in this family. First of 11 or more? Trying to convince her but I'm not winning so far. I'm just trying to build a soccer team but for real I'm so excited for the future."
The power forward put the first name of his kid after his late younger brother Arthur who passed away in a car crash in October 2014. With training, tours, games, and taking care of his son and partner, Joel is living a busy life. We wish a happy life for the NBA star in the days to come!
You May Also Like: Politician Marty Walsh's Girlfriend. Know All The Details!
For more similar news and updates about your favorite celebrities, stay with us at Glamour Fame!
-->