John Frusciante Joins Red Hot Chilli Peppers As Josh Klinghoffer Exits After 10 Years
Published Mon Dec 16 2019 By Sea
Former guitarist, John Frusciante, becomes the current guitarist of the Red Hot Chilli Peppers, and current guitarist, Josh Klinghoffer, becomes the former guitarist after exit.
The announcement came from the RHCP official Instagram account (and Flea's account) that Red Hot Chilli Peppers have welcomed back their former guitarist, John Frusciante, back in the band after 10 years of absence. Their last guitarist to cover for Frusciante, Josh Klinghoffer, makes way for him. They announced the parting with respect for Klinghoffer.
This is the third time the 49-year-old has joined the band after leaving the band two times in the past. "We are parting ways with our guitarist of the past 10 years, Josh Klinghoffer," the statement read. "Josh is a beautiful musician who we respect and love. We are deeply grateful for our time with him, and the countless gifts he shared with us. We also announce, with great excitement and full hearts, that John Frusciante is rejoining our group."
Frusciante first joined the band in 1988 after the death of former guitarist Hillel Slovak. His inclusion was followed by their 1989 breakthrough LP, 'Mother's Milk'. After their 1991 album, 'Blood Sugar Sex Magik', was hailed the masterpiece by the fans, he left the group in the middle of a tour in 1992 to support the album. He was battling through drug abuse at the time.
The guitarist rejoined the band six years later and was part of their still-trending song, 'Californication', of the 1999 album of the same name. He was part of their other albums like 'By The Way' (2002) and 'Stadium Arcadium' (2006).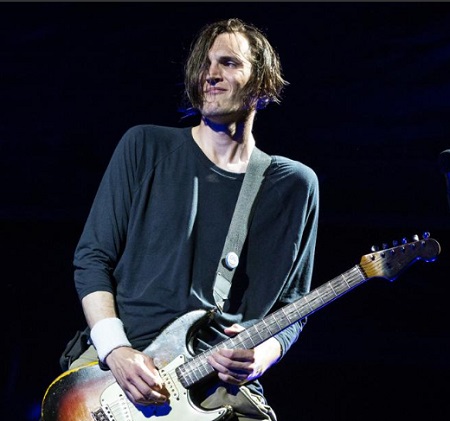 Josh Klinghoffer was initially RHCP's tour backup guitarist.
Source: Facebook
The band was in the midst of their extended hiatus when Frusciante left the band in September 2009. After RHCP reentered the music scene, he was replaced full-time by their backup tour guitarist, Klinghoffer. With him, the band released two albums, 'I'm With You' (2011) and 'The Getaway' (2016).
RHCP's Michael Balzary Is Married to Persian Fashion Designer, Melody Ehsani. Learn About Her Career and Net Worth.
The band's Anthony Kiedis and Michael Balzary (aka Flea) last reunited with Frusciante briefly back in 2016 at a benefit concert. Now, they are looking forward to the two 2020 US shows together set in May.
Stay tuned and connected to GlamourFame for more Entertainment content.
-->