American singer and actor John Travolta Went Under The Knife; Before and After Pictures
Published Sun Nov 17 2019 By Sea
It's often a stereotypical subject when it comes to plastic surgery that only women do it. It is probably due to the numerous ridiculous things female celebrities have done to themselves to just look a little younger or a little different as a whole. While some might be doing it for the right reasons, some just need attention.
There are many cases that break the thought of only women going through a procedure of plastic surgery. Men do it too, Michael Jackson being the most popular one to have done it. While some may sound as ridiculous as someone trying to look like 'Ken' or a 'Genderless Alien' (yeah, Vinny Ohh did that), some may just be a little plastic use on the side.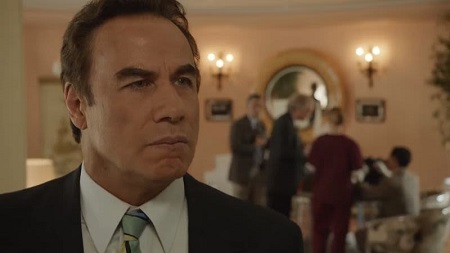 The forehead wrinkles seemed to have stretched. It may be just makeup though.
Source: American Crime Story, FX Network
Among the various male actors being told they looked like they had some kind of procedure, John Travolta, came under scrutiny when fans saw his unusual facial features on the show 'American Crime Story' in 2016, a drama conversion of the 'People vs. O.J. Simpson' documentary.
Twitter Went Amok and Some Saw Arnold Schwarzenegger on Him
When people saw a little raised eyebrows on the show, they couldn't help but speculate something like 'going under a knife' scenario. Of course, he was looking more dashing every year, but was this time too much?
Fans took on to Twitter to voice their opinions. Of course, many were shocked at the apparent transformation, but some couldn't help play little jokes on him. And those involve his character 'Robert Shapiro' (the real deal) on 'American Crime Story' as well.
While some of the jokes were a little too hard on him, like being called a "melting wax", some of them could kind of be taken as compliments. Fellow actors Nicholas Cage and Arnold Schwarzenegger were mentioned.
One of them suspected blepharoplasty in the last few years, while another sympathized with him. "'He had obvious periorbital muscles and some wrinkling, but the job has been performed well. He is starting to look a bit like Arnie Schwarzenegger, but 'melting waxwork' seems a bit harsh!"
Denies It All, But Plastic Surgeons Speculate Based on the Data
The actor had no comments regarding this issue for anyone. But he later denied all the claims made against him. But the 'Before and After Pictures' told of a different story for the viewers.
People just don't seem to be convinced of his transformation is natural.
Source: Various Sources
On one occasion, Closer Weekly had two legit/board-certified face plastic surgeons come in and exclusively give their insights into Travolta's possible facial alterations. Dr. Andrew Miller and Dr. Vartan Mardirossian broke down the possibilities of the supposed procedures he might have taken up.
"It doesn't look like he has had much [plastic surgery]. You can see that his eyelids are [now] heavier, which goes against eyelid surgery and you can see some banding in his neck which goes against a facelift or neck lift," Dr. Miller speculates.
Dr. Miller continued on, "If anything, he may have had some Botox and fillers injected to help maintain a little more youthful appearance and keep some of the wrinkles and facial folds away. The face is a little thinner, which is what happens with age, and his eyebrows are darker — possibly dyed as needed for a role."
Next: Fans Don't Believe Allie Long's Face Is Completely Natural
Dr. Mardirossian agreed, while further contemplated, he might've done a hair transplant, Botox or fillers, and a neck lift, like the fans did.
No other reports have since come in, and the 'Grease' superstar continues to deny it. While it may be wrong for other people to invade a celebrity's privacy, some argue the ethics behind plastic surgery in today's world. Many rank him in one of those 'Celebrity Plastic Surgery Gone Wrong' lists too.
Stay tuned in to GlamourFame for more Entertainment updates.
-->