Jorja Smith Doesn't Want Rihanna Levels of Fame
Published Tue Feb 12 2019 By Jessica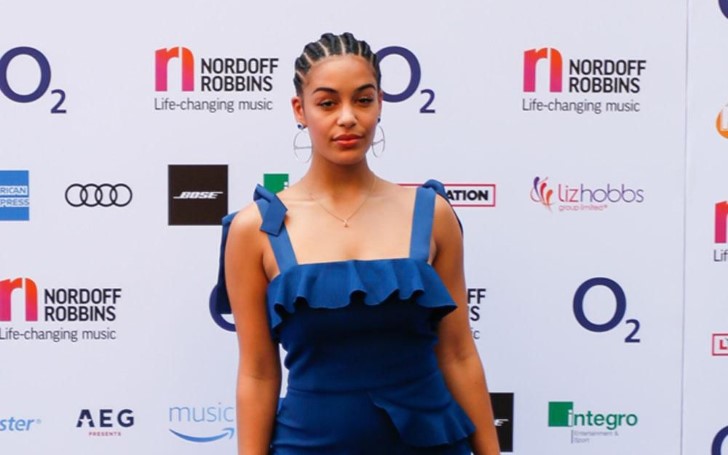 Grammy-nominated English singer and songwriter Jorja Smith prefers to live a simple life rather than a celebrity profile one.
Jorja Smith doesn't think she is a famous celebrity nor she aspires to become one.
The English Grammy-nominated singer and songwriter rose to fame after her debut album 'Lost & Found' drafted in number three spot while being number 41 in the UK as well as in the US last year. She prefers to simply live her life by making a normal living through her music.
Despite working with Grammy-winning artists including rapper Drake and Kendrick Lamar, Smith totally dismissed the perception of her being popular and insist she is no superstar.

English singer Jorja Smith at the 2019 Grammy ceremony
SOURCE: Madame Noire

Now up for her three Brits nomination, the 21 years old soul singer from Walsall mainly known for her collaboration song with the rappers and fellow singer Kali Uchis before releasing her first debut album told the Observer:
"I only need to think about not falling off the treadmill rather than thinking about this email I know needs an answer."
And when the interviewer suggested her busy schedule as fame, Jorja didn't seem to like that.
You may also like:Jennifer Aniston is 'Very Happy' Brad Pitt Attended Her Birthday
In fact, she shoots back saying:
"Don't want to be famous. I'm not famous. People. Know about me. No, do you know what? I don't have goals or bucket lists because I don't like being disappointed."
Continuing to unveil she holds no intention on reaching the level of Rihanna fame, she added:
"But famous? Famous is like Rihanna. I'm not Rihanna. I've got a lot of work to do. I'd like to be successful. That's what I'd like. And happy."
Smith revealing she didn't care about the sales of her first album which reached number three in the UK can be justified with her opinion here.
The singer wanted to write something good and classic for Lost & Found, 'something that doesn't just get played once and then left in your music library.'
Read more:'Real Housewives of Beverly Hills' Star Lisa Vanderpump visits fans in Katy
She explained:
"No, I don't look at sales."
The only important thing she currently cares about is being able to feed herself and her pet dog.
"As long as no one tells me I'm in red, no one tells me I'm in debt, and I can still pay my rent and feed my dog, then I'm fine. And feed myself, of course. I'm good with my money so I'm not really worried about that."
Claiming the fondness of being independent, the singer says she still feels fine since moving to London.
View this post on Instagram

A post shared by jmoney (@jorjasmith_) on Feb 6, 2019 at 10:54pm PST
Jorja is also more focused on what she likes and how she likes in her music.
Despite facing critiques on her songs usually being slow, she doesn't care being more drawn to demonstrating creativity and honesty in her music.
She explained:
"People mention how my songs are quite slow. Well, cool. If you don't want to listen to slow songs, don't listen to me. I've been asked, 'If you hear music in the charts, it's upbeat, why don't you want to write music like that?"

"But I write something that I think's good. With this album I wanted to make something classic. Something that doesn't just get played once and then left in your music library."
Meanwhile, her latest single include 'Don't Watch Me Cry'.
Related news:Charlie Puth is "Terrible" at Teaching People How To Play Piano
The singer scored three nominations at the 2019 Brits Awards for British Breakthrough Act, Best British Female Solo, Best British Album.
-->