Juice Wrld Net Worth - The Complete Breakdown
Published Fri Dec 13 2019 By Alizeh
The young breakout star of 2018 Jarad Higgins aka Juice Wrld abruptly died on 8th December 2019, due to seizure. His sudden demise came as a shock to his fans and followers.
The rapper left a lasting legacy despite passing away so soon. In today's section, let's dive into his life of riches with the details of his incredible wealth.
What is Juice Wrld's Net Worth?
According to Celebrity Net Worth, the rapper was worth $4 million at the time of his death, Juice Wrld was claimed to be the most promising artist in the current rap game. After gaining attention on SoundCloud, Juice Wrld signed a $3 million record deal with Interscope Records in early 2018.
Source: Celebrity Net worth
The SoundCloud rapper came up with the summer's emo-trap hit "Lucid Dreams," which peaked at No. 2 on the Billboard Hot 100. Juice WRLD's debut, "Goodbye and Good Riddance," reached No. 4 and propelled the Chicago native to a sold-out debut headlining tour through North America.
Find out: The Full List Of Winners At The Billboard Music Awards 2019
Juice WRLD recorded his first rap songs without any professional equipment. He used his phone to record and published his songs on SoundCloud as JuicetheKidd, which was his first artist name back in 2015.
Lucid Dream Legal Trouble
The first hit song would also be the first to land him in legal trouble. WRLD was on the receiving end of a lawsuit when it was revealed that the song sampled Sting's "Shape of My Heart" without the original artist's permission.
According to Earnthenecklace, Sting considered legal action against Juice WRLD for using his song without approval. It's reported that Sting received 85% of the earnings from "Lucid Dream" through the lawsuit.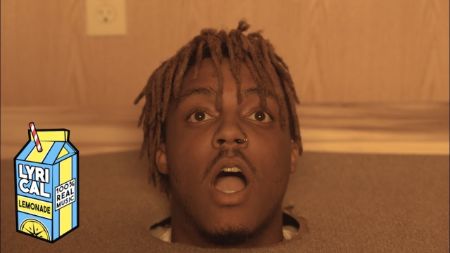 Juice Wrld, Lucid Dream
Source: Youtube
"Lucid Dream" once again attracted trouble when the defunct pop-punk band Yellowcard claimed that Juice WRLD used the melody of their song "Holly Wood Died" for it. They were demanding $15 million in damages along with a share of future earnings through the song.
Watch: why Juice Wrld had to face a lawsuit
The rapper reportedly lost money through 'lucid dream. "I don't really give no f ** k about s**t like that," he said at the time. "The song is way more [valuable] than any amount of money. That song, it changed lives. That song saved lives. That song has gotten people through all types of dark situations…You can't put a price tag on no s** t like that."
The Rich Life
Juice was one of the highest-paid young rappers in the industry. His income came from song releases and performances at concerts, events, online streaming, merchandise, and appearances. With high earning comes a lavish lifestyle, the rapper rarely flexed luxurious pad, extravagant cars on his social media but of course, we can't forget that he was one of the highest-paid musicians.
Source: Instagram
The 21-year-old, famously gifted himself a Rolls Royce when his album Death Race for Love debuted at No. 1 on the music charts. He also reportedly owned a home in L.A.
Juice Wrld paid the deposit and began to look into the lease agreement, but when he went to inspect the home in person, he realized it wasn't the right space for him. According to the rapper, the landlords kept $52,000 because they claimed damages, which led to Wrld starting a lawsuit.
Extravagant gestures
The rapper dearly loved his people; his mother and brother was center of his life as she raised Juice and his brother single-handedly.
Juice reportedly gifted his brother a Lamborghini after he started to blow up in the year 2019.
Wrld's girlfriend Ally lotti had a huge presence in his life, we could see Lotti in Juice's Instagram now and then. The rapper fondly spoke about his girlfriend Ally Lotti in interviews, his concerts, and on Instagram. Moreover, he showed how much he adored her by not only sharing his words of affection on social media but also revealing his gifts to her.
Juice Wrld and Ally lotti on a private jet
Source: Instagram
Lotti, who celebrates her birthday in May, showed off the gifts she got from him, including a diamond-studded Rolex watch she's worn in almost every Instagram post since her birthday.
The rapper had quite a profligate life, with earnings from several sources. The 21 year old owned a collection of cars, motorcycle and an expensive pad, scrolling through his social media we can see all the high-end brands, jewelries which is enviable.
Juice with his girlfriend Ally and friends
Source:Instagram
After the sudden demise of Juice Wrld we are wondering who will inherit the rapper's riches. There is still no legit statement from any of the rappers close-knit people. Juice Wrlds ex-girlfriend Alexia Smith has claimed that the rapper took 'up to three Percocet pills a day' and mixed prescription-strength cough syrup with soda, which might have caused his death.
No doubt people are still in shock from the news as Juice was a very promising rapper and the music industry lost a valuable gem for sure.
Tune into Glamourfame.com for more stories
-->