Remembering the Life of Rapper Juice Wrld Who Tragically Passed Away at 21
Published Mon Dec 09 2019 By Alizeh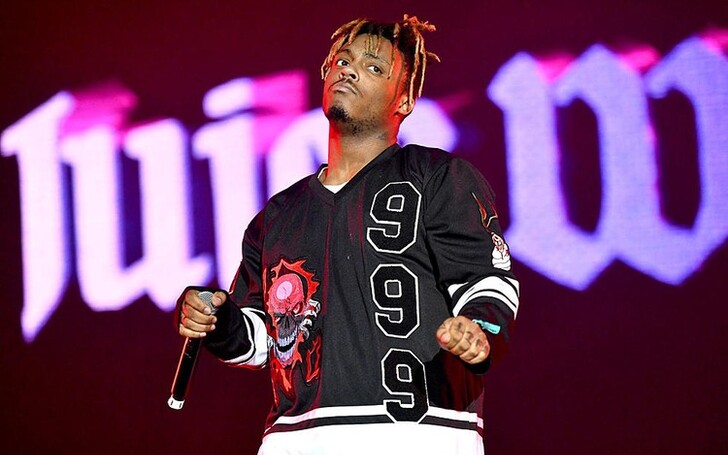 Juice WRLD: Gone Too Soon!
"I love ya'll more than life itself." Rapper Juice Wrld's last words to his fans at his final concert in Melbourne, nine days before his tragic death.
Juice Wrld, 21, reportedly died after being hospitalized in Chicago. The lucid dream singer's death came as a shock to his supporters as it was very abrupt.
Cause of Death Still Not Confirmed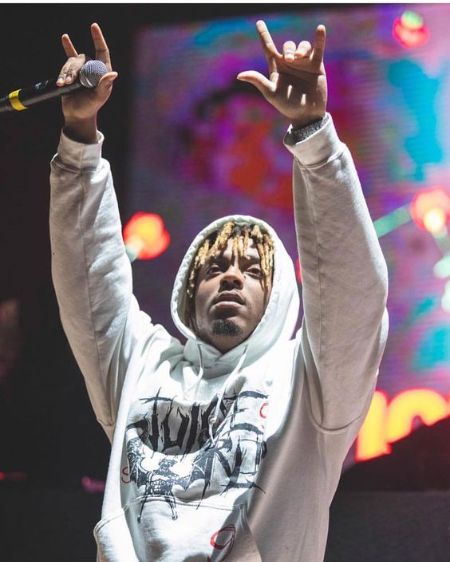 While coming back from his trip to California the rapper collapsed from seizure midway in the airport and was bleeding from his mouth when the paramedics arrived. Juice was still conscious when he was rushed to the nearby hospital but pronounced dead soon after.
Juice Wrld was on his private jet heading towards Chicago. The Sun-Times quoted Chicago Fire Department spokesman Larry Langford as saying that Juice Wrld went into cardiac arrest at a private hangar around 2 a.m. at Chicago's Midway airport. He was pronounced dead at Christ Medical Center in Oak Lawn at 3:15 a.m. TMZ, which first broke the story of the rapper's sudden death, reported that Juice WRLD is "dead after suffering a seizure in Chicago's Midway airport."
It's not clear what triggered the seizure and/or cardiac arrest, however. Anthony Guglielmi, Chicago police spokesman, told Heavy in a statement, "This is being classified currently as a death investigation."
Also Read: Fans Shout 'Cardi B, Cardi B' as They Troll Nicki Minaj For Canceling Another Concert
"There are no initial signs of foul play and we are awaiting results from the medical examiner on the cause and manner of death." He added to ABC7, "Shortly after arriving to Chicago he suffered what appears to be some type of medical emergency according to people traveling with him. All individuals aboard the aircraft are cooperating with CPD and have given all of their information."
The young rapper left us too soon, with his surreal work. Let's remember the things he did in his 2 years long career in the music industry.
Making of a Star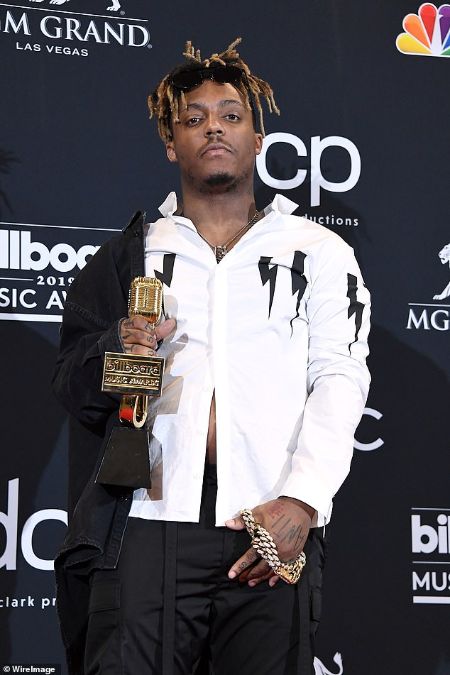 Juice Wrld on the red carpet of Billboard Music Awards 2018.
Jarad Anthony Higgins aka Juice Wrld born on December 2, 1998, was a soundcloud rapper who two studio albums, two mixtapes, 19 singles (including one as featured artist), and one promotional single. He released his first mixtape and EP (extended playrecord), under the pseudonym JuicetheKidd in early 2015 and 2016. Throughout 2017, he released several EPs independently.
In May 2018, the rapper released his debut album 'Goodbye & Good Riddance' The album debuted at No. 4 on the Billboard 200 and is certified platinum by the Recording Industry Association of America (RIAA). The album spawned five singles in which 'Lucid Dreams' was ranked number 2 on the billboard hot 100 with 6 times platinum award and second song 'All girls' are the same which was certified double platinum.
Lucid Dreams: Break Through Anthem
Juice Wrld's Lucid dreams made him a breakout star in the year 2018 as it was everywhere and going along with the aesthetics of young people. The rapper had a different style of making songs in the hip hop game, blurring the lines between classiness of the piano and lo-fi hip-hop.
Watch: Lucid Dreams by Juice Wrld Directed by Cole Bennette
His very approach to music separated him from the pack of soundcloud rapper, it is safe to say that lucid dreams was a breakthrough song with the 6 platinum awards it won.
Music & Collaborations
Juice was a native from Chicago, Illinois moved to Homewood, Illinois, and attended Homewood-Flossmoor High School. The rapper started posting songs on soundcloud from 2015 with debut track 'Forever'; his parents divorced when he was young and he and his older brother were raised by their mother.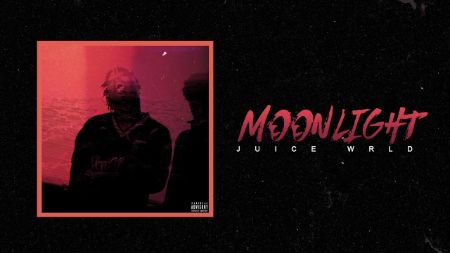 Juice Wrld's song cover to 'Moonlight' from the ablum 9 9 9
Source: Youtube
Juice used to make mix tapes, his debut mix tape '9 9 9' was released in 2017 which has a couple of tracks that blew up including 'moonlight' 'sticks and stones' and eye contact'. After putting out a couple of songs Juice inked a $3 million contract with Interscope records which led him to release his debut album 'Goodbye' and 'Good Riddance.'
The rapper closed out 2017 with 3-tracked EP. A remixed version of Lucid dreams featuring Lil Uzi vert was released in 2018 which was a turning point for him.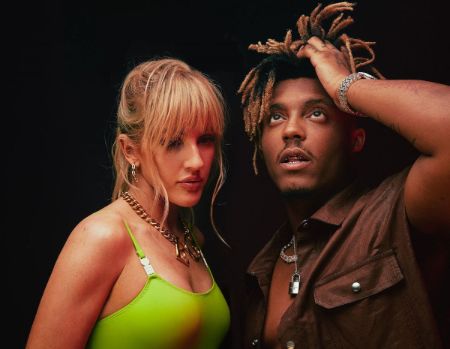 Juice Wrld with British singer Ellie Goulding for their song 'Hate me'
Source: Instagram
The lucid dream singer has collaborated with many popular artists BTS, Ellie Goulding, Ski, Shiloh, Lil Peep, Halsey, Future.
Last Album
In 2019 Juice Wrld released his second album, 'Death Race for Love,' which became his first number-one album on the Billboard 200. His new album has a confessional streak which matches with a lyrical style that he has cultivated through his last year's break-out anthem lucid dreams. The album exhibits an emotional turmoil, drug use and pursuit of becoming a better man.
Watch: Juice WRLD's song from his last ablum Death race for love
Juice had already planned for sequel to his album. In his new XXL cover story he said, "It's really just something that I'm feeling my way through... It's always good to put thought into shit, but something's gonna come more from like, a feeling and heart and the soul, less like the mind." As for collaborators, he plans on featuring Young Thug, as well as production from Metro Boomin and Nick Mira.
Love Life
The rapper's love life was seemingly low-key than other celebrities. When his music career was starting to launch, Juice was living in Los Angeles with his girlfriend, Alexia. After Alexia, people could see a new face in the rapper's Instagram; Ally lotti, 27, who is an Instagram influencer. The pair was often seen posting pictures of one another on their social media openly showcasing their love for one another.
According to The New York Times, the couple met as Juice's star was beginning to rise, which concerned many of his friends. In addition to their six-year age difference (Ally is 27 and Juice was 21), the couple also faced issues with Juice's drug use.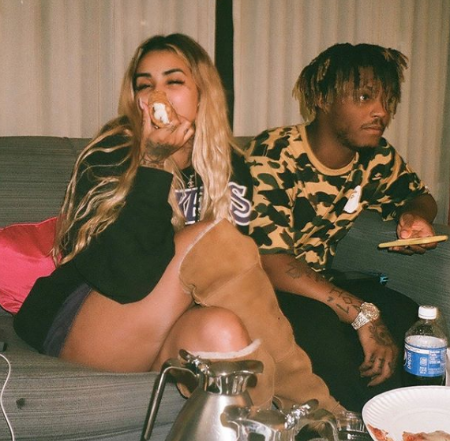 Juice Wrld with girlfriend Ally Lottie posted on Ally's instagram
Source: Instagram
The rapper announced in July 2019 that he was addicted to the recreational use of codeine. The rapper publicly apologized to Lotti for "scaring her" with his drug use. He has also referred to Lotti as "Everything I can ever want and ever need..period." Lotti has yet to address Juice's death publicly.
Net-Worth/Earnings
After signing a multi-million dollar contract the rapper's career only went uphill, his singles all girls are the same and lucid dreams made him the next star of the genre occasionally known as emo-rap. The song soon entered Billboard's TOP100 list and so far got over 158 million plays on SoundCloud and over 344 million views on YouTube.
Juice WRLD works with Interscope Records and Grade A label and his contracts are worth over $3 million, including his other sources of revenue, like tours, concerts, and merch estimates his net worth at $8.5 million.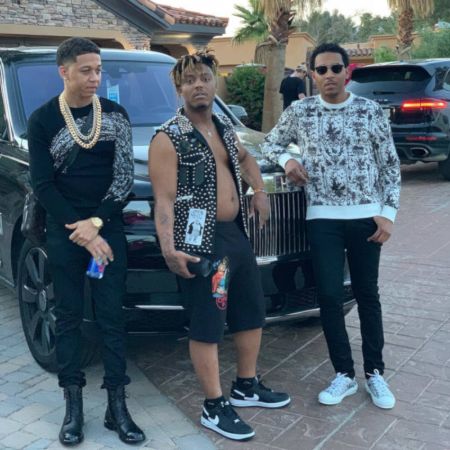 Juice Wrld with his friends standing in front of his Rolls-Royce Cullinan
Source: Instagram
The rapper owns few different cars, including the Rolls-Royce Cullinan which starts at $325,000. Juice even bought a new Lamborghini for his brother.
With a successful career and plans for a sequel album, the rapper had a bright road ahead. However, it all ended too soon for Juice; his iconic songs have stayed with all of us and we will always be hearing his work of art even though he's no longer with us.
The rapper's death came as a huge shock for all his fans, colleagues and supporters as just turned 21 on December 2, 2019. He had a short but meaningful life as he put out his work for people to see and was appreciated, he followed what he believed in which made him stand out from all the other people in the game. The music industry lost a gem and everyone who knew juice, his work are disheartened by the loss, Juice built an empire for himself for all the people who loved him to remember and reminisce.
Before you leave, please visit the Entertainment section of Glamour Fame.
-->