Julianna Margulies Tells How Her Husband Didn't Know Her When They Met
Julianna Margulies Shares The Story Of Her First Meeting With her Husband Kenneth Lieberthal; Read The Full Story Here!
In this week's issue of People, the actress and producer Julianna Margulies had some anecdotes to share about her first meet-up with now-husband Kenneth Lieberthal, an attorney.
The actress tells "He honestly didn't know who I was, I mean if he had seen my work, he didn't know. He was in law school. I was like, 'There's a couple of movies I don't want you to see.'"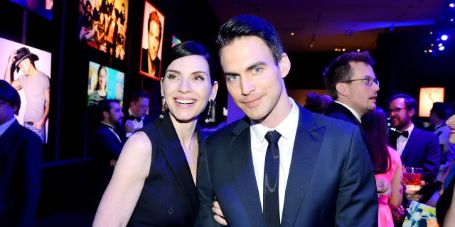 Julianna Margulies tells People that her husband didn't know her when they first met.
Photo Source: Affair Post
Julianna, widely recognized for her role as Carole Hathaway on NBC's hit American drama "ER", says that she'd already left the hit series when she met her future husband Kenneth, who surprisingly didn't know her.
Don't Miss: Who is the Husband of Maxine Waters? Find All About Her Married Life Here
The actress shares about the time when she realized that Kenneth was the one. "We had such a good time at the premiere, and we were just laughing our a--es off," she says. "At dinner, I was like, 'Wow, if he could sit through that and still see me for who I am, I would marry this guy if he asked me tomorrow," says Julianna.
Julianna's memoir "Sunshine Girl; an unexpected life" is releasing next month.
Photo Source: Celebrity News
Three-time Prime Time Emmy award winner, Julinna's memoir "Sunshine Girl; An unexpected life" is releasing next month. The actress has opened about her rough childhood, her parents early split that affected her perception of love.
Check Out: What is Carter Comstock's Net Worth? Find All the Details of His Wealth Here
Julianna and Kenneth dated for a while before finally tying the knots on November 10, 2007. The couple has a 13 years old son named Kieran, who she says, has become her best buddy during the pandemic.
For more information and news on your favorite stars, stay connected to Glamourfame.
-->