Who is the Husband of Maxine Waters? Find All About Her Married Life Here
Maxine Waters' Husband And Everything About Her Married Life; Find It All Here!
Maxine Moore Waters, a defiant American politician serving for the U.S house representative for California, is one of the most powerful women today.
A vocal, sharp woman of color, she is a strong, outspoken advocate for African Americans, women, and minorities. Having worked in a garment factory and telephone operator to an assistant teacher, Waters recalls her journey towards her goals was a rough one.
Born August 15, 1938, in St.Louis, Missouri, to Remus Carr and Velma Lee, Maxine grew up with 12 other siblings, who were all raised by their single mother.
Check Out: Who is Joe Fournier's Wife? Learn all About His Relationship Here
Waters chaired the congressional black caucus(CBC) from 1997 to 1999, and she is currently the most senior of the twelve black women serving in the congress. Continue reading to learn about the congresswoman's long married life and more.
Maxine Waters' Married Life!
Growing up in dire circumstances, Waters married her first husband, Edward, when she was 18 and had just graduated high school. She reportedly had two children with Edward.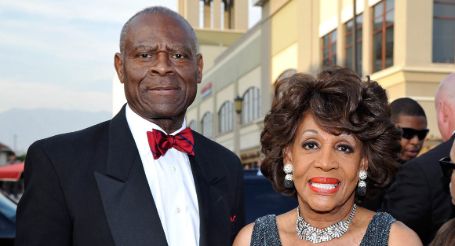 Maxine Waters is married to a diplomat and former NFL player Sidney Williams.
Photo Source: Just Jared
Married and parents at a tender age, both Maxine and Edward moved to Los Angeles and started working in a garment factory.
Very little is known about Maxine's first husband except that the two hustled together doing various jobs.
Maxine, pushy and ardent at that age, worked as a volunteer supervisor at a federal program for children, worked on campaigns for local politicians until finally earning her degree in sociology. Maxine reportedly split ways with Edward in 1972, and a few years later, she was elected to the California state assembly.
Recommended: Who is Alex Smith's Wife? Find All About His Married Life Here
Fast forward to the year 1977; she married Sidney Williams, a diplomat and former NFL linebacker. Waters, 82, and Sidney, 79, have faced huge allegations together in the past. M
Maxine Waters married her first husband, Edward, at the age of 18 and has two children from that marriage. Photo Source: Bio Wiki
In 2010, Maxine was indicted for steering $12 million in TARP funds to her husband Sid's private bank account, an allegation that was lifted two years later. Married for more than 4 decades, the couple doesn't share any children together.
Maxine Waters' Husband, Sidney Williams!
According to Los Angeles Times, Sid and Waters met when the congresswoman starting to rise in politics. They both worked together for former Los Angeles city councilman David Cunningham.
Sidney was a bigger name compared to her tenderfoot wife back then. Born in Louisiana and brought up in Texas, he was drafted by NFL' Cleveland Browns in 1964.
Don't Miss: Zoe Hardman Flaunted Her Abs In A White Bikini
William went on to play for New York Giants, Baltimore Colts before taking early retirement in 1968, completing after completing 70 games.
Maxine Waters and her husband Sidney Williams live in a house valued at $4.8million in Los Angeles.
Photo Source: Arkansas Online
The former linebacker ventured into business and politics after his short NFL career. Sidney worked as a legislative aid and was the U.S ambassador to the Bahamas under president Clinton from 1994-1998.
The couple reportedly lives in a $4.8 million home in LA, a figure that startled many. Fox News host Tucker Carlson had, in fact, confronted Waters, asking how a congresswoman could afford a multi-million property, a question which Maxine later said was racist.
Waters told New York Magazine, "He doesn't know anything about my investments, about the house that I've lived in for 25, 30 years. This idea of 'how could she afford that?' is racist, and I just dismiss it."
For more information and news on your favorite stars, stay connected to Glamourfame.
-->