Jung Jiwoo AKA Jung Da-Won is the Owner of Mejiwoo.com - Find Some Interesting Facts About the Fashion Designer and Her Brand
Korean females aren't just known for their beauty and glamour, there is much more to it. Popularly known as the sister of the mega influential boy band 'BTS' member J-Hope, Jung Jiwoo (Jung Da-Won)'s got her own fan following.
It looks like both the siblings are genetically blessed when it comes to talent and looks. Jung Jiwoo is the elder sister of J-Hope, but when you look at her pictures, she doesn't look over 20. Looks can be deceiving when it comes to Korean beauty standards. Just like that, we've brought you a collection of interesting facts about the Korean businesswoman Jung Da Won.
First : About J-Hope, Member of Sensational Group BTS
Jung Ho-Seok, aka J-Hope, comes from the internationally famous boy band named 'BTS' (Bangtan Sonyeondan), which is managed under Big Hit Entertainment. He is an accomplished South Korean dancer, singer, songwriter, and record producer. His debut in the music industry came in early 2013.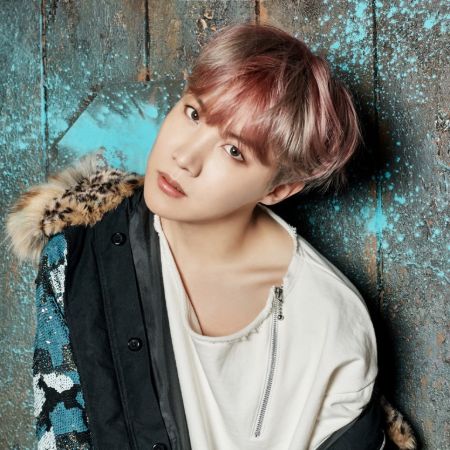 J-Hope is also a Philanthropist along with being a popular singer.
Photo Source: SCMP
The group 'BTS' consists of seven South-Korean members, who started out as a hip hop group and gradually gained fame through their works like, 'The Most Beautiful Moment in Life, Part 2 (2015),' 'The Most Beautiful Moment in Life: Young Forever (2016),' and 'Wings (2016).'
Interesting: Every BTS Member Ranked From Oldest To Youngest - Learn Their Ages Here!
Their album 'Love Yourself' is the first Korean act to top Billboard 200. They even beat 'The Beatles' to earn three number-one albums in less than a year.
The Sister, Jung Da Won, Who'll Definitely Surprise You
Da-won was born on February 11, 1990, in the beautiful city Gwangju, South Korea. The names of her parents and personal details are kept under the covers due to privacy issues. Her younger sibling J-Hope was born four years after her. She shares a lovely relationship with her brother.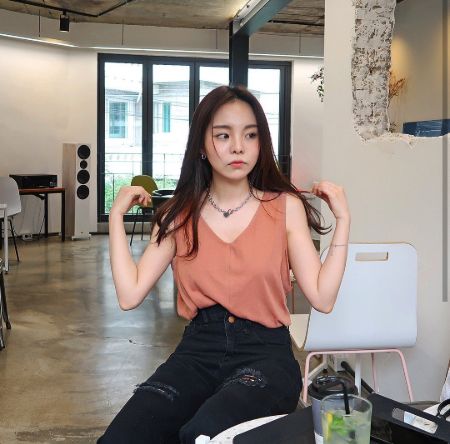 Currently, the businesswoman is single and focuses on her work.
Source: Trends Map
Even after all the fame, J-Hope's garnered, he makes sure to give enough time to his sister and family. From time to time, the singer helps his sister promote and model for her own clothing line, 'MEJIWOO.' Not only that, she is an Instagram celebrity as well, with a massive following of 3.4 million.
Da-won is the Owner of Mejiwoo
The exquisite lady is quite a talented one. Jung is a fashion designer and a quite marvelous one at that. She runs an online clothing company named Mejiwoo.com, based on South Korea. The online company features several products and apparels like Outers, Top, Pants, Skirts, One Piece, Shoes, Bags, and various Accessory items.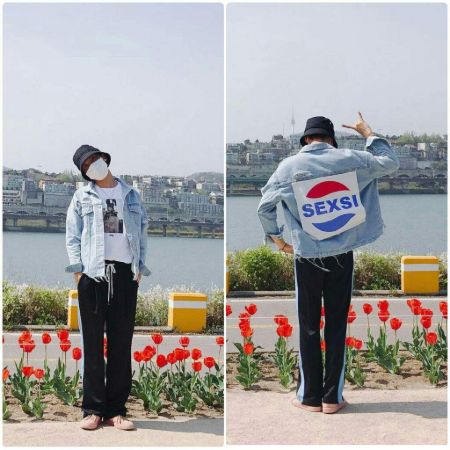 J-Hope promoting his sister's clothing line.
Source: Amino Apps
Besides the popular ones, there are exclusive pieces of clothing made by the woman herself. The website welcomes any public reviews, and without any doubt, you can see everything good about the brand written there. You can also see active sales going on the affordable site. The products are all classy, chic, and elegant.
The clothing line seems to be flourishing with Jung Da-won as a model for all her products. We wish her the very best.
For more of these articles, make sure you tune into Glamour Fame.
-->