CNN News Reporter Kaitlan Collins Tweets Her Article on President Donald Trump Self Isolation and Cabin Fever
Published Wed Mar 25 2020 By Chester
The Americans are recently on their second week on self-quarantine, and the restless President Donald Trump already has Cabin Fever.
American journalist and the White House correspondent for CNN Kaitlan Collins recently tweeted her article written on how President Donald J Trump's been doing during his self-isolation and work from home.
Well, the President is definitely not in a great mood as sources by the article, the first thing our President is worried about is his job security. The degrading country's economic and no antidote to treat the contagion disease Coronavirus has fretted Mr. President to cost him his job this November.
The visits to the White House has been limited. Typically there are 90 full-time staff members, but on the present pandemic, most of the longtime residences are now on a break while most are working on-call, from home.
Trump, his wife Melania Trump, and teenage son Barron are self-isolating in the White House. The residence spans several floors of the White House, but the first family mainly occupies the private second and third floors, which house multiple bedrooms, bathrooms, a gym, a solarium, a private dressing room, and a salon area, recreation rooms, and storage areas.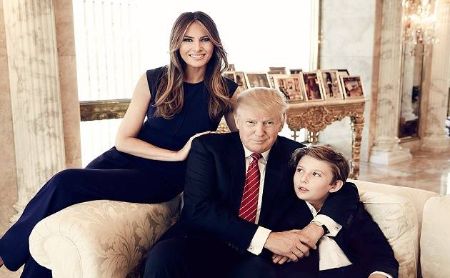 Melania Trump and son moved to White House in June 2017.
SOURCE: Business Insider
As per Kaitlan - who's dating longtime boyfriend Will Douglas - the first family in White House also has a private eat-in kitchen on the second floor, which is stocked at the request of the first lady or the chief usher of the White House. So Trump is not experiencing much of self-isolation compared to people living alone.
By far, the United States shares around 54147 active cases, 804 deaths, 130 new cases, and eight recent death cases as Live reports from Epic Virus.
Find Out: Celebrities, Athletes and Public Figures Diagnosed with Coronavirus - Complete List Here
Stay safe, and inside because together, we can fight with the Novel COVID-19. Stay tuned for more Coronavirus updates on Glamour Fame.
-->