Kareem Hunt Girlfriend in 2021: Find Out About His Relationship
Published Tue Jan 19 2021 By Bran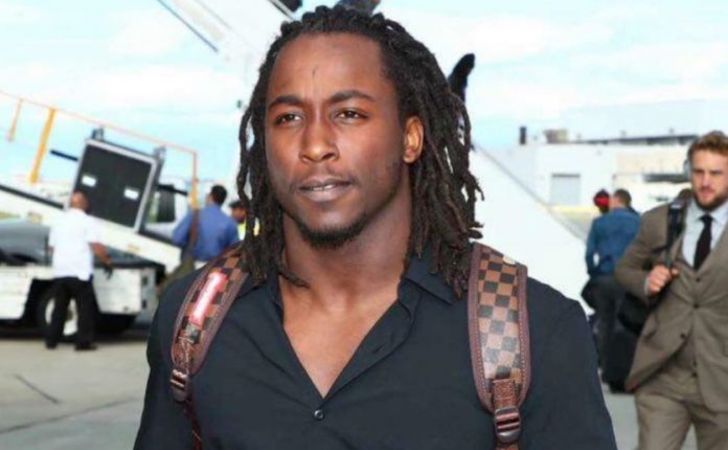 Is the National Football League's star running-back Kareem Hunt dating a girlfriend? Know it here!
In recent times, Kareem Hunt has proved to be a pivotal figure for the Cleveland Browns following a run of top performances. The 25-year-old did face several setbacks that almost ended his sporting journey in his early 20s, but the former Kansas player demonstrated his bold nature and confidence to make a strong comeback. He rose to prominence as a teenager following a few extra-ordinary seasons at Toledo to get the attention of top scouts in the NFL.
Kareem Hunt embarked on his NFL journey back in 2017 when Kansas City Chiefs drafted him in the NFL Drafts. Although there were a lot of questions over his signing, the running-back took no time to give his introduction by leading the charts of the running yards in his rookie year instead.
However, all those accomplishments almost went to vain as a video leaked where he kicked a woman on the ground, which forced the side to release him. He is fortunate to be making a comeback right now, but there are many people wondering if the athlete who once kicked a woman has a girlfriend or not. Stay right here as we bring you details regarding all of that.
Kareem Hunt: Blissfully Together With Girlfriend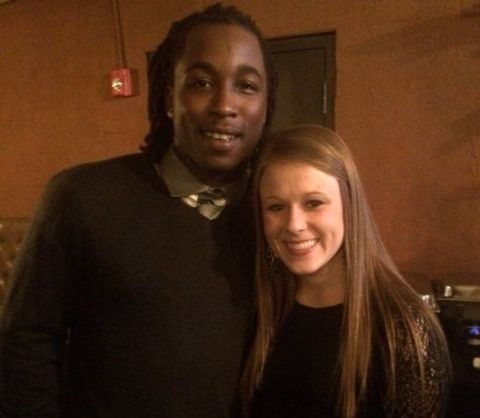 Kareem Hunt and his beloved girlfriend Julianne Orso have been together since their university days.
Photo Source: Pinterest
With the tag of a 'multi-millionaire' who plays in the National Football League, which is the highest level a football player can aim for, many girls do have a crush on him. Especially after the past couple of seasons where he made a comeback following the videotaped incident, the 25-year-old put a string of consistent performances to come back strong and get back his reputation as one muscular running-back.
While many people grew massive hate for him after his video went viral where Hunt kicked a woman on the ground, not all the girls gave up on him just yet.
Recommended: Mikayla Demaiter Boyfriend in 2021: Here's What You Should Know About Her Relationship
Kareem Hunt's romantic life has garnered many people's attention in recent times. Well, despite what people say, the Cleveland based footballer is not dating. In fact, he is in a longtime relationship with his girlfriend, Julianne Orso.
His partner has stood by him from all the highs and lows of his playing career. From the draft day when Hunt made his entry to the NFL to the videotaped incident, Orso never left Kareem. And, with each passing year, the love birds could feel the bond between them grow even more strong.
Kareem Hunt was released by the Kansas City Chiefs in 2018.
Photo Source: ABC News
The dating history of Kareem Hunt and his girlfriend Julianne Orso dates way back to their university days at the University of Toledo in Ohio. It was there where the duo started dating, and it's a delightful scene to see them blissfully together to this date.
Only time will tell if the Hunt and his lowkey lover ever decide to get married, but we can only wish they do as the pictures they share reflect a perfect couple.
Kareem Hunt And His Girlfriend Recently Bought A House
The NFL running-back Kareem Hunt might not be looking to be married anytime soon, but he took a big step in his romantic life back in 2018. The Cleveland player purchased a luxurious five-bedroom house back and shared the keys with his girlfriend.
Taking the fact that the athlete is a multi-millionaire with around $7 million net worth, that transaction didn't alter his bank balance by much.
Kareem Hunt bought a massive house in 2018.
Photo Source: NBC News
As per the statistics from property records, Kareem Hunt purchased the house for a whopping $325,000. With inflation and all that, there is no doubt that the mansion-like house would cost a lot more in recent times.
As per USA Today, his girlfriend Julianne Oser was a cheerleader in the university, but not much is disclosed regarding her career as of now. However, she plays a big role in keeping his partner cool off the pitch as Hunt can be someone difficult to deal with, as his criminal record shows.
Related: Who is Joel Embiid Girlfriend As We Enter 2021?
For more news and updates about your favorite stars, please stay connected with us at Glamour Fame.
-->