Kat Von D and Husband Rafael Reyes Welcome Their First BabyBoy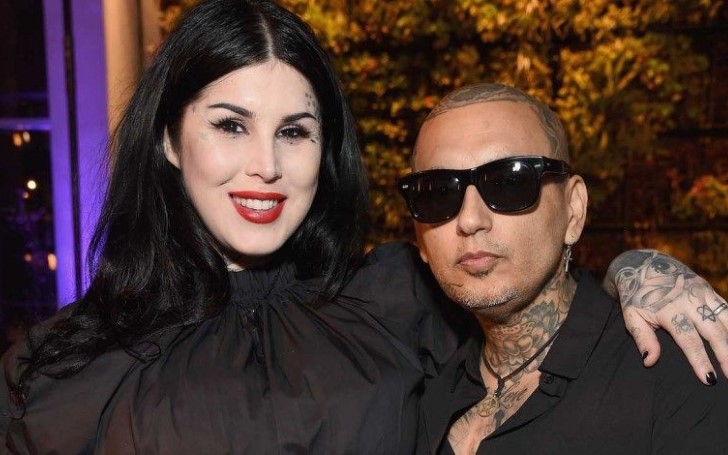 Beauty Queen Kat Von D gives birth to her first child with husband Rafael Reyes.
The 36 years old entrepreneur, tattoo & makeup artist, Kat Von D who is also a vegan and thus an animal activist was reportedly pregnant in May and announced the news on the delivery of her baby boy on Sunday via Instagram. Furthermore, in the Instagram picture shared by Kat is a picture of husband Rafael Reyes holding their son.
The couple also thanked their fans through the post for their patience, support, and love for the arrival of their child. As a matter of fact, Kat also revealed that she will now remain inactive on her social media for the next 40 days to focus on their newborn as well as for the transition of the couple's relationship into parenthood.
The couple gave birth to a son and apparently named him already too. The name of their son which is very unique and beautiful is Leafer Von D Reyes. It's appealing how the couple took both of their last names to name him.
You may also like: Julia Roberts Makes "Homecoming" Best Streaming Series of The Year
Husband Rafael who is a Musician also took the time to post about their newborn. His post on Instagram says:
''It might not look like it on the outside but on the inside I'm thee happiest I've ever been in my life!''
The couple only got married in February after dating for a short period of time. The couple had known each other for years though.
Also read: Reality TV Star Kylie Jenner Joined Her Boyfriend Travis Scott on Stage During his Show at NYC's Madison Square Garden
Many sources revealed that the vegan artist is also raising her newborn son and her entire family on a strict vegan diet. Reports state that there is no harm to the mother and son with their vegan diet.
Congratulation to the new parents!
-->