Kate Hudson Reveals Her 'Genderless' Approach To Parenting
Published Sun Jan 27 2019 By Tess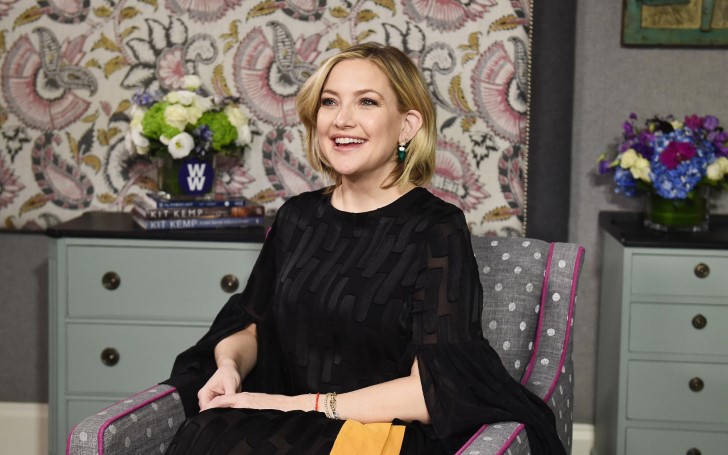 Kate Hudson opting for Genderless approach to parenting.
In a recent interview with AOL, the 39-year-old actress Kate Hudson revealed she embraces a "genderless approach" to parenting 3-month-old Rani Rose and her two older brothers from Hudson's previous relationships: Bingham Hawn, 7½, and Ryder Russell, 15.
Despite having already raised two sons, the Fool's Gold star won't raise her little bundle of joy any different.
Speaking on parenting her daughter, Hudson said:
"Having a daughter doesn't really change my approach, but there's definitely a difference. I think you just raise your kids individually regardless — like a genderless approach. We still don't know what she's going to identify as."
Further, the actress went on to describe her little one "incredibly feminine in her ways". And she's glad to finally have a girl, admitting she loves picking out little outfits for Rani.
"I will say that, right now, she is incredibly feminine in her energy, her sounds, and her way," Hudson explained. "It's very different from the boys, and it's really fun to actually want to buy kids' clothes."
"With the boys, it was just onesies … actually, I did pretty well with the boys," she clarified with a laugh.
See more: Supermodel Naomi Campbell Goes Braless for Valentino fashion show
While Hudson is committed to raising her children in a gender-neutral environment, the demeanor, however, shifted a bit with her little one.
"But with her, it's a whole other ball game. There's some stuff that I'm like, 'I can't do that to her, because it's so over-the-top.'
Hudson's being brought up as a lone girl among a group of brothers, including Oliver Hudson and Wyatt Russell helped her be able to see the fluidity of gender roles.
"I was a tomboy in a spinning dress," she shared. "My middle brother [Boston Russell], who is closest to me in age, was basically my sister because I put makeup on him all the time, and I'd dress him up and he loved it."
Don't miss: Emiliano Sala's Ex-Girlfriend Berenice Schkair Has Written a Letter on Her Social Media After Plane Disappeared
The Bride Wars star's own upbringing taught her gender roles don't have to be limited and she credits being raised with brothers for having a "thick skin" because they always made fun of her.
"But growing up as a girl with all boys, you end up with a thick skin. You really do," said the Almost Famous actress. "People say, 'Oh, your brothers must've really protected you.' And I'm like, 'They threw me right into the fire!' "
Also read: While Netflix is Raising its Prices Hulu Drops Its Price to $5.99 a Month
According to her recent interview, Hudson says she's not done with babies yet and always saw herself having more children up to six.
-->