Katie Ledecky's Parents: Learn About Them Here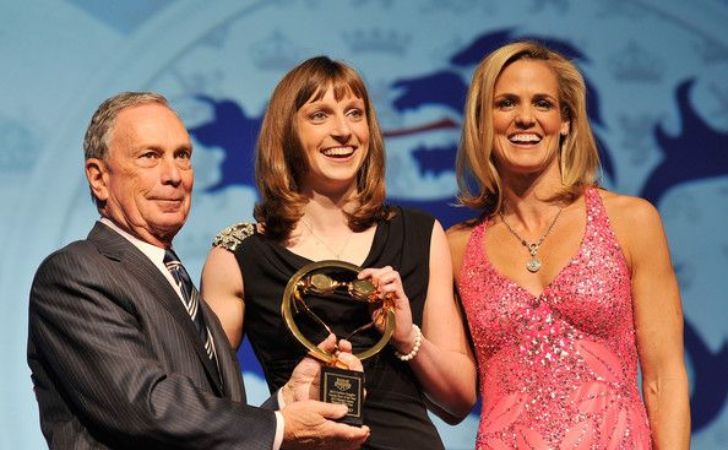 Who are Katie Ledecky's Parents? All the Details of Her Family Here!
You must have heard this swimming phenom's name and bits her roaring accomplishments unless you live under a rock. Katie Ledecky, at a young age, has become a nation's treasure and an inspiration for the aspirants. She is an American competitive swimmer born on March 17, 1997, in Washington, DC.
She recently dominated the women's 800m freestyle at the U.S Olympic trials, earning a ticket to the upcoming Tokyo Olympics. Ledecky's debut at the age of 15 had endowed her with the gold medal in the 2012 London Olympics. Katie's unmatched enthusiasm has many wondering about her upbringing and early life. Continue reading to find all the details.
Katie Ledecky's Parents and Her Early Life!
Katie Ledecky has broken fourteen world records and has won 34 medals; she is also a five-time Olympic Gold medalist. Her parents couldn't be more proud of their gifted daughter. Katie's resilience has even left her parents speechless. "I don't know how she does it. I mean it's a grind," her mother told Vogue.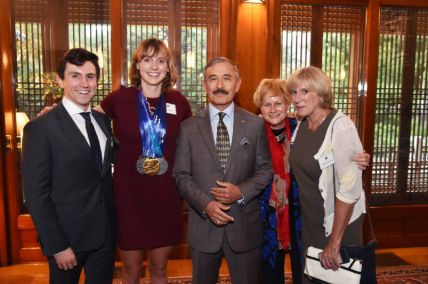 Katie Ledecky's mother is in awe of her daughter's accomplishments.
Photo Source: US Embassy
Katie was born to Mary Gen and David Ledecky. She inherited her athletic skills from her mother, who was a competitive swimmer back in her days. Ledecky's father is an attorney. He studied at Harvard and Yale. David took a leave from his job at Kirkland & Ellis in 2011 to coach his daughter.
Check Out: Who are Chance Perdomo's Parents? Learn About Them Here
Ledecky's mother, Gen, is a former associate administrator at Georgetown hospital. She chose a different career path after a notable collegiate career as a swimmer. Gen's then-coach, Rick Klatt, said, "Every set she did in practice, every race Gen swam, she was as tired as anyone could get."
Ledecky and her brother Michael were put to practice daily as kids.
Photo source: WBUR
Ledecky credits her apt in the sports to her parents, who put her to practice at six. Her parents would encourage Katie and her brother, Michael, to train daily. In her interview with WBUR, Ledecky said, "I think if I didn't have my brother swimming with me, I don't know if I would have loved it as much as I did and still do."
"I Haven't seen My Family in Over a Year," Says Ledecky!
Ledecky cannot wait to see her family. While the whole nation has been curious about Ledecky's techniques and routine, she reveals, indirectly, just how. In a talk with the U.S. Olympic and Paralympic media, Katie revealed, she has been training hard to hasn't seen her family for over a year. "not one family member," said Katie in an interview.
Ledecky isn't caring about external expectations; she is focused on fulfilling her own.
Photo Source: Bleacher Report
Her father had earlier revealed that his daughter doesn't spend much time on land. Sounding beyond belief of his daughter's achievements, David adds, "I don't get the sense of her feeling any pressure at all. I guess even we haven't wrapped our heads around who she is now."
Don't Miss: Who are Daryl McCormack's Parents? Learn All About Them Here
After breaking the female record for the U.S. Olympic Trials wins, Ledecky is looking forward to both 200m and 400m free in Tokyo next month. The swimming phenom is focused and positive. "I think the most important expectations are the ones that I have for myself," Ledecky told the media.
For more information and news on your favorite stars, stay connected to Glamour Fame.
-->