Keeping Up With The Kardashians: Kim Kardashian Accused Of Murder In This New Clip!
Published Thu Jun 06 2019 By Jessica
Kim Kardashian faces accusations of murder in the new clip of Keeping Up With The Kardashians.
Whilst she is working her arse off to fight injustice and save innocents from the crime they didn't commit (since joining law school), Kim Kardashian at her own home faces a murder accusation.
Not to exaggerate but, sort of.
By the recent sneak peek of 'Keeping Up with the Kardashians', we learn the death of Kim's daughter's North West's pet hamster.
For your information, aunty Khloe Kardashian gifted the now-late hamster to Northie against Kim's will.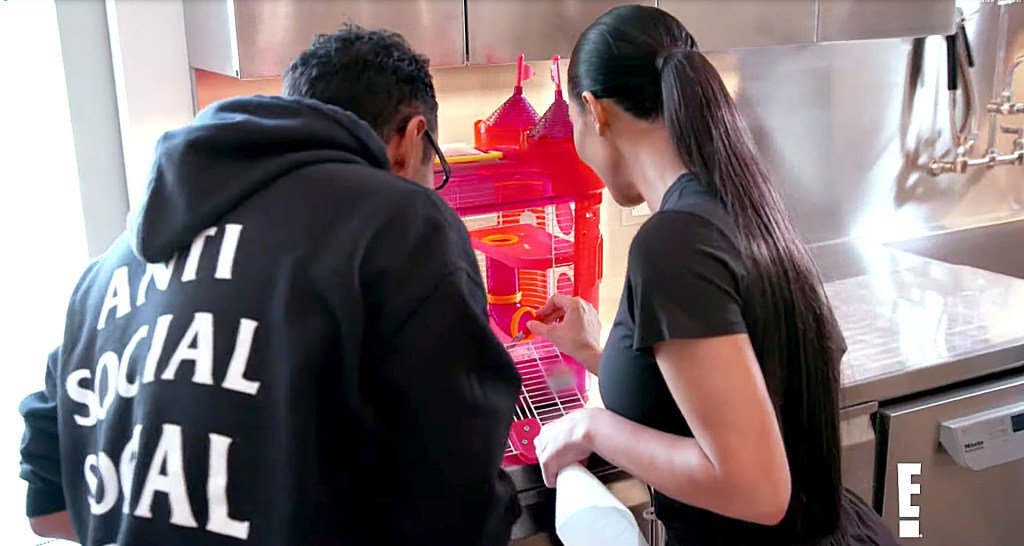 Kim Kardashian checks up on North West's hamster.
SOURCE: E!
Kim's assistant Michael informs the reality star whilst she is on the phone with sissy Khloe. "Kim, the hamster hasn't been moving. So you might want to go look at it," says Michael.
Before Kim even gives a proper reaction to the heartbreaking news, Khloe immediately responds on the phone, "What?"
"I don't have time for a dead hamster. Maybe he's sleeping," Kim answers to her assistant as she goes to next room to take a look at the hamster.
After poking at the hamster, whilst it rests on its red castle, with a red pen, Kim officially announces to Khloe who's still on the phone that the hamster is dead for real (RIP).
She even accuses Northie's dog: "Sushie, did you do this?" Really Kim? Leave the poor dog out of this.
Kim, however, is more upset about one thing than the death of the hamster. The new mom who welcomed her fourth child via a surrogate mother last month confesses that she is worried on how to inform North that her pet died.
Luckily for Kim, her daughter happens to be at school when she learns about hamster's death as she continues to speak to Khloe: "I don't know how I'm going to say, 'Oh, and by the way, your hamster died."
Well, it's totally understandable for Kim who clearly doesn't want to break her daughter's heart. Jeez, being a mother ain't that easy.
The wife of Kanye West then makes sure she pours her frustration over Khloe before she hangs up the phone. "This kind of sh*t I can't deal with. This is why you don't give someone a pet. Don't ever do this to me again, I literally hate you," Kim says to her sister.
To which Khloe replies: "Are you gonna get me killed too?"
See the full clip below.
Now we wait for the full episode which hopefully will showcase how North reacted to the tragic news.
-->