Khloe Kardashian Fires Back At Fan Who Thinks She Slept With Scott Disick
Published Sun Jun 02 2019 By Jessica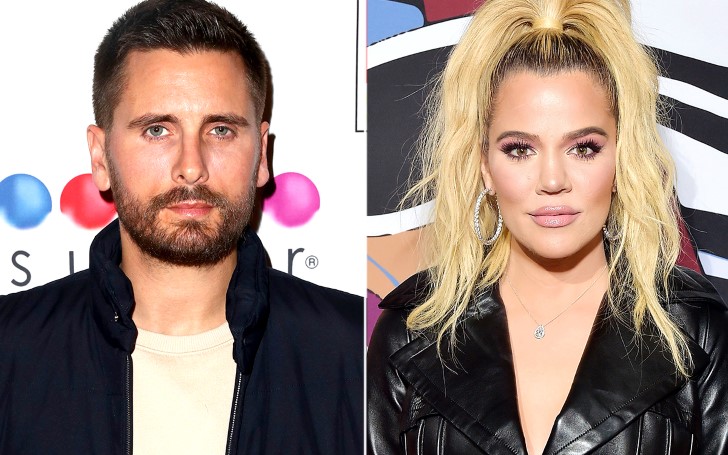 Khloe Kardashians slams a fan who believed she shagged her sister ex-boyfriend Scott Disick.
Scott Disick has been very close with the Kardashian family for several years. Not only he dated Kris Jenner's eldest daughter, Kourtney Kardashian, but he is also the father of Kourtney's three children.
Disick and Kourtney separated multiple years ago, but the tv personality and party organizer is still very near and dear to Kourtney's family.
Just a week ago, Scott celebrated his thirty-sixth birthday. And in honor of his birthday, Kourtney's own sister Khloe Kardashian took to Instagram to pay a birthday tribute to the father of her nephews and niece.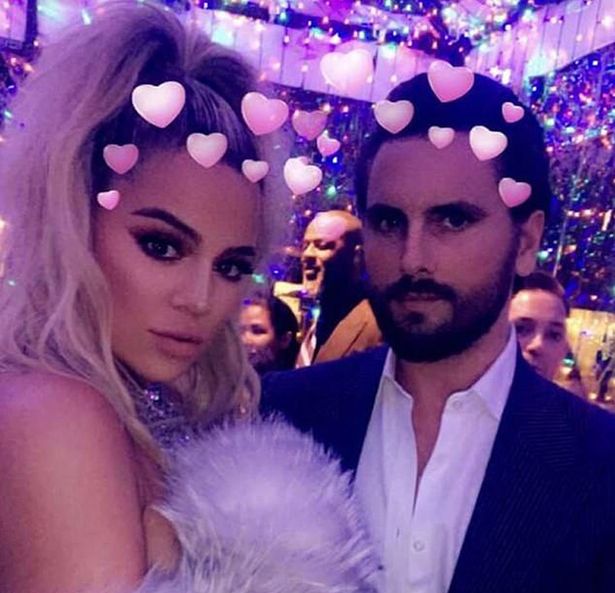 Khloe Kardashian fires back at fan who thinks she slept with Scott Disick.

SOURCE: Khloe Kardashian IG
Khloe who recently got called out by her mother for not being nice to Kris' boyfriend, Corey Gamble shared a long, an emotional post indeed, to express how grateful she was to have Scott in her life.
Sharing a dozen of pictures alongside the birthday boy, Khloe, in her words, said in the caption section:
"Happy birthday to my brother @letthelordbewithyou !!! I am so thankful to have such an incredible addition such as you to our family! We have come such a long way, you and I! I am so thankful for the person that you have grown into. I am thankful for every highs and lows because we have been through it all and we are closer than ever. I am proud to say that you are my brother and also one of my best friends! Have the best birthday Lord!! FOREVER the Lord and the Lady"
The beautiful post which has now surpassed nearly three million likes earned tons of positive comments from the reality star's million followers.
As one of the fans commented: "Great picture glad to see you getting along so well," whilst another one added: "Scott is the Best Kardashian.. Yer dioou are the best brother-sister duo..."
A third person wrote: "I love your friendship. My best friends are married to each other & I have a very deep bond with them both. It's a treasure 💎 Happy Belated Birthday"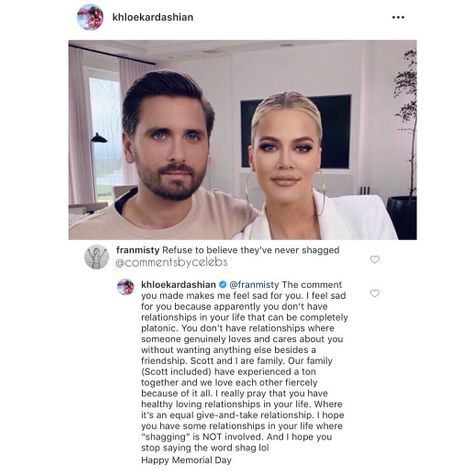 SOURCE: Comments By Celebs
Among the thousands of comments, however, one comment suggested that there was more behind the friendship of Khloe and Scott claiming that there is no way that the two never hooked up before.
The comment infuriated Khloe so much that she decided to fire back at the person with a long message that described her relationship with Scott.
A slightly disappointed Khloe said:
"The comment you made makes me feel sad for you. I feel sad for you because apparently, you don't have relationships in your life that can be completely platonic. You don't have relationships where someone generally loves and cares about you without wanting anything else besides a friendship. Scott and I are family. Our family (Scott included) have experienced a ton together, and we love each other fiercely because of it all. I really pray that you have healthy, loving relationships in your life. Where it's an equal give-and-take relationship. I hope you have some relationships in your life where 'shagging' is NOT involved. And I hope you stop saying the word shag lol. Happy Memorial Day."
Since breaking up with Kourtney, Scott has been dating twenty-six years junior model Sofia Richie, the daughter of musician Lionel Richie.
As for Khloe, she is currently single and focused on raising her daughter, True Thompson. The 'Keeping Up with the Kardashians' has not dated anyone since her breakup with former cheating boyfriend Tristan Thompson who locked lips with Khloe's half-sister Kylie Jenner's former best friend Jordyn Woods.
-->