Who is Khris Middleton's Wife? Learn all the Details Here
Khris Middleton's Wife in 2021: Read all the Exclusive Info Here!
Certainly, the best offensive player of Milwaukee Bucks for years, Khris Middleton, yet again led his team to victory against Miami Heats with his final game-winning shot on May 22. A 39th overall pick of Detroit Pistons in the 2012 NBA Draft, the 6 feet 7 giant, without doubt, outperformed many in his decade-long career. A Charleston-born player, he played college basketball for Texas A &M University, recruited and guided by basketball coach Scott Spinelli.
Traded to Milwaukee Bucks in exchange for Brandon Jennings after a mediocre one season with the Pistons, we can only imagine Pistons' rue now that Middleton is the most-sought name in league with certainty, and also sports buff's current favorite. Known as a quiet and modest individual, Middleton is committed to a woman in his life as he is to his professions. Find out more here.
Khris Middleton Introduces a Mystery Girl: Is it His Wife or Girlfriend?
There is no knowing if the star player is married or just in a relationship with his baby mama. A mystery name up until late 2020, Middleton had been teasing his fans time and again with snippets and blurred pictures of his lady love. Khris revealed the title last year as he took to his Instagram to shower gratitude towards her.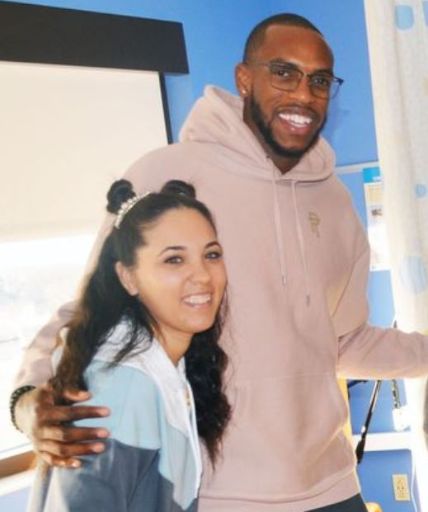 Khris Middleton and Samantha Dutton are doting parents to their two-year-old daughter.
Photo Source: Celeb Info
Middleton reportedly met Samantha Dutton, a beautiful brunette, in 2017, and the two had their firstborn Audrielle Middleton on April 23, 2019. Despite the offered clout by Middleton, Samantha has opted to stay away from the focus and has kept a private account on Instagram with only 700 followers. A grade teacher and community advocate, Samantha lives in a recently bought mansion in Milwaukee along with Khris and their two years old daughter.
Middleton Re-Signed with Bucks on a 5-Year Deal Worth $178 Million!
Only in the eleventh year of his NBA career is Middleton raking a figure that many in the League can only dream of. The Charleston-born had everyone shook when he was named the highest-paid player in Bucks with reportedly $30.6 million annual income.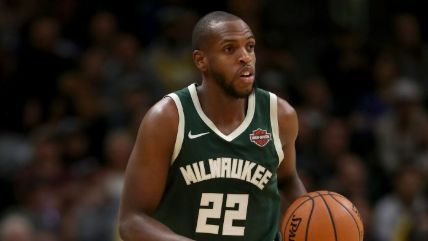 Khris Middleton, the highest-paid Bucks player in 2021.
Photo Source: First Sports
Middleton made his first All-Star team in 2012 and was selected again in 2020. He has aspired to attain greater milestones with every game and has accomplished visible development. In 2015, he re-signed with Bucks to a five-year, $70 million, and in 2019, he re-signed the same five-year extension contract for a whopping $178 million.
Check Out: Juventus Qualify For The Champions League Next Season
His estimated Net Worth in 2021 stands at a whopping $60 million. Middleton, 29, averaging 18.3 points, 6.0 rebounds, 4.3 assists till 2019, set a new career-high for himself in 2020 with 51 points in a 151-131 victory against Washington Wizards.
Middleton Opens About the Tragic Charleston Church Shooting!
"In Charleston, we're staying strong, but the wounds are still deep," Middleton wrote in his evocative column in The Players Tribune. He claims four of the nine African-American shot dead in Charleston were his grandmother's close acquaintances.
"I think people are starting to see why black people are so afraid of the police," says Middleton.
Photo Source: Js Online
He recalls the grim crime and writes he was just blocks away from the church when the racially motivated massacre occurred. Middleton called out a similar incident that took place in Kenosha last year. He straight out blamed the system and police department for enabling such racial hatred in the society and, in some cases, inciting them.
Don't Miss: Manchester United Maintain an Unbeaten Away Record as They Finish Second in the 2020-21 Season of the English Premier League.
"I think people are starting to see why black people are so afraid of the police, Because at any time, no matter what their position or what they did, right or wrong, their first act is to shoot us." Middleton told ESPN in 2020.
For more information and news on your favorite stars, stay connected to Glamour Fame.
-->