A Tour at Kylie Jenner's Arresting Wardrobe Collection & Fashion Trends
Published Mon May 04 2020 By Chester
Find out the lavish wardrobe collection of Forbes Youngest Billionaire and Glamour Queen 'Kylie Jenner'.
Kylie Jenner, the name which makes us imagine all the stunning designer's dresses, fashion trends, expensive things, and so forth is for sure a fashion itself. Kylie who is synonyms to fashion and trends' wardrobe has always been a conversation piece to all the fashion and trend lovers.
So below we take you to a tour to the self-made billionaire Kylie's desirous wardrobe collection, designer clothes, and fashion trends.
Kylie Jenner Skinn Top - Summer Wears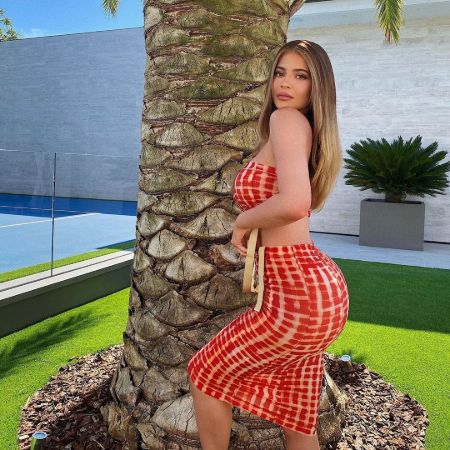 When I met you in the summer.
Image Source: Instagram
If you've been following her feed then you might be well aware of Kylie Jenner's recent curvy looks image on a Hawaii themed Skinn Top ($210) and Skin Dress ($285) from designer Charlotte Knowles.
Kylie is often seen wearing the London designers Charlotte dress as all her designed unique wears articulate a perfect blend of wear between the classic roots. You can follow her on Instagram and check out all her fashion runaways.
Vintage Monogram Diorissimo Long-Sleeved Top and Short Pants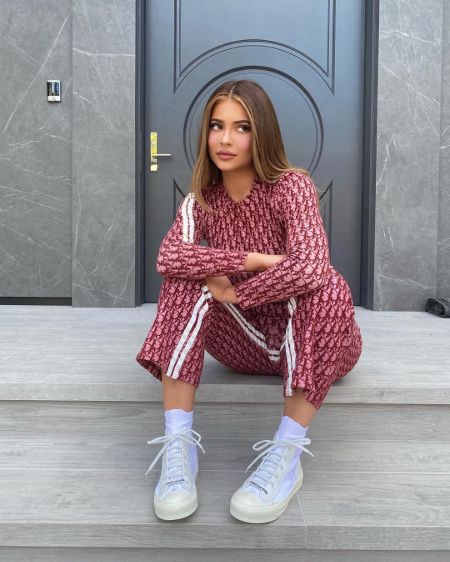 Please don't shade me with your endearing looks.
Image Source: Instagram
Yes, the fashion queen brought the vibe back with a style by wearing a maroon over pink inspired classy Monogram Diorissimo dress.
Well, the classic rendition of the dress with the new trendy vibes surely gives us those ravishing looks. Adding more style to its fashion is it's low cut The trends part of the dress is about length pants.
Check Out: Kylie Jenner Stunned Her Fans In Black PVC And Velvet Dress
The Top Pant set is available at the price of $1,290, but the pants are already out of stock. Nevertheless, you can still buy the Mid-High Sneakers at $990.
Coming on the details of the dress is from Christian Dior late French Fashion designer who established French Luxury goods company Dior. They run an official website filled with phenomenal fashion wears, cologne, makeup, and more. The brand is associated with some of the high-class celebrities like Johnny Depp, Cara Delevingne, and others.
Jenner's Party Wears
Kylie is ready for a party wearing designer Envers Satin dress.
Image Source: Pinterest
Party and occasions are recurring and when you are a celebrity then it pops more frequently, so you always need to be ready for them. Similarly, our self made billionaire too had to maintain her look to the 'highest in the room' as Kylie is one of the top-notch fashion representatives.
Recommended: Kylie Jenner Changes Her Hair Color To Blue For The Chilly Weather
And Kylie never fails to show her stylish fashion too as every time she pops into the part, the 22 years old always comes with cool styling and appearances. So below we present you with all the details of Kylie Cosmetics owner looks that made fans drop their jaws.
Gold Sequin Attire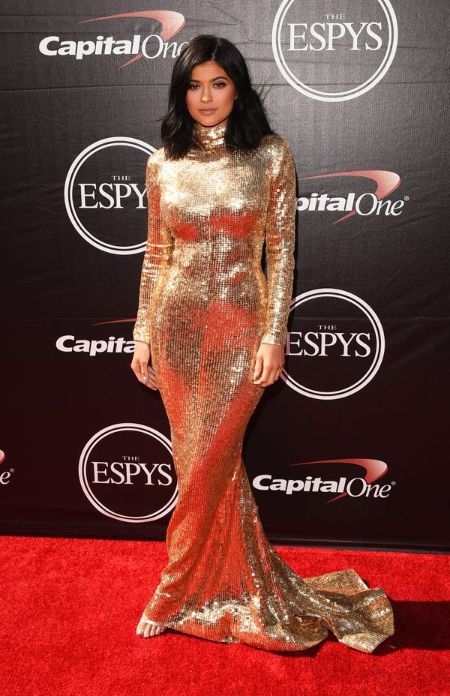 24 Carat candidate
Image Source: ESPYS
Kylie wore the shiny sequined gown by Shady Zeineldine during the 2015 ESPYs red carpet. The designer dress featured a long shiny tail with full sleeves and a close neck.
It's no doubt that she flaunted her looks on 'em as she was the party headliner. Coming to the designer's part it was one of the collections from designer Shady Zeineldine who is expertise known mostly for beautiful bridal gowns, and party wears. You can buy the dress on her official website here.
Kylie Jenner Red Gown, Nude Pumps
Smooth as a Cat.
Image Source: Steal Her Style
Kylie wore beautiful designer Envers Satin's Off-The-Shoulder Satin Dress which perfectly ravished Jenner's looks. The dress features left-open leg cut which gave her more steamy looks.
Adding more charm to the dress she accessorized Lorraine Schwartz Diamond Jewelry and a beautiful Christian Louboutin's Hot Jeanbi 100 Satin-Patent Leather-Trimmed Lace Pumps which costs around ($895).
Kylie Jenner BodySuits
Kill you with the Vibes.
Image Source: Instagram
Kylie seems to seduce hot flaunting off her tight curves on a bodysuit. Nobody can argue she seemed seducing on those fit clothes.
Find Out: Kylie Jenner Brings Back Early 2000s Nostalgia By Wearing Her Hair In Layers And Side Bangs
The bodysuit is she's actually wearing from The NW Bodysuit which is available at the price of $42. And similarly The NW Leggins for $42. Kylie wore it with a classic yet cool Jordan 1 High Dior at a whopping $2,000 USD.
Black Zipped Jumpsuit
Black reflects your attitude like no other color.
Image Source: Steal The Style
Kylie surely dropped the jaw of her gigantic 173 million followers after she shared her racy snaps wearing Lucky Label Ribbed Jumpsuit.
'Black' surely reflects Kylie's personality into the next level and the reality star nailed it off more her whited toned beauty and hair color. You could dress like the KUWTK star too as the attire is available for £29.99.
Pop Culture Wears - Grey Checked Jacket and Pants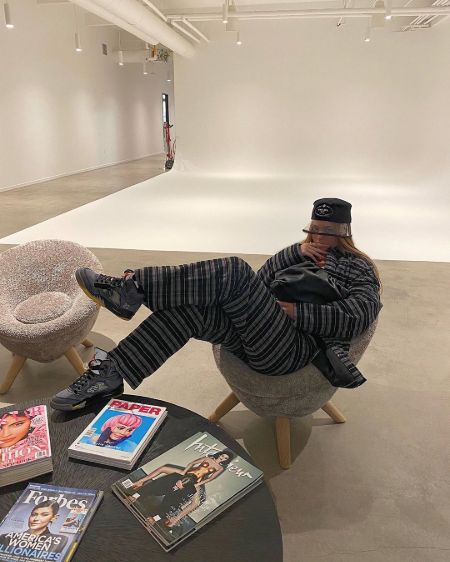 YOLO (You Only Live Once).
Image Source: Instagram
The mother of beautiful daughter Stormi nails off every fashion she wears. And recently on March 13, Wednesday Kylie bumped with cool and unique fashion wear.
This time Jenner bumped off with some unique fashion by posting a picture wearing Grey Cotton Jacket which is available at $2,140 and Grey Checked Flannel Trousers available at the price of $1,085.
The unique hat is from Prada Plexiglass Trim Hat which is currently out of stock. And last but not least she's on Jordan 5 Retro Off-White Sneakers which you can buy at $709. The Billionaire has lots of other fancies and eye-catching dress, shoe collection which we will bring you in the next article as here we brought you with the recent ones.
Till then we hope you enjoyed the article, stay tuned for more Fashion and Lifestyle articles only on Glamour Fame.
-->