Lady Gaga Sings 'Smelly Cat' With Lisa Kudrow on 'Friends Reunion'
Lady Gaga Channeled Her "Inner Phoebe Buffay" On Friends Reunion: It Was The First Time Smelly Cat Didn't Stink!
Lady Gaga sang her rendition of the iconic 'Smelly Cat' on the Friends Reunion On HBO Max this week. Sitting beside the accolades-deprived Lisa Kudrow and dressed in Phoebe's quirky garb, Gaga recreated our favorite single.
Though it was the first time Smelly Cat didn't stink and was actually voiced with melody, Friends fans would prefer Phoebe's version; even Kudrow, 57, had the same opinion. "Not bad, that was really, really good," That was so great, I still think it's better when it's just me," Kudrow told Gaga, but we all know it was Phoebe speaking.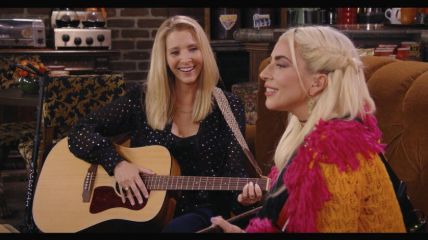 "I still think it's better when it's just me', Lisa Kudrow on Gaga's rendition of Smelly Cat.
Photo Source: Radio Zet
Lady Gaga, 35, who, like many stars, is a Friends fan, took the chance to plaudit Lisa's alter ego, which always stood out from the rest. The Poker Face singer said, "Thank you for being the person for all of us on 'Friends' who was, I'm not sure if this is the right way to say it, but the different one or the one who was really herself."
Recommended: Netflix's 'Firefly Lane' Renewed for Second Season
The Friends Reunion was a cry fest for the casts, Kudrow, David Schwimmer, Matt Leblanc, Matthew Perry, Jeniffer Aniston, Courtney Cox, and the appearance of Gaga and several other guest stars were intended to bring more magic to the unscripted special. Aniston and other members were reportedly paid $2.3 million to $3 million to reunite.
Friends casts were reportedly paid $2.3 million to $3 million to do the unscripted special.
Photo Source: The Tech Sreet Now
Smelly Cat was featured in several episodes throughout the seasons and was also performed by Taylor Swift along with Kudrow in 2015; even then, Lisa didn't miss the chance to teach Taylor better; she stopped Taylor midway and said, "I'm sorry. that was good, but you really have to feel the lyrics."
For more information and news on your favorite stars, stay connected to Glamour Fame.
-->