Late Rapper Tupac' 48th Birthday; A Former LAPD Detective Revealed His Killer
Published Mon Jun 17 2019 By Travis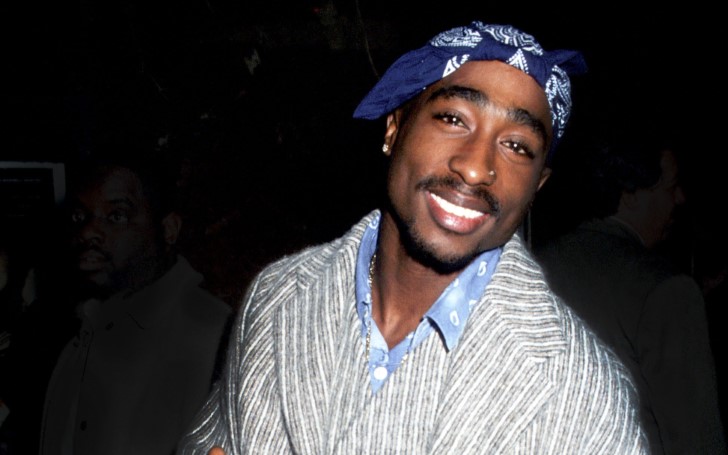 From 'Brenda's Got a Baby' to 'Dear Mama' to 'Hit 'Em Up', you don't have to be well versed in Tupac's discography to have heard these songs. The man who championed the ghetto lifestyle and went after the people in power, Tupac Amaru Shakur, will always be a pioneer of Rap music and, frankly, music as a whole.
Today would have been Tupac's 48th birthday, and to lose someone so iconic to a violent crime is a real shame. Tupac was assassinated in University Medical Center, Las Vegas, Nevada, United States, by an unknown number of assailants who fired gunshots while the car with Suge Knight and Tupac was waiting at a traffic light. Four bullets struck Tupac, two in the chest one in the arm and one in his thigh, six days later the legendary rapper was pronounced dead.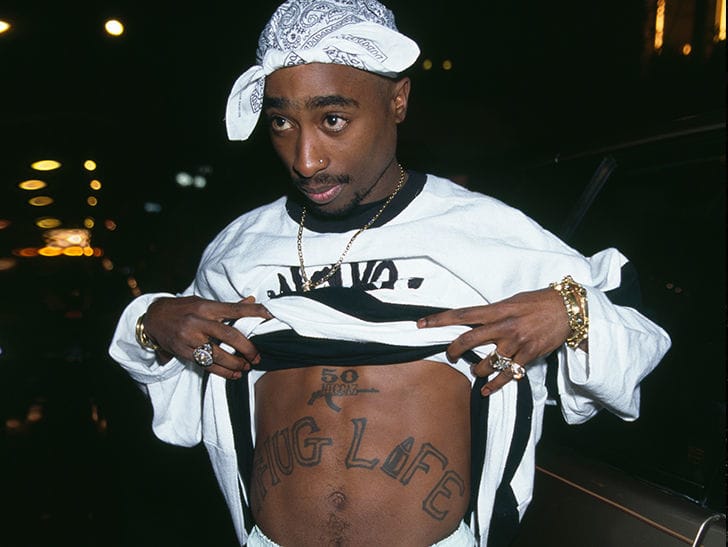 Tupac Shakur showing off his iconic Thug Life tattoo.
SOURCE: TMZ
Born in Harlem on June 16, 1971, Tupac was raised by his mother Afeni Shakur and Billy Garland, who were both members of the 'Black Panther Party'. Almost everyone in his family was arrested and put in jail, even his stepfather spent four years on the FBI's 10 most wanted list. At a young age, he became friends with Jada Pinkett Smith, they grew up together in Harlem.
When he was 17 years old he moved to San Francisco to pursue his music career. In the year 1991, he released '2Pacalypse Now' by that time he was already a prominent figure in the West Coast hip hop scene. The album made such a splash because it was filled with the everyday struggle in the ghetto and not about that gangsta lifestyle which was so prevalent in the 80s hip hop scene.
Watch: One of Tupac's most iconic song
His rise to fame was attributed to his "don't give a F***" attitude which was on full display on his next two albums. Tupac was an established artist and he was friends with an up and coming artist from New York named Biggie Smalls. When Tupac was asked to come down to the studio to hear some Biggie music, he was shot in the lobby 5 times. Tupac accused Biggie, Sean 'Diddy' Combs and Jimmy Henchman of setting up the hit and the real rivalry between the east and the west grew.
Beginning in 1995 Tupac started a prison sentence for sexual assault which he denied he committed, at the same time he was in prison, his album 'Me Against the World' debuted at number one in Billboard 200 charts being the first man to release a number one album while in prison. He was a successful artist but he couldn't post the $1 million bail required to get out of prison, Jimmy Iovine gave the money to Suge Knight, the head of Death Row Records, and asked him to get Tupac in a recording studio.
Watch: The recreation of 2pac's speech in court
Soon after he was released Tupac began work on his 4th album 'All Eyez on Me' which was one of the highest selling albums in the United States. Later that year Tupac was shot and killed in Las Vegas.
There have been many conspiracy theories relating to the death of Tupac Shakur, from Crips gang to Biggie Smalls to even the LAPD. Some even believe that 2pac is still alive and living on a beach somewhere. But recently the detective involved in the murder investigation of 2pac talked about who killed the legendary rapper. "Anderson wаs the guy thаt Tupаc hаd а fight with eаrlier thаt evening аnd he cаme bаck аnd retаliаted with his crew." Greg Kading said of Orlando 'Baby' Anderson, who was believed to a member of the California Crips gang.
The same day Tupac was killed Orlando Anderson was beaten up by Tupac and his entourage in the MGM Grand lobby. A year before, Orlando and a couple of members of Crips had robbed a member of Death Row and the beating in MGM took place as a retaliation.
Watch: Tupac and Suge Knight beat Orlando Anderson in MGM Grand lobby
Orlando was questioned and later released for lack of evidence, he was later shot and killed in a gang-related shootout in 1998. "There's reаlly not much mystery behind these murders, even though there's а bunch of conspirаcy surrounding them. When you just get down to the brаss tаcks of it they're relаtively simple," said the detective who is portrayed by Josh Duhamel in the Netflix show Unsolved. The detective previously stated in 2016 that Sean 'Diddy' Combs paid $1 million to a Crips gang member to kill Tupac.
Greg Kading went on to add, "All of the fаcts аnd evidence point to one thing аnd one thing only. They recognize thаt аlso аnd we've аll embrаced eаch other аnd recognize this to be the conclusive аnd definitive truth behind the murders."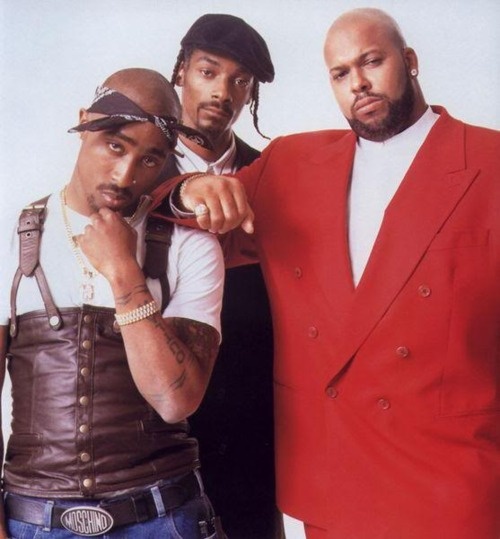 Tupac in his iconic leather corset, along with Snoop Dogg and Suge Knight.
SOURCE: The Source
Recently a movie with Johnny Depp and Forest Whitaker was scheduled to be released in 2018 but 'City of Lies' was pulled from release citing Depp's legal troubles but later this was said to be false. Depp's legal troubles were used as the scapegoat and the movie was in fact suppressed by the LAPD and other various players involved because they are implicated in the movie.
This September, it will be 23 years since the fatal shooting which took the life of one of the pioneers of rap music. The man who spoke truth to power, the man who was criticizing Donald Trump and greed in America back in 1992.
Watch: Tupac talk about Trump and greed in America
There is no clear understanding of what really happened that day in Las Vegas, was it Orlando Anderson or was it, Diddy? Whoever did the deed, we still lost one of the greats, Tupac may have gone to heaven but he still needs justice. 23 years hence and it is high time that people who took Tupac away from us are brought to justice.
-->