Child Actress Laurel Griggs Passed Away At 13 - Here's a Look Back at Her Career!
Published Mon Nov 11 2019 By Sea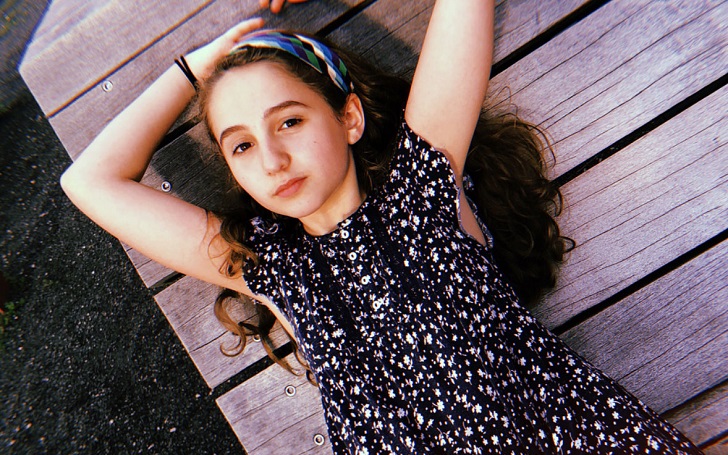 "The world lost a real princess who only wanted to make the future happy for all," David Rivlin commemorated his precious granddaughter, Laurel Griggs. Parents Andrew and Elizabeth Griggs (née Rivlin) are also devastated.
Laurel Griggs was only a green little kid on her way to fulfilling her dreams of becoming a successful actress in the American film industry, until that fateful day took her life. She passed away at the age of 13, on November 5, 2019, due to a "massive asthama attack," as David puts it. The funeral was held on Friday, November 8, and more than 1000 people attended the event. Another gathering was held on Sunday, November 10.
Laurel is survived by her parents (shown) and Elizabeth's father, David.
Source: John Roca
The world mourned her passing as she had engraved herself in their memories forever. She started early in the acting business kicking off with Broadway. In a span of just seven years, the child actress had succeeded in so much that she gave autographed to her fans when she appeared in public.
We take a look at her short career in theater and the screen, in her memory.
Kicked Off with a Huge Role Alongside Scarlett Johansson, and Then Came 'Once'
Laurel showed the signs of a great future celebrity even as a toddler. She started taking acting classes since five and kicked off her acting career with a debut in Rob Ashford's Broadway production of 'Cat on a Hot Tin Roof' in 2013 that consisted of a host of huge celebrities, including the star, Scarlett Johansson. She was one of the first child members to be cast on the show, according to Rob.
Starting off with Scarlett Johansson was a huge boon for her.
Source: Instagram
The youngster's most memorable act came calling as soon as her first one completed. The same year, she was cast as the star 'Ivanka' on the Tony Award-winning Broadway musical, 'Once'. She worked with the 'Once' for 17 months until 2015.
She made a ton of close associates during her time with the show, where she played the longest-running 'Ivanka' in the production's history. "Laurel was a brilliant young lady whose impact in the lives of everyone she met went far and beyond her immense talent. Her wisdom and kindness were gifts to the theater community during her time on Earth."
Moving to Movies and TV Shows and That Crack at SNL
After her 17-month run with 'Once', she transitioned to a career on the screen. She featured in several commercials and TV shows, beginning with a voiceover role on the animated children's TV series 'Bubble Guppies' in 2015.
After an one-episode role on 'Louie' in 2015, she appeared in Woody Allen's 2016 film 'Café Society' as Evelyn's daughter, a show that starred Steve Carell released by Amazon. She was also a main cast member on one episode of 'What Would You Do?' in 2016.
In late 2017, she got the chance to work alongside Pete Davidson and Alex Moffat in two episodes of 'Saturday Night Live' (SNL), hosted by James Franco and Kumail Nanjiani. Those were also the greatest moments in her life. She also has an unnoticed appearance on one more SNL episode in February 2019, for a Nickelodeon Kids' Choice Awards skit with Natalie Portman and Mikey Day.
Watch: Laurel Comes on Second
SNL was her dream, and she couldn't help but share the occasion with a post on Instagram captioned, 'Dreams do come true'.
You might be surprised to know, she also stepped into the world of creation last year. She wrote and directed a short film of her own, 'This is Not a Drill'. It was about school shootings and was screened at the Tribeca Film Festival on April 22, 2018.
An Incredibly Professional Child Who Respects Her Craft and Others — Philanthropy and Acting Passion
As her friends, family and co-workers mentioned, she was always smiling and an encouraging person to work with. She has donated her time for numerous charity and philanthropy events. They include Broadway Cares/Equity Fights AIDS. Her parents directed memorial donations for them. She was called the 'Secret Weapon' because of her collection abilities.
"Whether she was helping with our fund-raising efforts or appearing with other kids from Broadway in a special holiday video, Laurel exuded sweetness and sincerity, as she did onstage in 'Once' with a company that adored her," the organization's executive director, Tom Viola stated.
She already had flocks of fans.
Source: David B Rivlin, Facebook
David also revealed she had big plans outside the Showbiz. She was an environmentalist, an activist and would've become a lawyer someday, according to him.
She was equally hardworking when going for acting as well. Her father and 'A Midsummer Night's Dream' and 'How to Succeed in Business Without Really Trying' director, Jessica Threet, have mentioned how passionate she was when rehearsing, but always smiling too.
"She was never complacent, always rehearsing moves and lines," Andrew said. Jessica added, "She just was hardworking. She was always smiling and working hard and always on top of her stuff. She was so talented and kind and she lit up a room every time she walked in."
Her motivation for working hard? — "Daddy, not many people get a chance like this." And also her actress aunt, Pamela Mandell.
The Asthma Started from Her Birth
It was a cruel fate that befell the young, sweet actress. She was born with asthma and battled it ragingly for the last three years, since a serious attack. She had medications she never left out from taking. She was closely monitored by the parents since then.
She never missed a day of school even if she had asthma.
Source: Patrick McMullan, Getty Images
Then last Tuesday, she was getting on her computer to do some school assignments when she called out her father, telling her she was not feeling too good. When her breathing labored, her parents realized the danger and called 911 immediately.
The police tried to revive her with CPR during the trip to the Mount Sinai Hospital. After four hours of doctors doing everything they can, her body just gave up.
"I think the country is going to miss her, not just Broadway," David affirmed. "God only knows what she could have done with her life."
Stay tuned and connected to GlamourFame for more Entertainment updates of your favorite celebrities.
-->