Does Lily Tomlin Have Children? Learn About Her Family Life Here
Lily Tomlin Is Glad She Never Had Any Children: Get The Complete Details Of Her Family Here!
She got her breakthrough as a comedian from Rowan & Martin's Laugh-In, from 1969 till 1973. Today, Mary Jean "Lily" Tomlin is a writer, singer, actress, producer, and comedian. She is currently garnering attention playing Frankie Bergstein on Netflix's series Grace & Frankie.
Tomlin won nominations in Emmy, Screen Guild Awards, and Golden Globe for playing Frankie in Grace & Frankie. The four Primetime Emmy-winning star identifies herself as gay. She is married to her wife of 50 years, Jane Wagner. The pair are in their 80s and are child-free. Tomlins says she is glad she didn't walk down that path. Learn more ahead.
Lily Tomlin Admits To Her Lack Of Desire For Kids!
The star has been breaking stereotypes since the early 70s. By her late 20s, Tomlin was already a megastar. In an interview with Vanity Fair, Tomlin reflects on her earliest feminist experiences. The Tea with Mussolini star recalls it was 1973 at The Johny Carson's Show. When asked why wasn't she married and had kids, Tomlin blatantly replied she didn't want to.
In their 80s, Lily and her wife, Jane, are child-free and happy. Photo Source: Prevention
"Well, I like children, but I don't want to bear children," Tomlin told Carson in 1973. Tomlin and her wife, Wagner, have been together since the early 70s. The creative duo, as they are dubbed in the industry, have collaborated on many projects. The Search For Signs of Intelligent Life in The Universe, The Incredible Shrinking Woman, And Appearing Nitely are two of the duo's many hits.
Recommended: Nasser Al-Khelaifi's Parents: Learn About His Family Life Here!
Though both Tomlin and Wagner are happy with no kids, they did gave the idea some thoughts in the past. In an interview with the Guardian, Tomlin once revealed, she once thought of making Wagner's nephew their sperm donor. The actress later adds, she is glad she didn't put that idea into action.
"I like children, but i don't want to bear children," Tomlin. Photo Source: Answers Africa
"When I think of the world now, I don't want to deal with having to raise a child," Tomlin concludes. Wagner, too, once disclosed Tomlin's lack of desire for kids. "Lily has always pursued her dreams, and being a mother was never one of them," Wagner told The Guardian.
Tomlin's 'Grace and Frankie' Final Season Released!
Tomlin and Jane Fonda are back again as Grace and Frankie in Netflix's hit bromance, coming-of-age drama. Netflix has recently released the first four episodes of the series. "We've missed you but more importantly we've missed us," Tomlin wrote after the surprise release of the four episodes.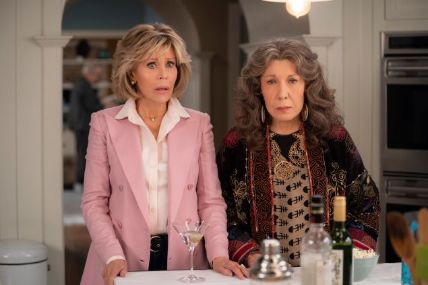 Four new episodes of the series are streaming on Netflix. Photo Source: Observer
Created by Marta Kauffman and Howard J. Morris for Netflix, the series premiered on May 8, 2015. The show's subsequent seasons were well-loved and reviewed. In 2019, the show was renewed for a 7th season. After a long delay caused by the pandemic, Grace and Frankie is finally in production. Its remaining episodes will premiere in 2022.
Don't Miss: Norman Reedus's Kids: Learn About His Family Life Here.
With 94 episodes in total, Grace and Frankie is the longest-running Netflix's original series. The upcoming 12 episodes will also have recurring actors Sam Waterson, Martin Sheen, Brooklyn Decker, and Baron Vaughn back in their respective roles.
For more information and news on your favorite stars, stay connected to Glamour Fame.
-->