Norman Reedus' Kids: Learn About His Family Life Here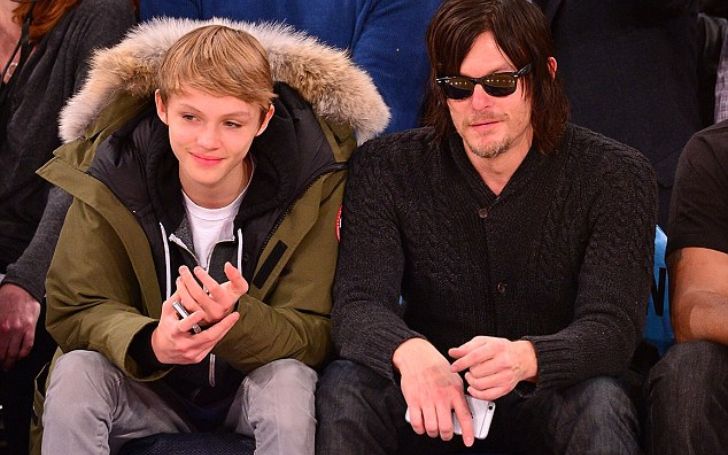 Norman Reedus' family status in 2021: A look in his family life
Norman Mark Reedus is an actor, model, and television host. In The Boondock Saints, Reedus is known for starring in the popular AMC horror drama series The Walking Dead as Daryl Dixon. He's gained immense fame and money from his role in the show.
On January 6, 1969, Reedus was born in Hollywood, Florida, to Marianne Reedus and Ira Norman Reedus. Reedus, been acting since the 90s, starring in everything from music videos to a diverse list of films and series.
He is in a relationship with a German-American actress and former fashion model Diane Kruger. Continue reading more to know about Norman Reedus's children and family life.
Who are Norman Reedus' Kids?
Norman Reedus and supermodel Helena Christensen were in a five-year connection from 1998 to 2003 despite reports to the contrary; the two never got married. Likewise, they have a son, Mingus Lucien Reedus (born on October 13, 1999).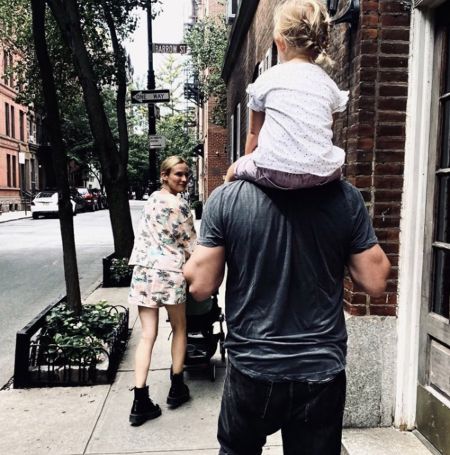 Norman Reedus and Diane Kruger, together with their child.
Photo Source: People
Also, they remained good friends and shared joint custody of their son. During the 2015 filming of Sky, Reedus met Diane Kruger; the two were first seen together as a couple in July 2016.
Afterward, in November 2018, Kruger gave birth to their daughter, his second child, and his first daughter. They have been protective of details about their child, including her name and exact birth date.
Also See: Steven Yeun's Kids: Learn About His Family Life Here
Norman Reedus's son, Mingus, chose the path to be a model. Similarly, in 2017, the 16-year-old made his catwalk debut with Calvin Klein. In October 2020, Mingus turned 21.
Kruger is well known for being a doting mom who loves to share little glimpses of her daughter and Reedus's lives as loving parents to their precious little one in her Instagram account. It is quite beautiful to see his relationship with Kruger and his two adorable children, which he loves.
How Did Norman Reedus Become an Actor?
Norman Reedus endured a great career in film and television for almost three decades. However, No one knows how it began for him to become what he is in today's date.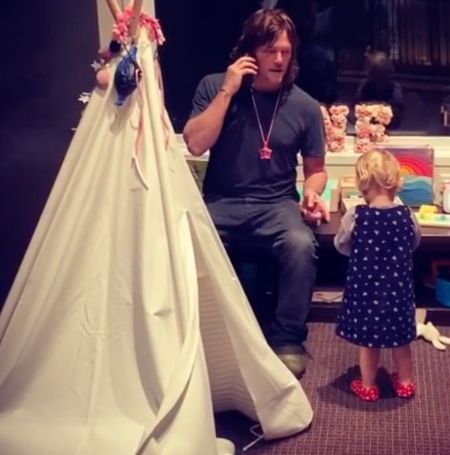 Norman Reedus teaching his daughter ABC.
Photo Source: Instagram
Right at the starting phase of his life, he lost his job in Venice, California. At the same time, he was working on a Harley Davidson motorcycle shop when he had a minor dispute over his chief.
Then, a friend of his took him to a small party that same day. After being drunk, engaging in an angry rant toward some fellow party guests while singing and dancing, one guest noticed him and approached Reedus, asked if he would like to act in a play.
The auditioning process was quite different at that time.
Norman Reedus got cast as an understudy for Maps for Drowners, a comedy about AIDS, at the Tiffany Theater on Sunset Boulevard. During that time, the lead never showed up for the performance; due to that, he had to take the stage, which worked in his favor.
Check Out: Cole Hamels' Kids: Learn About His Family Life Here
He delivered his first significant film role in Guillermo del Toro's acclaimed creature feature, Mimic, in 1997. Afterward, he starred in several thrillers, including future cultural phenomenon The Boondock Saints, in 1999, before his first television role on the hit series Charmed came along in 2003.
Norman Reedus maintained a usual streak of parts in cinematic thrillers and TV dramas. He assumed his 2010 casting as Daryl Dixon in zombie apocalypse drama The Walking Dead, given the character was not a part of the original comic book series by Robert Kirkman. Instead, Daryl Dixon became the AMC series' most popular character. After that, the rest is history.
For more information and news on your favorite stars, stay connected to Glamour Fame.
-->