Madonna's Emotional Speech At GLAAD Awards
Published Mon May 06 2019 By Alice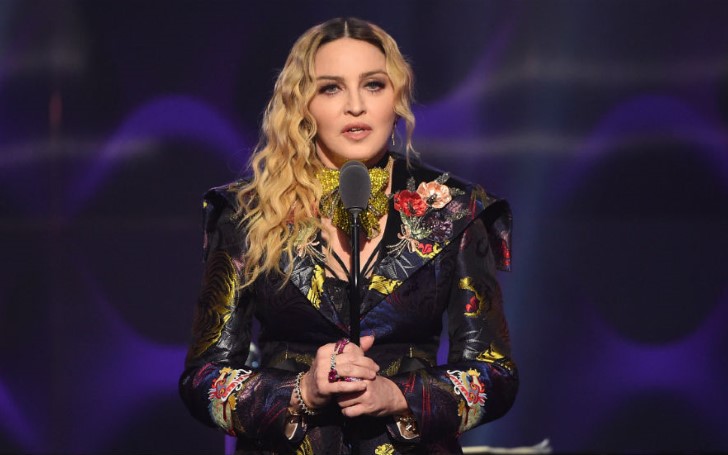 Madonna delivers an emotional speech at GLAAD Awards.
Singer, performer, and actress Madonna Louise Veronica Ciccone was honored with the Advocate for Change award at the 2019 Glaad media award this Saturday night at Manhattan's Hilton Midtown.
Madonna, a pioneer for gay rights delivered a rousing speech while accepting the Advocate for Change Award, that went from playful to emotional, bringing the tears in the audience eyes.
Accepting GLAAD award, she said: "Why have I always fought for change? That's a hard question to answer. It's like trying to explain the importance of reading or the need to love."
"Growing up I always felt like an outsider, like I didn't fit in. It wasn't because I didn't shave under my armpits, I just didn't fit in, OK?"
The 60-year-old singer and longtime advocate for gay rights stated, "The first gay man I ever met was named Christopher Flynn. He was my ballet teacher in high school, and he was the first person that believed in me. That made me feel special as a dancer, as an artist, and as a human being. I know this sounds trivial and superficial but he was the first man to tell me that I was beautiful."
The first time Madonna went to the gay club was with Flynn in Detroit and that was the day which changed her life.
Madonna giving an emotional speech at GLAAD awards.
SOURCE: Schaperforrep
"For the first time I saw men kissing men, girls dressed like boys, boys wearing hot pants, insane, incredible dancing and a kind of freedom and joy and happiness that I had never seen before. I finally felt like I was not alone, that it was OK to be different and to not be like everybody else. And that after all, I was not a freak. I felt at home, and it gave me hope."
Flynn was the one who encouraged Madonna to leave Michigan and, go to New York to pursue her dreams where she learned about the AIDS epidemic.
Watch: Madonna at the 30th Annual GLAAD Media Awards
The star even honored her other close friends who died from the disease.
"The plague that moved in like a black cloud over New York City and in a blink of an eye," said the singer as she snapped her fingers, adding, "took out all of my friends."
"After I lost my best friend and roommate Martin Burgoyne and then Keith Haring, happy birthday Keith, I decided to take up the bullhorn and really fight back," the Global icon said.
Also Read: Olivia Munn and More Shine at the GLAAD Media Awards Red Carpet 2019
Madonna with eyes full of tears received the Advocate for Change award from Anderson Cooper, Mykki Blanco, and Rosie O'Donnell, who gave a powerful speech about how Madonna helped her become more comfortable in her own skin.
-->