Meet Derek Tisdelle: The Man Who Captured Michelle Morgan's Heart
Derek Tisdelle is the husband of the well-known Canadian producer, writer, and actress Michelle Morgan, renowned for her portrayal of Samantha in the CBC series Heartland. While Derek himself is not widely recognized, he is known to be a producer specializing in short films.
Despite being married to a celebrity, Derek Tisdelle prefers to live a private life away from the public eye. He rarely accompanies his wife to public events. Derek and Michelle have been for several years and are blessed children. Their marriage exemplifies a commitment to maintaining a low-key lifestyle despite Michelle's fame in the entertainment industry.
Wonderful Marital Life With Wife, Michelle Morgan
Derek Tisdelle and actress Michelle Morgan exchanged vows on June 30, 2012, following a couple of years of courtship. The details of their romance prior to their marriage have been kept private by the couple. The duo encounters one another for the very first time in Supermarket from nowhere.
On their seventh wedding anniversary, June 30, 2019, Michelle celebrated the occasion on Instagram by sharing a photo of herself, Derek, and their daughter Mara. While Derek is not active on social media and keeps a low profile, Michelle frequently shares their travel adventures and family moments on her social platforms.
She often posts pictures with their children and her husband, as well as photos with her colleagues from various film events and award shows they attend together.
How Many Kids Do Derek Tisdelle and Michelle Morgan Have?
Tisdelle and Michelle Morgan have been happily married for over eight years. They are a blessed couple with two children. Their first child, a baby girl named Mara Carmen, was born on April 1, 2011. At the time of her birth, Mara weighed 7 pounds and 3 ounces.
On 30th September 2013, Mr. and Mrs. Tisdelle welcomed their second child. They were overjoyed to have a baby boy named Noah Santiago. Actress Morgan was 32 years old when she became a mother for the second time. It's wonderful to see their family grow and experience the joys of parenthood.
Recommended: The Woman Behind Ben Hollingsworth: Facts About His Wife, Nila Myers
Derek Tisdelle Holds Canadian Citizenship
Derek Tisdelle, who was born and raised in Canada, is a private individual when it comes to sharing details about his personal life. Therefore, there is no specific information available about his date and place of birth. He is a Canadian citizen and belongs to a white ethnic background.
During his childhood, Derek reportedly had a middle-class upbringing. He was known to be a diligent student at school and achieved a satisfactory level of education. However, he has chosen not to disclose the specifics of his educational background at this time.
It is not uncommon for individuals, particularly those in the public eye, to keep certain aspects of their lives private.
Height and Weight
it seems that Derek Tisdelle's personal details, such as his age, zodiac sign, and ethnicity, are unknown. However, it is mentioned that he stands at a height of 5'11" and weighs around 72 kg. He has blue eyes and dark brown hair.
Without further information on his date of birth, it is not possible to determine his specific age or zodiac sign. Similarly, his ethnicity is unspecified in the given context.
Derek Tisdelle Impact Michelle Morgan's Life
Michelle Morgan faces the challenge of balancing her busy schedule as an actress with her responsibilities as a mother of two. Despite this, she is grateful for the support she receives from her husband, who plays a significant role in enabling her to continue pursuing her career.
In interviews, Michelle does not often discuss her husband in great detail. However, during a recent interview, she opened up about the fact that she does not have to allocate a significant amount of her time to childcare and household duties. This support from her husband has contributed to her successful acting career.
Michelle appreciates the understanding and assistance her husband provides, allowing her to focus on her profession. By sharing the responsibilities of raising their children and managing household tasks, they have created an environment that supports Michelle's thriving acting career.
Derek Tisdell's Wife, Michelle Morgan is a Successful Actress
Michelle Morgan is a Canadian actress known for her remarkable performances in film and television. With her talent, versatility, and undeniable presence on screen, she has established herself as a prominent figure in the entertainment industry.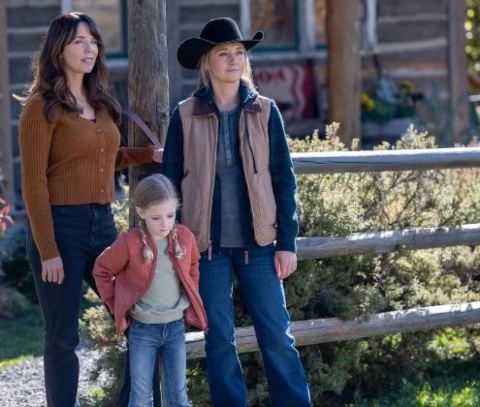 Born and raised in Canada, Michelle embarked on her acting journey at a young age, pursuing her passion and refining her skills. Throughout her career, she has showcased her ability to embody a wide range of characters across various genres, captivating audiences with her depth and authenticity.
One of the career highlights for Michelle is her role as Lou Fleming on the hit Canadian television series "Heartland." Her portrayal of the determined and resilient horse rancher resonated with viewers worldwide, earning her critical acclaim and a dedicated fan following. Through her compelling performance, Michelle brought depth and nuance to the beloved character, solidifying her status as a talented actress.
Also See; Michelle Mylett - Top 5 Facts About the Canadian Actress
For More Content Visit Glamour Fame
-->