The Woman Behind Ben Hollingsworth: Facts About His Wife, Nila Myers
Nila Myers is an American celebrity spouse who is a Bar Method teacher as well as a designer. She gained popularity on Instagram for her stunning looks, adorable family, and love for animals.
Myers, who happens to be the wife of the popular Canadian actor Benjamin Hollingsworth, also known as Ben Hollingsworth, is known for her beauty and youthful appearance, even in her thirties. Ben is best known for appearing in the TV series, Code Black. Now, let's dig into more details and find out more.
Married to Ben Hollingsworth
On November 10, 2012 actor Ben Hollingsworth tied the knot with Nila Myers, a lingerie designer, and Bar Method teacher, in Malibu. Hollingsworth, known for his role in the TV series "Cult," took to Twitter to express his excitement, stating,
"Today is the day. I woke a boy and will go to sleep a man. I am so lucky to have found the woman I love and want to grow old with."
Wedding Details
The wedding was attended by several famous personalities, including Nina Dobrev and Zach Roerig from "Vampire Diaries," Matt Lanter from "90210," and Corbin Bleu from "High School Musical." Hollingsworth proposed to Myers after two years of dating on his 28th birthday, September 7.
The proposal took place at Brix, an Italian restaurant and wine bar in Vancouver, British Columbia. As the eve of his wedding approached, Hollingsworth shared his excitement on Twitter, exclaiming, "I am marrying the girl of my dreams, and I couldn't be happier!"
Nila Myers is a Mother of Three Beautiful Kids
Ben Hollingsworth and his wife Nila Myers have been blessed with three children. Their first child, a daughter, was born on January 30, 2016. They named her Hemingway Nash Hollingsworth. Hemingway is now an adorable and beloved member of the family.
Their second child, a son, was born on June 28, 2018. They named him Gatsby Willem Hollingsworth. Gatsby adds joy and happiness to their lives as they watch him grow. On 15th October 2020, the pair finally welcomed their first daughter and third child into the family.
All of these kids are cherished by their parents and have become a significant part of Mr. and Mrs. Hollingsworth's life. Although specific details about the children's activities and milestones are not publicly available, it is evident that Ben and Nila are devoted parents who deeply love and care for their children.
These little ones bring happiness and fulfillment to Ben and Nila's lives, creating precious memories as they navigate the journey of parenthood together.
A Short Bio on Nila Myers Husband, Ben Hollingsworth
Ben Hollingsworth is a Canadian actor who has gained recognition for his notable roles in film and television. Born on September 7, 1984, in Brockville, Ontario, he embarked on his acting career with a passion for storytelling and a talent for bringing characters to life on the screen.
Hollingsworth's journey in the entertainment industry began with appearances in various television shows, including "Degrassi: The Next Generation" and "Heartland." He later transitioned to the big screen, starring in films such as "The Joneses," alongside Demi Moore and David Duchovny, and "The Beautiful Life: TBL," alongside Mischa Barton and Ashley Madekwe.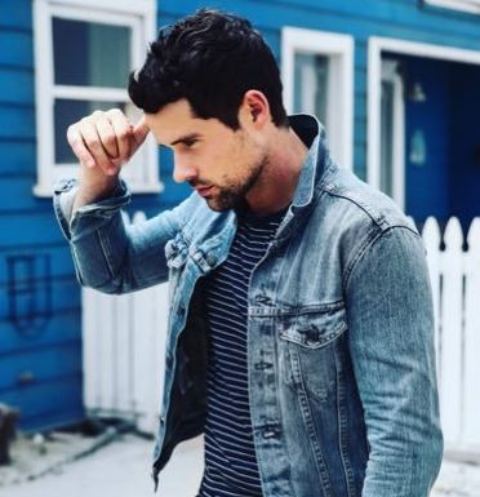 His breakthrough came with the lead role in the TV series "Cult," which showcased his versatility as an actor. Hollingsworth's performance garnered critical acclaim and further solidified his presence in the industry.
With his talent, charm, and dedication, Ben Hollingsworth continues to captivate audiences with his portrayals and leaves a lasting impression. He is a talented actor with a promising career, always striving to take on new challenges and deliver compelling performances.
What Does Nila Myers Do For a Living?
Ben Hollingsworth's wife, Nila Myers, is not only a talented lingerie designer but also a bar method teacher. She, along with her sister Misha, founded Fair Verona, a lingerie company. Nila's entrepreneurial spirit led her to start the business while residing in Santa Barbara.
Fair Verona is known for its exquisite lingerie designs, combining elegance, comfort, and style. Nila's passion for creating beautiful and empowering lingerie has been instrumental in the company's success.
As a bar method teacher, Nila possesses expertise in a popular fitness technique that combines ballet, Pilates, and yoga. Her dedication to helping others achieve their fitness goals and maintain a healthy lifestyle is evident in her role as a teacher.
Nila's diverse talents and entrepreneurial endeavors showcase her creativity, drive, and commitment to her passions. With her lingerie designs and expertise in the bar method, she has made a significant impact in the worlds of fashion and fitness.
Net Worth of Nila Myers in 2023
Nila Myers is a talented Celebrity spouse. Apart from her husband's fame, she is a business lady who rules her own brands. As of 2023, Nila has a net worth of $1 Million which she earned through her incredible career.
On the other hand, her husband, Ben is one of the talented actors. He is currently enjoying a net worth of $3 Million. Mr. and Mrs. Hollingworth are living a comfortable life alongside their kids.
Early Life and Education
Nila Myers, born on June 30, 1988, hails from Delhi, California, in the United States. She was raised in California by her Christian family. As of the current time, she is in her mid-30s and resides in the United States with her husband.
Nila's upbringing in a Christian household and her roots in California have likely influenced her values and shaped her experiences. Being part of a close-knit family and growing up in the vibrant state of California may have contributed to her journey and accomplishments thus far.
Stay Tuned To Glamour Fame
-->