Nina Dobrev Reveals Taylor Swift Almost Made an Appearance on 'The Vampire Diaries'
Published Thu Mar 12 2020 By Eden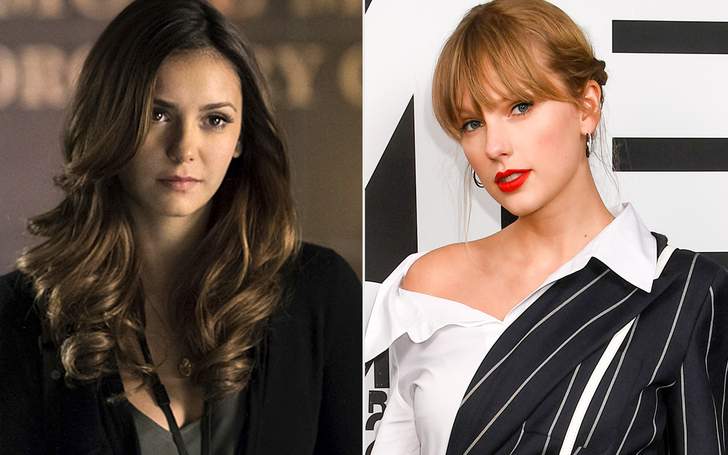 Taylor Swift was extremely close to making an appearance on 'The Vampire Diaries.'
As per 'The Vampire Diaries' star Nina Dobrev, the pop sensation Taylor Swift almost featured on The Vampire Diaries. Apparently, the producers were keen to write a character for the 'Blank Space' hitmaker upon learning she's a fan of the supernatural teen drama.
It might come as a surprise to some, but Taylor Swift is indeed a massive part of the TVD fandom, who almost made it to Mystic Falls. During a recent interview, 'The Vampire Diaries' star Nina Dobrev disclosed an interesting fact about the series, claiming the pop star was almost nailed on to make an appearance in the series.
Watch: Nina Dobrev Was Pranked by "Taylor Swift"
The actress told E! Online,
I remember at the very beginning, we heard that Taylor Swift was a fan of the show. And then the producers tried to write a role for her.
Nina continued,
It didn't work our schedule-wise, obviously, she wasn't on the show. But that was a surprising one.
Dobrev starred in the first six seasons of The Vampire Diaries, so it's most likely Swift was lined up to appear while Nina was still in the series. In the meantime, the actress did not reveal the sort of role Swift would have portrayed had she got cast in the show.
Irrespective of the character, it would have been fascinating to see the fans' reaction if Swift had finalized the role in the series. The interviewer mentioned the fact that Ed Sheeran's cameo on the hit HBO drama 'Game of Thrones' was anything but well-received by fans.
Check out: Ed Sheeran's scene on Game of Thrones
Dobrev, meanwhile, seemed unaware of the backlash, expressing a bit of shock on Sheeran's negative reviews before reassuring Taylor would have received a different fate. "Oh really? Nah, I think she would've been great."
You Might Like: Good News For Vampire Diaries Fans - The Spin-Off Series 'Legacies' Is Coming To Netflix In April
'The Vampire Diaries' aired on The CW for eight seasons and a total of 171 episodes from 2009 to 2017. The series finale premiered on 10th March 2017.
Visit Glamour Fame for more interesting Entertainment news.
-->