Meghan Markle And Prince Harry Are Calling It Quits With The Cambridges
Published Wed Jun 05 2019 By Jessica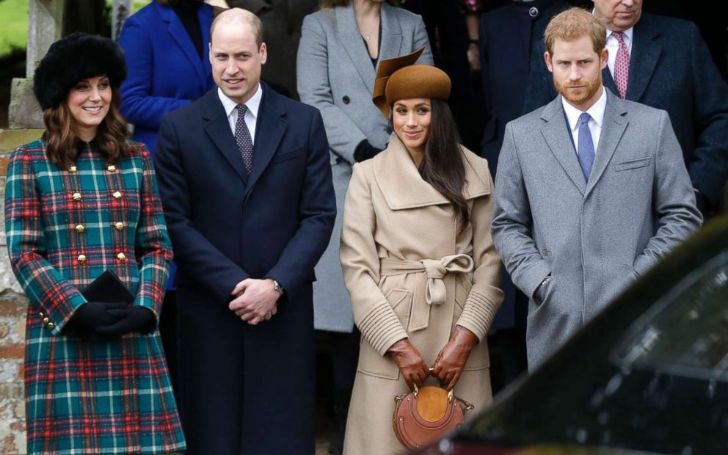 Cambridge and Sussex's Royal couple to separate their professional charity obligations.
Duchess Meghan Markle and Prince Harry will split their shared charity work with Prince William and Duchess Kate Middleton to go their separate ways, as per the Sun.
The Royal Foundation established by Harry and William almost a decade ago to carry on the charity works is reported to be further proceeded by the Duke and Duchess of Cambridge only.
Both Kate and Meghan joined the Royal Foundation after their marriage into the Royal family in 2011 and 2018 and shared all the professional responsibility collectively.
From left: Prince William, Prince Harry, Meghan Markle, and Kate Middleton.
SOURCE: The Daily Beast
The recent Royal family division discovery comes just a couple months after Prince Harry and his wife decided to move their home from the Kensington Palace to Windsor Castle's Frogmore Cottage.
As a matter of fact, the Duke and Duchess of Sussex even formed their own separate offices at the Kensington palace before they moved To Windsor.
Several news sources also report that the things between the 'Fab Four' became iller slowly after Prince Harry tied the knot with Markle.
Furthermore, the source also added Meghan and Harry apparently wants to do things their own ways distinctively to Kate and William.
Although things are not officially resolved yet, its much speculated that the split among the two brothers is highly likely to occur.
In addition, the final decision will take place on 19th June at the upcoming Royal Foundation board meeting.
Angela Mollard, Royal commentator previously spoke to The Morning Show on the ongoing split rumor and the rift between the two brothers.
Mollard said: "It's very hard to believe these couples are not at war with each other. There is no actual reason they have to do it, I can't see."
The Royal commentator also further continued to shed her opinion on the migration of Harry and Markle from Kensington Palace (London) to Windsor.
She added: "They've split their households, geographically, they've moved to different places – I understand that. But The Royal Foundation is a linchpin in the work that they do. This is really significant. This charity, The Royal Foundation, was set up in 2009 so a decade ago. Its remit is to look at all their interests – wildlife, mental health, armed forces."
"We're going to hear in a month what's going to happen but all indications are they are going to split the foundation and go their separate way in terms of their interests, in the things they are going to prosecute together."
The Fab Four members except for Markle who's on maternity leave were recently spotted at the state banquet at Buckingham Palace to welcome US President Donald Trump for his 2019 official visit to the U.K.
-->