Menalia Trump displayed some of the most stylish moments in the year 2018.
After her husband took office in 2017, First Lady Melania Trump continues to amaze everyone with her very glamorous style. "I like to dress nicely. I always say that it's easy to put on a nice dress," President Donald Trump's wife stated back in 2011.
Being one of the most photographed women in the world, Menalia possesses her own style to dress and present herself. Now in her second year in her high profile White House job, the former model continues to polish her style.
Here we are keeping track of her stylish moments both at home and abroad during the year. Continue scrolling down for your personal preferences.
Read Also: First Lady Melania Trump Shares That Barron Trump is Interested in Sports
1. December 15, 2018: Congressional Ball
SOURCE: Pinterest
At the seasonal Congressional Ball at the White House, Mrs. Trump bewildered many in a white sequined Celine turtleneck dress from the French fashion house's spring 2018 runway.
2. November 30, 2018: Villa Ocampo, Argentina.
SOURCE:express.co.uk
Mrs. Trump was in colorful flowers imprinted Gucci knee-length dress during a visit to Villa Ocampo as part of the G20 Summit in Argentina.
3. October 7, 2018: Joint Base Andrews in Maryland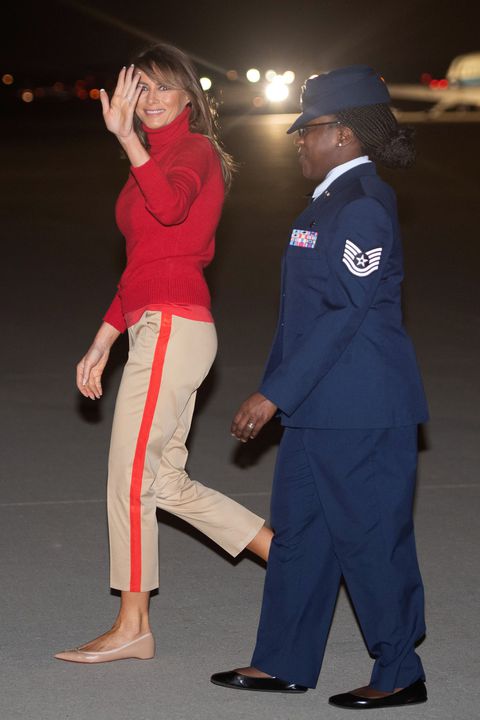 SOURCE: Axios
Landing back at Joint Base Andrews in Maryland after her solo trip to Africa, the First Lady kept things color organized in a scarlet turtleneck that she paired with red-accented khakis and flats.
4. August 24, 2018: White House, Washington D.C
SOURCE: Pinterest
The First Lady wore a white pencil skirt with a black polka dotted blouse and white pumps while leaving from the White House to Ohio.
5. July 13, 2018: Windsor Castle
SOURCE: USA Today
In her first visit to Queen Elizabeth II, Melania Trump wore a pale blush Dior skirt suit. She matched it with a black belt and nude pumps for the special appearance at Windsor Castle.
6. June 25, 2018: White House, Washington
SOURCE: Pinterest
Melania Trump wore a pink knee-length dress to welcome King Abdullah II and Queen Rania of Jordan in their visit to the White House.
7. May 7, 2018: Rose Garden
SOURCE: Star Style
To announce her "Be Best" initiative in the Rose Garden, the First Lady wore a belted Ralph Lauren leather jacket paired with a white pencil skirt.
8. April 1, 2018: Easter Day
SOURCE: Pinterest
On the occasion of Easter, Mrs. Trump wore a printed pink dress by Azzedine Alaia with white Christian Louboutin heels to Easter mass in Palm Beach.
9. March 16, 2018:
SOURCE: Daily Express
Melania Trump greeted Irish Prime Minister Leo Varadkar to the White House wearing a green printed dress by Brandon Maxwell. She ended her St. Patrick's Day with Christian Louboutin pumps.
Read Also: Tiffany Trump Reportedly Dating a New Billionaire Boyfriend
10. February 15, 2018: At Press-meeting
SOURCE: PressFrom
Menalia Trump was wearing a Karl Lagerfeld skirt suit in white for a press meet with Israeli Prime Minister Benjamin Netanyahu.
-->