American Actress Melissa McCarthy - Top 5 Facts
Published Mon Dec 23 2019 By Matthew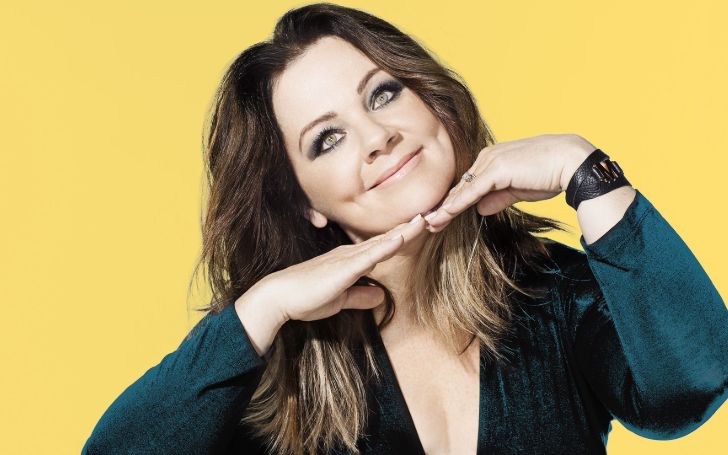 Here are the top 5 facts about Melissa McCarthy to help you know her better.
Established as America's one of the funniest comedians, Melissa McCarthy barely needs any introduction. Born Melissa Ann McCarthy on August 26, 1970, Melissa was named one of the 100 most influential people in the world in 2016 by Time. She has also made a list in the annual ranking of the highest-paid actresses in the world multiple times. The 49 years old humorist made quite a successful career out of acting.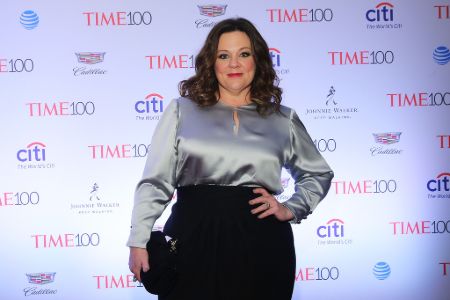 Melissa McCarthy made the Time 2016 100 Most Influential People list.
Source: Zimbio
But what of her personal life? How familiar are you with Melissa's motherly side? Don't worry if you're not. To educate you about her, we have compiled five facts about her.
That Air Marshal in Bridesmaids is Melissa McCarthy's Husband
That's right, people. That guy in the Air Marshal Style scene of the 'Bridesmaids' movie is Melissa's actual husband, Ben Falcone.
Watch: Bridesmaids #5 Movie CLIP - Air Marshal Style (2011) HD
The pair had similar interests and met at a comedy writing class, Groundlings comedy school in Los Angeles in 1998. Talking about how she met her husband in The Ellen Show, Melissa said Ben played a character of an inmate that really liked his new roommate in the class. She continued,
I immediately was like, 'Oh, he's strange. I like him. And we were friends from, like, day one.
The couple entered into holy matrimony after dating for almost seven years in the fall of 2005. They have been together ever since. The duo's first movie cameo was the air marshal scene in 'Bridesmaids', and the second came in the movie 'Identity Theft', where Ben played the Motel Desk Clerk Tony.
Watch: The Weekly: Melissa McCarthy and Ben Falcone
After appearing together in movie cameos, the couple wrote and starred in two movies together; 'Tammy' and 'The Boss'.
Melissa is The Mother Of Two Beautiful Daughters
Two years later, their marriage, the couple became parents when Melissa gave birth to their first daughter Vivian Falcone on May 5, 2007. In an interview with people while she was pregnant with Vivian, Melissa had said,
We are so excited about the baby. I'm hoping the baby has a lot of Ben's calm traits and less of my spazzy ones.
While Vivian may not have inherited her mother's spazzy traits, she did share Melissa's passion of fashion. In 2018, the actress told Today,
Ben walked in, and Viv and I were trying out a new bedspread I got, and Viv's like (thoughtfully), 'I just think it might compete with the headboard. Ben just turned around and went, 'Oh my God, I can't have two of you.
As if one daughter like Melissa wasn't enough for Ben, they got a second one, Georgette Falcone, on March 22, 2010.
Also See: Lady Gaga Steals The Show In Star-Studded Oscar Class Photo
Turing out to be quite a dive, Melissa said about her daughter on The Ellen Show,
Full face of makeup, shirt in, like, a ponytail holder, and, like, a heeled boot, She tries to go right down the stairs and out the door, and I'm like, wait, what?
Ben must've had a handful with his daughters as he went on to write a book about being a father titled 'Being a Dad is Weird.'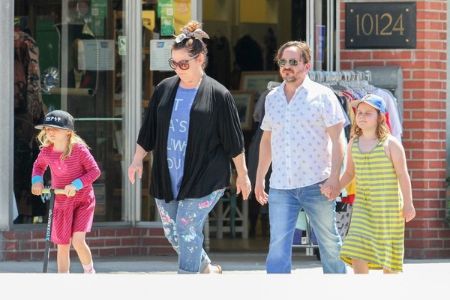 Melissa McCarthy with spouse Ben Falcone and daughters Vivian and Georgette.
Source: Zimbio
The married pair, however, hasn't revealed if any of their children has Ben's calm traits.
Jenny McCarthy is Melissa McCarthy's Cousin
The Playmate of the Year 1993, Jenny McCarthy, is a cousin of Melissa McCarthy. The nude model for Playmate later went on to become an actress, television host, satellite radio broadcaster, author, screenwriter, and anti-vaccine activist. Jenny currently is the star of a AETV reality show called 'Donnie Loves Jenny'. She is also a judge for a singing competition at Fox titled, 'The Masked Singer'.
The nude model turned TV personality took to Instagram and shared a scarce childhood picture of her and Melissa back on July 30, 2015. She also helped Melissa when the comedian was starting in her acting career. The 47 years old model also speaks out often against the criticism of Melissa.
The Catholic Farm Girl Had a Gothic Phase
Melissa grew up on a farm at Plainfield, Illinois. As a part of a catholic family, she was often lending a hand in farm chores. She even went on to be part of a cheer-leading squad for the St. Francis Academy's team.
Also See: Melissa McCarthy Set To Replace Steve Harvey As Host Of NBC's Little Big Shots
The comedian, however, made a 180 turn when she went through a goth phase. It almost seems impossible that this bubbly and funny actress went through a Gothic phase.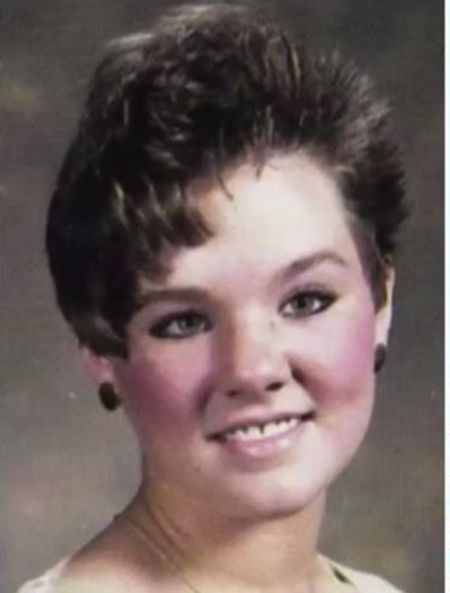 Melissa McCarthy during her goth phase.
Source: The Talko
Talking about her transformation in an interview with Fox, she said,
Yeah, like in one summer I played tennis, I was on student council, I was a cheerleader. Then like the next, I think it was like the next year. Oh, my God, I forgot about that. I was super preppy, and by the end blue black hair that I'd shave in patches.
This phase didn't last long, probably because she was too funny and made too many people laugh.
Her First Career Choice: Fashion
America's most sought comedian studies fashion at the Southern Illinois University. She dropped out before completing her graduate and moved to New York with dreams of attending the Fashion Institute of Technology. Sidetracked, she gave acting a shot, and frankly, it's worked out pretty well for her.
Also See: Learn The Details Of Melissa McCarthy's Inclusive Brand Seven7
She hasn't let go of her fashion passion, though. Melissa even designed a dress for herself in the 2011 Emmy's. After getting rejected by most fashion designers because of her overweight, she took the matters in her hand and came out victorious to the other end.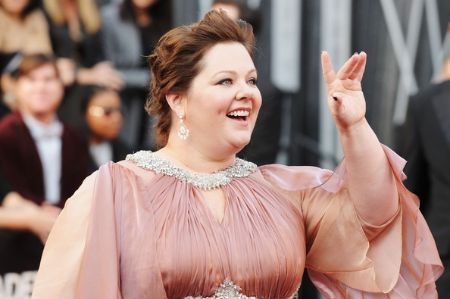 Melissa wears self designed dress in 2011 Emmy's.
Source: Business 2 Community
Her own experiences led Melissa to start a clothing line specially designed for plus-sized women. McCarthy's Seven7 clothing line is very successful and is helping a lot of women celebrate their own plus-sized body.
Melissa started Seven7 clothing line for plus-sized women.
Source: Bustle
Acting out different personalities, taking back her self-worth from the Hollywood body shamers, McCarthy has proved herself in every challenge she's faced. There's no doubt about her being one of the most influential people of the 21st century.
For more celebrity facts, visit the entertainment section over at Glamour Fame.
-->