Mexico's Next Top Model Vanessa Ponce Becomes The Miss World 2018
Published Tue Dec 11 2018 By Sarah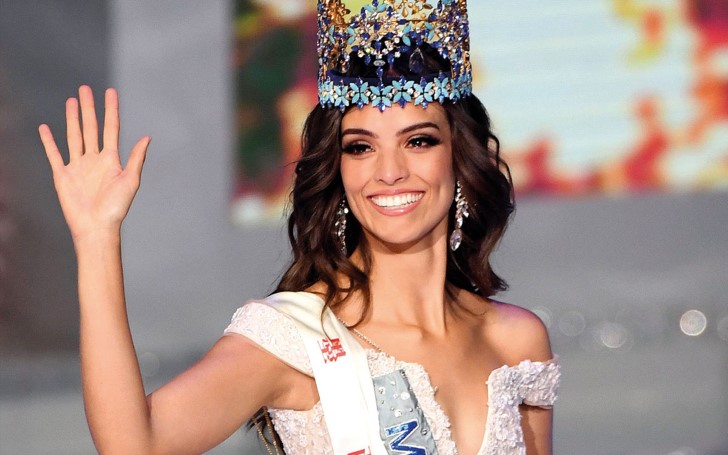 Vanessa Ponce was crowned as the 68th Miss World 2018.
Mexican model and volunteer, Vanessa Ponce won the title of Miss World held in Sanya, China beating numbers of contestants.
On Saturday 8th December 2018, former Miss World, Manushi Chhillar passed the crown to Mexico's Next Top Model, Vanessa.
The Miss World 2018 ceremony took place in the Sanya City Arena in Sanya, China. Ponce who beat 117 other contestants including the runner-up Miss Thailand Nicolene Limsnukan and Miss Uganda Quinn Abenakyo who placed third.
She also beat many another finalist from Jamaica, Nepal, Scotland, Panama, and France among others.
During the backstage segment, the newly crowned Miss World told, "I can't believe it, I really can't believe it And I think all the girls deserved it. I am proud to represent all of them. I will do as much as I can in the time I have got. Thank you so much, everyone."
See More: The Victoria's Secret Fashion Show 2018: Set To Take Place in New York Next Week
Vanessa earned a degree in International Business and later has worked as a host and a model. Similarly, she is also engaged in charity works and volunteers for Migrantes en el Camino and is also a speaker for the National Youth Institute.
Moreover, the pageant was the 68th edition of Miss World hosted by President of Miss World, Julia Morley.
The first challenge for the contestant was a head-to-head challenge. Among 20 groups the winners of the challenge were Mauritius, France, Venezuela, Philippines, Chile, Nigeria, Bangladesh, Lebanon, Malaysia, Guadeloupe, India, Myanmar, Nepal, Singapore, Thailand, Bulgaria, Mexico, Trinidad and Tobago, Argentina, and Uganda.
The second round was the top model competition which was won by Miss France Meave Coucke. China became the 1st runner-up, Senegal 2nd runner-up, Korea 3rd, and South Africa 4th.
After the challenge, the top 32 countries were Australia, Barbados, Belarus, Belgium, Brazil, Chile, Croatia, Germany, Greece, Guadeloupe, Italy, Japan, Malaysia, Mexico, Nepal, New Zealand, Nigeria, Panama, Philippines, Poland, Russia, Serbia, Spain, Sri Lanka, Thailand, Turkey, and Vietnam.
Similarly, Miss Japan Kanako Date won the Talent Competition and became the second quarterfinalist of Miss World 2018. Meanwhile, Chila became 1st runner-up, Canada 2nd, Poland 3rd, and Malaysia 4th.
Read More: Victoria's Secret Fashion Show 2018 Hair and Makeup Products
The top 18 contestants after the round include Bulgaria, Cook Island, Guyana, Haiti, India, Indonesia, Nicaragua, Panama, Paraguay, Puerto Rico, Spain, Thailand, and United States.
Furthermore, the Miss United States Marisa Butler won the sports competition and became the third quarter-finalist. After the competition, Bolivia became 1st runner-up and Netherlands 2nd.
Now it's the turn of multimedia challenge which was won by Miss Nepal Srinkhala Khatiwada and secured her place in the final. The Top 10 contestants include Miss Mexico, Kenya, France, Indonesia, India, Malaysia, Mongolia, Thailand, and Venezuela.
Likewise, Miss Nepal Srinkhala Khatiwada won the Beauty with a purpose award. Whereas, Miss Kenya Finali Galaiya won Sanya Tourism Promotional Video Award. The runner-ups were China, Nepal, Puerto Rico, and England.
And on Saturday the top 12 were announced. Check out the video:
Later, the 5 finalists were announced which included Miss Thailand Nicolene Pichapa Limsnukan, Miss Uganda Quinn Abenakyo, Miss Jamaica Khadijah Robinson, Miss Belarus Maria Vasilevich, and Miss Mexico Vanessa Ponce de Leon.
You Might Like: Best and Worst Dressed Stars On The 2018 ARIA Awards Red Carpet Fashion
The showstopper of the show was the newly crowned Miss World Vanessa. Check out the crowing ceremony:
We wish luck to our new Miss World 2018 for her future.
-->