Michael B. Jordan & Zendaya Wear The Same Suit At A New York Fashion Week - Who Did It Best?
Published Mon Sep 09 2019 By Travis
Michael B. Jordan and Zendaya wore the same suit six months apart and we've go an obvious winner.
Actors and actresses are conscious about how they look outside of the movies, most of the time their whole appearance is their image and celebrities are careful about how they step out into the public or while attending formal functions.
Celebrities, most of the time, don't even wear the same dress to two different functions and formal events, but Zendaya is not exactly a normal celebrity. She ruled the blue carpet while wearing a shirt and shorts at the Teen Choice Awards but this time during the Harper's Bazaar Icons Party, she made a bold statement.
Source: ETOnline
Zendaya copied Michael B. Jordan at the icons party, she copied the man literally with the actress wearing a double-breasted jacket, nothing innocuous about the whole thing, and people wear similar jackets sometimes. But there was a problem this time, the color of both of the jacket was charcoal gray with matching trousers and a silk tie which was only the addition made to the outfit by Zendaya.
Michael B. Jordan wore the same dress over six months ago when he rocked the Vanity Fair's Oscars party with the same outfit with leather shoes, and Zendaya rocked the whole look with black tights along with black velvet Christian Louboutin pumps.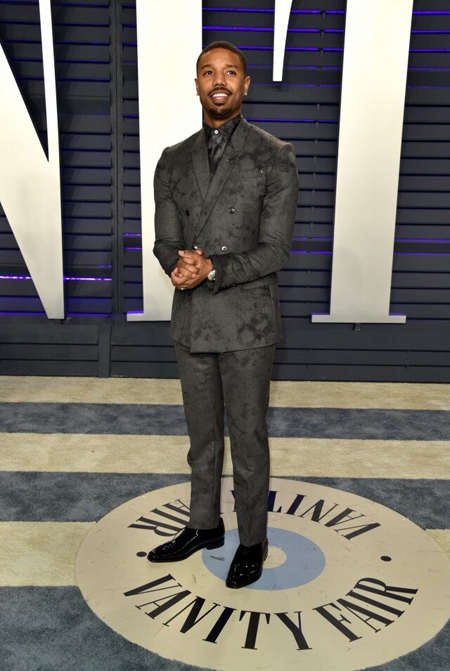 Source: ETOnline
Michael was all buttoned up with his jacket while Zendaya opted to let the suit breath with the jacket open. Law Roach, the stylist of Zendaya was quick to point out the outfit was similar in looks which were apparent for all to see, but still, he was asking people on Instagram who rocked the suit better with the caption, "Who you got Z or B???? wearing @berluti."
Source: Instagram
Most people were divided on the clear winner of the look, but then Michael settled the discussion for everyone when he commented, "@Zendaya hands down. No contest."
Michael, himself gave up the contest so it won't be controversial when we say Zendaya without a doubt rocked the whole look. Both look stunning in the jacket but Zendaya's flowing brown hair couple with her choice in footwear was the thing which did it for us. Zendaya did it best, and there is no down about it.
-->