Know about Michael Carbonaro Hubby Peter Stickles; How did all began for the gay couple?
Published Fri Nov 29 2019 By Sea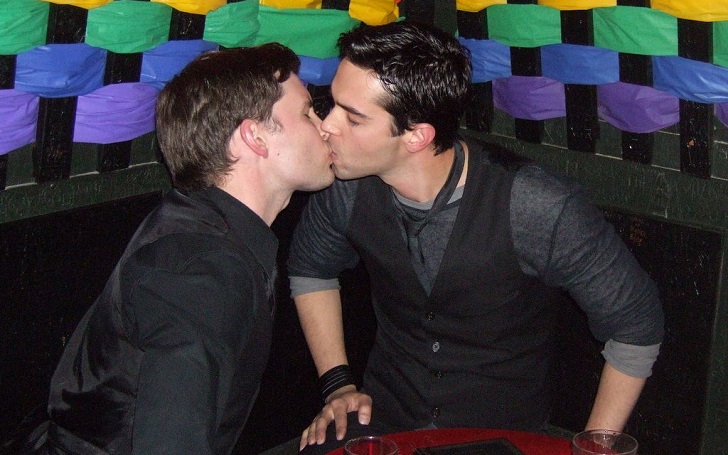 When it comes to practical-joke shows, Michael Carbonaro stays the staple one as very few have tried and dusted the genre on truTV. (He is friends with the stars of 'Impractical Jokers' as well.) His world extends beyond making jokes and performing magic tricks for unsuspecting audiences. He's been prolific in the acting scene and keeping his tricks a secret.
What he doesn't hide (or rather doesn't need to) is the fact that he's been gay all his life. There was not a moment of confusion about who he was into since a very young age, just at times questioning what people called the feeling.
Nothing related seems to matter in the grand scheme of things, however. He's been married to long-term boyfriend turned husband, Peter Stickles, and life couldn't get any better. His show, 'The Carbonaro Effect', still goes strong as it has ever been. In the same way, Tommy Dorfman also lives a happy married life with his partner, Peter Zurkuhlen.
The Character 'Elliott' of 'E.T.' Was Michael Carbonaro's Crush at His Age of Six
Around the age of six was the time, he was already sure of being into boys. But the term 'gay' had an unpopular definition back when he was growing up. It did confuse him a little since he knew he liked guys but was not a 'perverted, terrible, horrible, weird' guy gays were made out to be.
Watch: Michael Carbonaro Makes a Fool Out of the Impractical Jokers
During the conversation with The Huffington Post's Noah Michelson, he revealed that he had a crush on the character 'Elliott' (played by Henry Thomas) from the classic sci-fi movie, 'E.T. the Extra-Terrestrial'.
A poster of 'Elliott' hung on a wall in his room with a small 'I ❤ Elliott' written on the corner. He hid it pretty well and didn't talk about being 'Gay', but the feeling of being an outsider helped him get to where he is now.
Carbonaro Married Actor Peter Stickles After Nine Years Together; He Appeared on His Show
The 37-year-old doesn't usually talk about his personal life when he's going for anything related to work, because he believes his work has nothing to do with his sexuality. But when he does get asked about it, he told NewNowNext he'd never lie "about girlfriends or a wife or whatever".
It was only after 2016 that people started to take notice of the magician's private life (not that he tried to keep it private), because he rarely showed his relationship status on social media.
In a random Twitter post by Michael Varrati about Peter Stickles' appearance in his interview in January 2018, one keen-eyed fan noticed that Stickles had made an appearance in 'The Carbonaro Effect S02E01. Carbonaro promptly responded, acknowledging him as his husband.
In a rare reveal about their life together in November 2017, he told The Orlando Sentinel he'd been with Stickles for 12 years. That puts their first date in 2005 after they met in New York. The actor grew up in Upstate New York.
The couple wed in 2014, and both are these days more open on social media about their married life. When he won the Academy of Magical Arts Magician of the Year Award, he thanked Stickles, addressing him as his husband, from the stage and making history. While people were shocked to see that for the first time, he is happy to be the guy on the opposite end.
Season 5 of 'The Carbonaro Effect' is still running on truTV, and Stickles is preparing for two new movies, 'Utero' & 'Los Angeles Shark Attack'. Be sure to show them some love and keep in touch for updates about the shows.
Stay tuned and connected to GlamourFame for more Entertainment content.
-->