Mike Epps: From Comedy Clubs to Hollywood Fame - Exploring the Rise of a Comedy Icon
Mike Epps is a renowned American comedian, actor, and producer who has captivated audiences with his hilarious performances and charismatic stage presence. Born on November 18, 1970, in Indianapolis, Indiana, Epps started his career in the late 1990s, gaining popularity through his stand-up comedy routines.
He quickly transitioned to the silver screen, showcasing his comedic talents in blockbuster films such as "Next Friday," "Friday After Next," and "The Hangover" series. Epps' wit, versatility, and ability to bring characters to life have made him a sought-after actor in both comedy and drama genres. With his natural comedic timing and infectious personality, Mike Epps continues to entertain audiences worldwide.
Engaged With Wife, Kyra Robinson
In 2017, Kyra Robinson crossed paths with her future husband, Mike Epps, at the airport, and little did they know that this chance encounter would change their lives forever. During an episode of The View, Kyra shared the amusing story of their first meeting.
Bleary-eyed at 6:00 in the morning, she was approached by Mike, who delivered a cheesy pick-up line: "Do you dance?" Unfazed by the unexpected question, Kyra responded with a touch of humor, stating, "What?! Do I dance? I'm a producer."
Their witty banter continued, sparking an instant connection between them. Their relationship blossomed rapidly, and by the spring of 2018, they were happily engaged.
Wonderful Marital Life With Wife Kyra
In June 2019, exactly a year after their engagement, Kyra Robinson and Mike Epps sealed their love in a private wedding ceremony held at the Pelican Hills Resort in Newport Beach, California.
The event was graced by notable figures from the American entertainment industry, including Snoop Dogg, T.I., and Doug E. Fresh. As Mike recited his wedding vows, he struggled to hold back tears, deeply moved by the overwhelming joy of marrying someone as beautiful as Kyra.
Reflecting on his emotions, he expressed, "It was hard. When you meet somebody that's so beautiful like Kyra, joy makes me cry." Since then, the couple has remained happily united, with Mike consistently praising his wife and cherishing their relationship.
Two Kids With Wife, Kyra Robinson
Kyra Robinson and Mike Epps have been blessed with two children, a daughter, and a son. Their first child, a daughter named Indiana Rose Epps, was born on March 2, 2020, bringing immense joy to the couple.
The arrival of their second child, a son, took place in October 2021, further adding to their growing family. The Epps family continues to celebrate these precious milestones, cherishing the love and happiness that their children bring into their lives.
Why Mike Epps Divorced to First Wife, Mechelle McCain
Mike Epps was previously married to Mechelle McCain. Their wedding took place in July 2006, marking the beginning of their married life. However, their relationship encountered difficulties, and sadly, they decided to part ways. The couple eventually divorced, ending their marriage.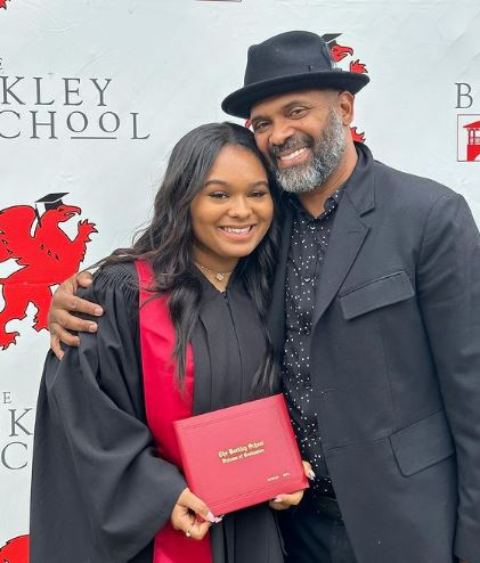 Although the exact details surrounding their divorce are not widely known, it signifies the end of their union. Despite the challenges they faced, both Mike Epps and Mechelle McCain have moved forward in their lives separately. They have chosen to focus on their individual paths and personal growth.
Although the former Mr. and Mrs. Epps are divorced they still share three daughters from their relationship. Their kids' names are Maddie, Makayla, and Mariah. Further, Mike has a daughter Bria from his past relationship.
Mike Epps Comedy Club Journey To Hollywood
Mike Epps has had an illustrious career in the entertainment industry, leaving a lasting impact with his comedic talents and versatile performances. Known for his impeccable comedic timing and infectious energy, Epps has achieved numerous career highlights.
He gained widespread recognition through his stand-up comedy routines and later transitioned to film and television, showcasing his comedic prowess. Notable career moments include his roles in hit films such as "Next Friday," "And Friday After Next," and his portrayal of the hilarious character Black Doug in "The Hangover" series.
Epps has also displayed his acting range in dramatic roles, earning critical acclaim for his performance in the biographical film "Dolemite Is My Name." Additionally, he has appeared in successful television shows, including his role as Uncle Julius in the sitcom "Survivor's Remorse."
Epps' ability to captivate audiences with his humor and versatility has solidified his status as a celebrated entertainer in the industry.
Why Mike Epss Was Arrested in 2014
Mike Epps has faced criticism and controversy throughout his career. One notable instance involved disability campaigners who accused him of mocking physically and mentally disabled children during his stand-up act. This drew a strong backlash from advocates for disability rights.
Another incident occurred on June 1, 2014, when Epps was allegedly involved in an assault against fellow comedian LaVar Walker. It was later reported that Walker mocked him and another fellow comedian, Kevin Hart in response, Epps and his bodyguards took a step. Epps was accused of physically assaulting Walker, while his associates damaged Walker's belongings. A warrant for Epps' arrest was issued by the Atlanta Police.
In mid-2017, Epps sparked controversy for bringing a kangaroo onto the stage during one of his shows. Many criticized him for the treatment of the animal, noting its distress as Epps held and handled it against its will. Epps later apologized, claiming it was an unplanned act and stating that he would never intentionally harm an animal.
For More Visit Glamour Fame
-->