Miley Cyrus' Plane Makes Emergency Landing - All the Details Here
Published Fri Apr 29 2022 By sujan
Know who Miley Cyrus is? And all the details regarding her and the information on the emergency landing of the plane where Miley was traveling are all here; go through the end to know it all.
When Miley Ray Cyrus was born on November 23, 1992, she was reared by her parents, Tish Cyrus and Billy Ray Cyrus, at Thompson's Station, Tennessee. To be exact, she has two half-brothers and two half-sisters and an older brother and sister. When her parents named her, they hoped that she would one day be recognized for her accomplishments. She was known as Smiley as a youngster because of her positive outlook on life, but Miley's nickname soon appeared in favor of Miley. Ron Cyrus, a former Democratic congressman, was her paternal grandfather.
Miley Cyrus attended Heritage Elementary School as a child. When Cyrus was eight years old, the family relocated to Toronto, Canada, because her father, Billy Ray, had a part in the television series Doc. At this point, Cyrus decided that she, too, wanted to pursue a career as an actor. Her first starring role was with her father in Doc. Tim Burton's Big Fish also had a brief part for her in 2003.
Since Hannah Montana (2006) was a show about a teenage pop sensation living two lives, Miley Cyrus was chosen as the title character. Her father was once again in the picture. Hit singles, sold-out shows, and merchandise deals followed the show's success. Cyrus became popular as a teen idol. Since her breakout performance in Hannah Montana (2006), Cyrus has branched out into various parts, including those with Demi Moore, such as Ronnie Miller in The Last Song in 2010 and Lola in LOL in 2012.
Miley Cyrus' Plane Made Emergency Landing
While en route to Paraguay, Miley Cyrus' private plane was hit by lightning, forcing the pilot to make an emergency landing. Asuncion, the capital of Paraguay, was obliged to make an emergency landing for the singer Miley Cyrus and her group. Her private aircraft was hit by lightning while flying to Paraguay on Tuesday.
Image: Damage done by lightning
Source: Instagram @mileycyrus
Miley Cyrus assured supporters that she was well. Several passengers could be heard gasping Oh My God in disbelief as the plane's fuselage was lighted by lightning after it was hit by lightning. Video and photos of her jet being struck by lightning were posted on Instagram with a message by her.
You May Also Want to know: Is Jon Stewart Married as of 2022? Who is his Wife? All Details Here
" To my fans and everyone worried after hearing about my flight to Asunción. Our plane was caught in a major unexpected storm and struck by lighting. My crew, band, friends, and family traveling with me are safe after an emergency landing. We were, unfortunately, unable to fly into Paraguay. 💔 I LOVE YOU," Miley Cyrus wrote.
How Many Were Injured During The Emergency Landing? Will She Continue her Concert?
According to the information made public and reported in the media, no one has been hurt. There was a lot of anxiety among the passengers about whether or not they would make it back home safely. Because they were flying through the air, the passengers and crew on board were terrified when their aircraft was hit by lightning.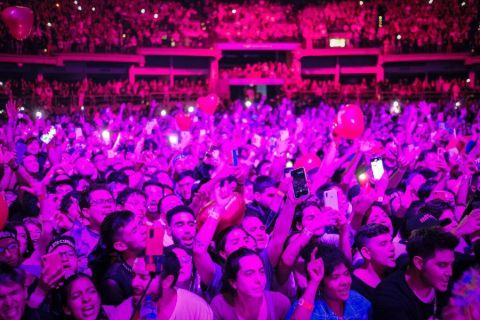 Image: Miley Cyrus performing at a live concert
Source: Instagram @mileycyrus
It was fortunate that there were no injuries from the event, and everyone was in excellent health and safety. After the plane made a safe landing, everyone prayed to God and praised Him by saying, "Thank you, God, that you are all safe." She will continue to do concerts as no health issues stop Miley Cyrus from performing.
Don't Miss: Leonardo DiCaprio and Girlfriend Camila Morrone Seen Together in New York City: Inside the Couple's Relationship.
For more news and information related to your favorite celebrity, stay tuned to Glamour Fame.
-->