Millie Bobby Brown Is Celebrating The Launch Of Her New Beauty Brand 'Florence by Mills' With A Brand-New Coordinating Manicure
Published Mon Sep 02 2019 By Sea
'Florence by Mills' launched by Millie Bobby Brown was finally launched, and she is head over heels for it.
Singer and actor celebrities launching their own brand of beauty products is not a new thing in today's world, with Selena Gomez and Hailey Bieber recently joining in after the success of Rihanna and Kylie Jenner's beauty kingdoms. 'Stranger Things' star, Millie Bobby Brown, launched her own too.
The 15-year-old star declares her new makeup and skin-care company, 'Florence by Mills', the love of her life as it took two years of R&D for the 15 products to finally come to fruition. She took her excitement of the launch another step forward by celebrating with a brand-new coordinating manicure. Brown exclusively let POPSUGAR photograph her long, square nails.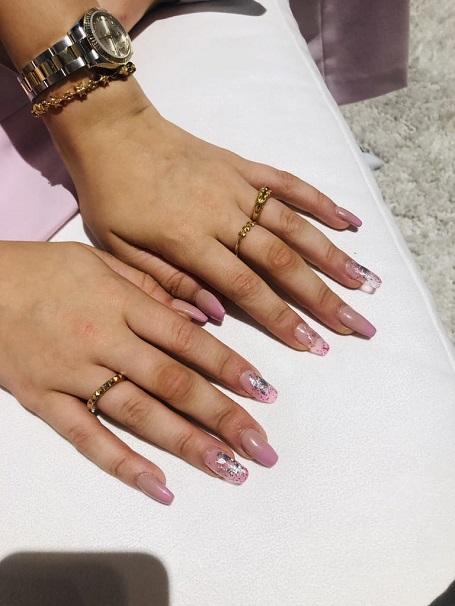 Millie Brown showed-off her exotic nails at the launch of 'Florence by Mills'.
Source: Kelsey Castañon, POPSUGAR Photography
The sparkles on the nails shone back at the screen, which were in the same shade as her brand's products, a purple gradient tip with negative space accent nails. Brown doesn't particularly like wearing nail extensions, but she made the choice for the launch event. She told POPSUGAR at the event,
I never wear nails. I like to keep it chill, but because I knew I wanted an ombré going into purple for this event, I went and saw this fantastic nail artist Dawn Sterling. She's done my nails for a long time for other shoots, and she has young children, so she gets the fun nail art vibe.
The 'Florence by Mills' pop-up on August 26 showed off it's clean, cruelty-free, vegan products, which are quite cheaper than your famous brands — within the $10-$34 price range. The main view of the launch is affordability so that people can actually buy the product, instead of just looking at them from afar. It is smartly marketed to Gen Z shoppers.
It is PETA certified as Brown loves animals, and also supports Olivia Hope Foundation, founded in honor of her late friend, Olivia Hope LoRusso. The label's name was inspired by her great grandmother, Florence, as she told WWD. The brand is targeted for young people like herself "who deserve to have a good start with their skin".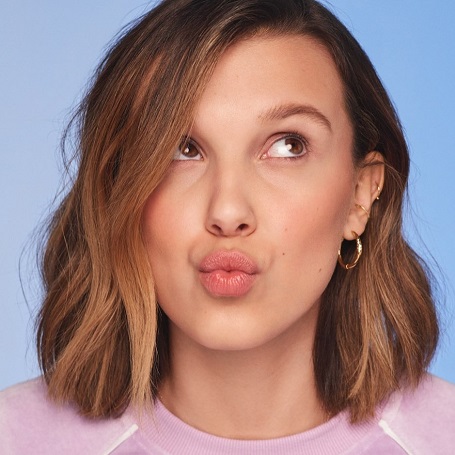 "mills tip: use the blush on your lips!", Florence by Mills is targeted for young people.
Source: Florence By Mills, Instagram
The skin-care and makeup line includes Mind Glowing Peel-Off Mask ($20), Swimming Under the Eye Gel Pads ($34), Cheek Me Later Cream Blush ($14), Like a Light Skin Tint ($18). The products will be sold online, in stores at Ultra Beauty and UK-based Boots on September 22.
Brown has become a young entrepreneur now, but she still believes she's only an actress, not a makeup artist or a skincare expert. It is not expected to rise above Rihanna's Fenty Beauty or Kylie Jenner's Kylie Cosmetics, but she is definitely inspiring youngster. If this goes on, people won't have to go to expensive products every time, like Ashley Graham using a $1361 routine for makeup removal.
-->