Mira Sorvino Opens Up Her Experience Being A Survivor Of Date Rape
Published Thu Jun 13 2019 By Jessica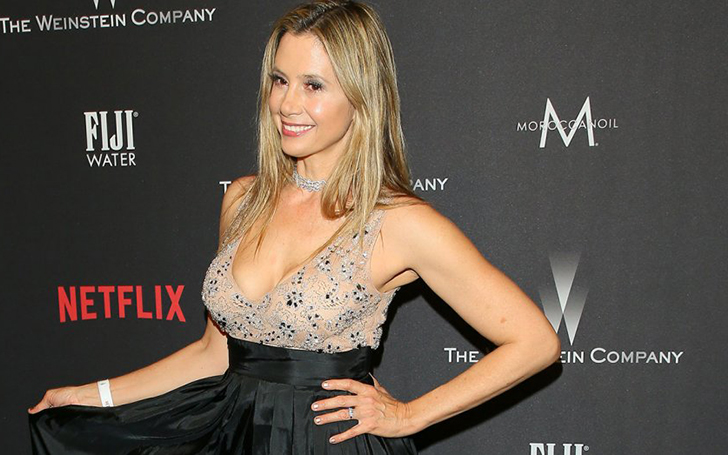 Mira Sorvino emotionally reveals the heartbreaking news about being a date rape survivor.
Mira Sorvino, one of the active speakers for the #MeToo movement and one of the 80 sexual assault accusers of film producer, Harvey Weinstein made a shocking yet a devastating revelation in front of hundreds of people on Wednesday that not only she is a sexual assault victim but also a date rape survivor.
The actress, almost breaking down, told the media at the news conference that took place in New York to advocate for a strict law against sexual assaults.
Related: American Idol Winner Laine Hardy Is Set To Perform During The 39th Edition Of A Capitol Fourth
In her words, the 'Exposed' actress said: "This whole #MeToo [movement] this has been wonderful, but it has been highly traumatizing for me on a personal level just because I have had to revisit my past and my demons in a way that I really had not fully explored... I had not really dealt with past traumas,"
Mira Sorvino reveals being a date rape survivor in New York.
SOURCE: The Hill
Adding: "I had not really sought out the help I needed, so this past year and a half has been a very interesting and hard and wonderful time for me. But I can stand here before you and say not only was I a sexual harassment and battery victim at the hands of Mr. Weinstein, but I'm also a sexual assault victim and I'm also a survivor of date rape."
Sorvino also explained why she never came forward to speak about the date rape part saying that it was 'impossible sometimes to share these sort of things'.
The 51-year-old then clarified that she is only doing it to help all the sexual assault survivors who need their justice and feel ashamed in thinking that it was their fault instead of the rapist.
"You feel that you should have been smarter, that you should have protected yourself better, you should have not taken that drink, who knows what was in it, but like that you somehow got yourself into this situation, and growing up as I did, in a Christian home, with a very strong, almost fundamentalist mother and a patriarchal Italian family, there is still a shame to anything sexual being public, so you don't want to air your dirty laundry to other people, even if it was forced upon you," said Sorvino.
The New York native did not disclose further information on the sexual assault and her sex criminal.
In concern to her sexual harassment case against Weinstein, Sorvino previously claimed that the film producer approached the actress for sexual proposals in advance to benefit her career and that he also tried to inappropriately touch her on the shoulders in a hotel room in 1995.
Following the controversial allegations, many film directors including Peter Jackson revealed that Weinstein asked him to eliminate Sorvino as well as another fellow actress Ashley Judd one of the 80 actresses from casting for the film; The Lord Of The Rings and The Hobbit.
Recommended: Top 10 Most High-Profile Sexual Misconduct Allegations Against Harvey Weinstein
As for Weinstein who denies all the allegations is set to reach a trial to face the charges later this year in New York.
-->